Assisted living personal care services allow seniors to live freely and independently. Dunwoody Place provides multiple health care services, assistance, meals, amenities, wellness programs, and more to encourage an active senior lifestyle.
Deciding what kind of senior living is best for you or a loved one can sometimes be confusing. If nursing home care is too much and independent living is not quite enough, personal care homes in Atlanta might be the perfect fit.
1. Personal Care Homes Can Secure Your Future
Dunwoody Place offers independent living and personal care. Many retirees may opt to live in senior apartments or an independent living community. Still, these seniors may have to scramble to find additional care to keep up with their needs.
Independent living focuses on senior socialization, activities, and leisure. By living in a community that offers an extra level of care, expect to age in place. If needs change, Dunwoody place is prepared to provide an individualized care plan that continues making life easy and enjoyable.
Personal care is for you if:
Receiving assistance in one or two areas can make a difference in your life
You'd like to eat nutritious meals
You'd like the security of round the clock supervision
You'd like to be more social
You can benefit from medication management
You'd like to live independently but with fewer chores and hassles
You want more purpose in life
2. Personal Care is Fun
As Dunwoody Place also offers independent living, we put a lot of emphasis on fun.
People tend to get lonelier as they age due to shrinking social circles and mobility or health issues. A recent report discovered that 25 percent of retirement-aged adults experience isolation. The CDC warns that senior isolation marks a significant increase in the risk of:
Dementia
Heart disease
Stroke
Depression
Anxiety
From daily scheduled activities to meals in the dining room, Dunwoody Place offers seniors many options to enjoy time with others. Imagine living with these events down the hall from your apartment:
Musical bingo
Live entertainment
Happy hours
Cooking demonstrations
3. Assisted living or personal care?
In other parts of the country, many people know personal care homes as assisted living. In the state of Georgia, personal care homes require communities to offer oversight care, but not intensive senior care that would be available in a nursing home.
Nursing homes are best for seniors living with chronic conditions, injuries, or illnesses who need skilled nursing care. The personal care home at Dunwoody Place offers seniors:
Individualized care plans
Activities of daily living assistance (bathing, grooming, transferring)
Medication management
24-hour emergency response
Hospice coordination
On-site physical, occupational, and speech therapy
Personal care at Dunwoody Place gives older adults the support and security to live a confident and independent lifestyle.
4. Personal Care is Active
Following a chef-prepared breakfast, our residents usually join a group fitness class to stretch and strengthen before embarking on a full day of planned activities. Imagine a day like this:
Breakfast with friends in the restaurant-style dining room
Walking Club
Community shopping trip
Healthy Juice social
Lunch at a local restaurant
Prayer service
Word games
Southern cooked dinner
Popcorn movie night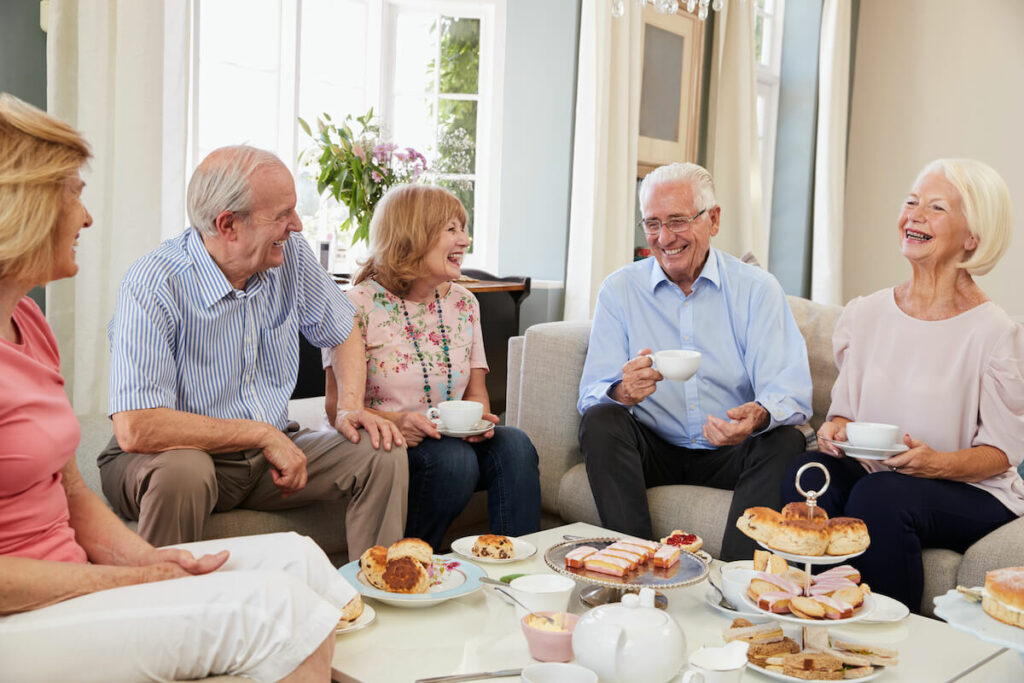 That may sound like a busy day, but don't worry. Residents can attend as many or as few events and activities as they want. Our community provides the opportunity for seniors to explore new hobbies, stay socially active, and get creative as much as they wish.
5. Live in Luxury in Personal Care
Atlanta-area seniors love relaxing on our porch. Take a load off in a rocking chair, grab an iced tea and enjoy the beautiful views available from our community. We offer many comfortable places to relax, play games, and make new friends inside as well.
Our personal care home includes multiple floor plans to fit every lifestyle. These studios and apartments are outfitted with grab bars in the bathroom and walk-in showers.
Team members provide laundry, housekeeping, and maintenance services to free seniors from the hassles of life. Our culinary team also provides three meals a day to our personal care home residents. Join us for Fine Dining Night for a special treat.
Find Assisted Living Personal Care in Atlanta
Make Dunwoody Place Personal Care Home your next move. Contact us for tours or ask a senior living specialist about cost and levels of care. Find us having fun on Facebook.