Finally, the scorching hot months of summer are coming to an end as we head into fall. While most may be focusing their attention on candy apples and pumpkins, we should also be turning our focus to the monumental month that is September and what it stands for. September is Healthy Aging Month, which seniors in particular should pay attention to. Whether we like it or not, every second that passes by, we are aging; which means this is an awareness month that everybody should care about.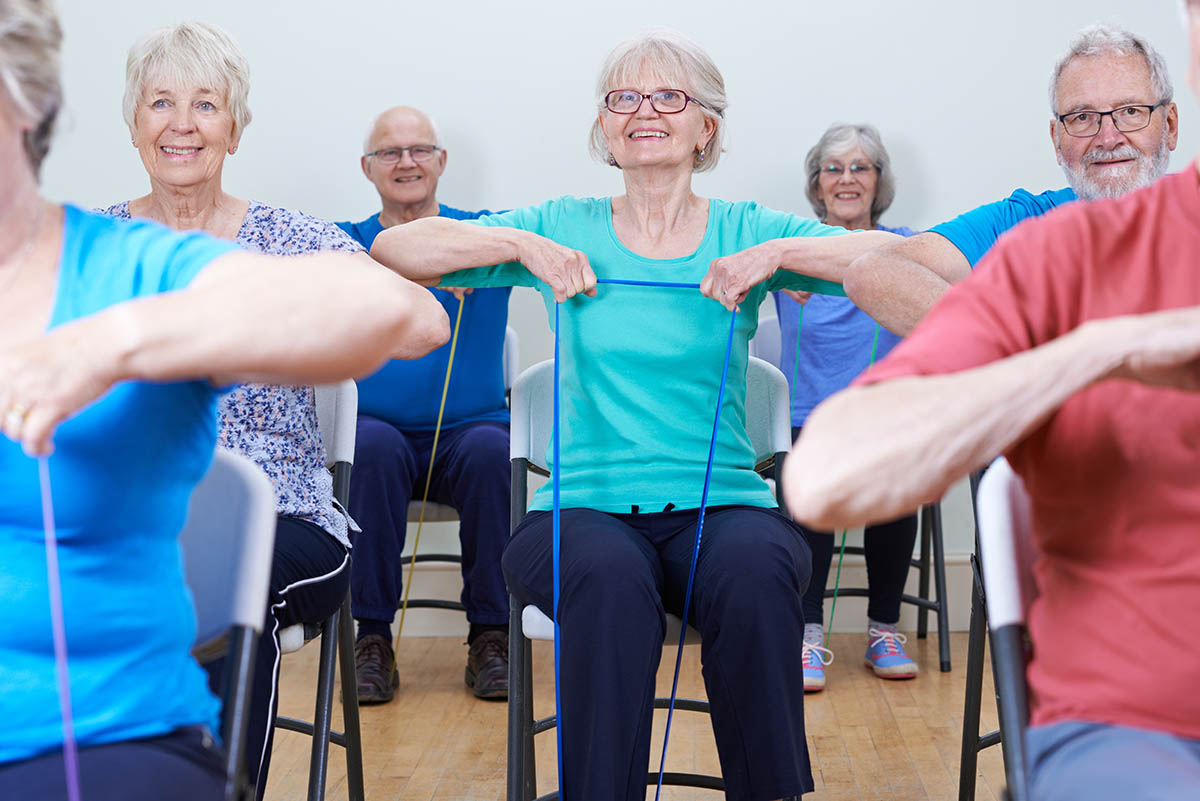 For the most part, seniors are at a higher risk for conditions such as disease and negative impacts on overall wellness, which is why we here at Pegasus Senior Living have hand-crafted this list of the best healthy aging habits for seniors. We understand the challenges of putting your health first which is why we are here to help. Healthy Aging Month is all about you!
1. Getting Active
Summer can be a hard time for many reasons. Whether you find yourself struggling with the increased temperatures for one reason or another, we're glad to say that the seasons are soon changing. With the autumn season comes cooler weather. If you've been meaning to get outside and get active, this is your time to shine.
Exercise in any form is important, especially as we age, which is why this is number one on our list. Keep in mind that you don't necessarily need to get outside to be active. Taking a small walk around your senior living community with a friend or companion is a great place to start. Whether you prefer to stay inside or go outside to soak up some vitamin D is totally up to you.
Regardless of your preferred style, adding some movement to your day can serve to support your health in more ways than one. Between strengthening your muscles, reducing your risk of disease, and helping to loosen up your joints, there are numerous benefits associated with walking. This is why it's important to incorporate this type of exercise into your everyday routine, in whatever style you choose.
2. Staying Social
Social interaction can come in many different forms. From spending quality time with your family and loved ones that visit you to your friends, these types of activities have no limits. Still, social participation offers many advantages for seniors, some of which you might not have even heard of.
For starters, it helps you build and sustain relationships. If it's family, you gain the privilege of continuing to enrich your bond. For friends, this helps you learn more, share more, and ultimately, continue growing your relationship with that person.
Next, being social is healthy for your mind and mental health. Oftentimes, we find ourselves sharing a good laugh or engaging in some critical thinking during conversations. These are all good things that your mind needs as you age. This ultimately helps you stay clear of isolation and depression.
Lastly, scientists have found that daily social activity may even help in the prevention of dementia. With way more positives than there are negatives, engaging in social interaction should be at the top of your priority list every day.
3. Monitoring Your Health
Staying ahead of health issues and monitoring your well-being are just as important as exercise. They go hand-in-hand with each other. Taking precautionary measures, especially as you age, is crucial for aging in the healthiest way possible.
Begin with your regular annual appointments. If you haven't been in a while, give your doctor a call to set up an appointment. Here is a basic list of medical professionals you should regularly check in with:
Primary care physician
Dentist
Optometrist
After visiting each of these health care providers, you'll have a good plan of action for your health care needs! Healthy aging involves maintenance. It's a huge part of prevention, especially when it comes to your health. Although most people make a point to schedule an appointment with their primary care doctor, medical professionals like dentists and optometrists tend to fall by the wayside. While it may not seem important to see your dentist and optometrist every year, we can assure you that it is.
As you age, your teeth start to weaken, so staying up to date with your dentist can help make sure those pearly whites stay as strong as you are. Ensuring that you are getting enough Vitamin D can also help with this. Equally as important to protecting your teeth is protecting your vision. All of those childhood memories and beautiful sights you took in throughout your life would not be possible without good eye health.
Unfortunately, the quality of our vision changes as we age, which is why many older adults need special eye care over time. One of the most common is needing progressive lenses as this type of lens offers multiple prescriptions all-in-one and helps address a variety of concerns. If you're struggling with age-related eye issues like near or far-sightedness, it may be in your best interest to learn about progressive lenses and whether or not you should be wearing them. Give your doctors a call and start your journey to a healthier you today.
4. Participating in a Hobby
While retirement has its many benefits, finding a sense of purpose and seeking community can also be a welcome challenge. If you find this speaks to you, first understand that it's normal to crave some structure and engagement when life slows down a bit. Participating in your favorite hobbies might be the answer you are looking for.
For starters, they're enjoyable and can give you something to look forward to. Next, they can provide you with a sense of community and open you up to fresh experiences. And lastly, they can reduce stress and give you a newfound sense of purpose. Residents at Pegasus Senior Living communities enjoy a wide variety of monthly classes, clubs, outings, parties, and events. There is truly something for every interest. Do some research on activities offered at a community near you, or brainstorm new hobbies in general. You never know what new endeavor will spark creativity and joy!
At Pegasus Senior Living we are committed to helping you learn about healthy aging.
Contact a Pegasus Senior Living community near you to learn more about how we are invested in seniors' health and well-being.