Retirement is an experience people have to grow into and adapt as needed. You can research and make plans, but you'll never know the outcome until you are in the moment.
For many, giving up work and experiencing absolute freedom is ideal. Much of retirement planning is centered around finances, but sometimes people forget to mentally and physically plan for retirement. Seniors might look forward to crossing off their bucket list but often forget about the downtime between pursuing passions.
There are five common ways people usually experience retirement:
Pre-retirement and planning
The honeymoon phase
The crash
Reorientation
Routine and relaxation
What's the plan?
Enjoying the shade of a tree is thanks to someone planting it many years ago. Planning for retirement is one of those tasks where yesterday is the best time to start. Experts tend to debate how many millions of dollars people need to retire and enjoy a happy life. However, chief investment strategist and retirement author Wes Moss says that $500,000 marks the cap of enjoying retirement.
Here's how the numbers break down if a person wants to save up a half-million dollars and retire by 65:
Age 25: $250 per month
Age 35: $500 per month
Age 40: $722 per month
Planning for retirement can do a lot of good for your mental health. Knowing that the seeds are planted and harvest season is coming up can ease stress and provide security.
Ultimate Freedom
The first few months or even years of retirement can be incredible experiences. Once every day feels like a weekend, it can be easy to get distracted and fall away from exercise routines and proper money management.
Many retirees in this stage are making up for lost time. They may be reconnecting with old friends, visiting family, or sitting around and getting much-needed rest. However, the pursuit of good times can wear off.
Leveling Out and Finding the Sweet Spot
Once retirement euphoria wears off, or financial trends wind down, some seniors can start to feel lost and develop mental health issues like anxiety and depression. Without establishing a manageable routine and finding purpose, a happy retirement may turn disappointing.
Seniors in this stage shouldn't be afraid to embrace their emotions and take inventory of their feelings. No matter how small, finding new goals can transpire into significant accomplishments. Like saving for retirement, start small, and work your way to bigger things.
One of the easiest ways for retirees to maintain a healthy routine is by moving to a community that has their best interests in mind. Let's go over five ways to find happiness in retirement and discover how senior living can make that transition feel like a breeze.
1. Say Yes
Start by saying yes to yourself:
✓ Yes, I'll go for a walk today
✓ Yes, I'll enjoy the sunshine
✓ Yes, I'll learn a new hobby
✓ Yes, I'll meet new people
✓ Yes, I'll take time for myself
Being open to new ideas, experiences, and social networks can welcome purpose into your life. Say yes to friends and family who want to do things with you. Staying active in retirement is as easy as saying, "Yes!"
In senior living communities, entire teams are dedicated to outlining a calendar of physical and social activities. Retirement homes can make saying yes as easy as opening your front door.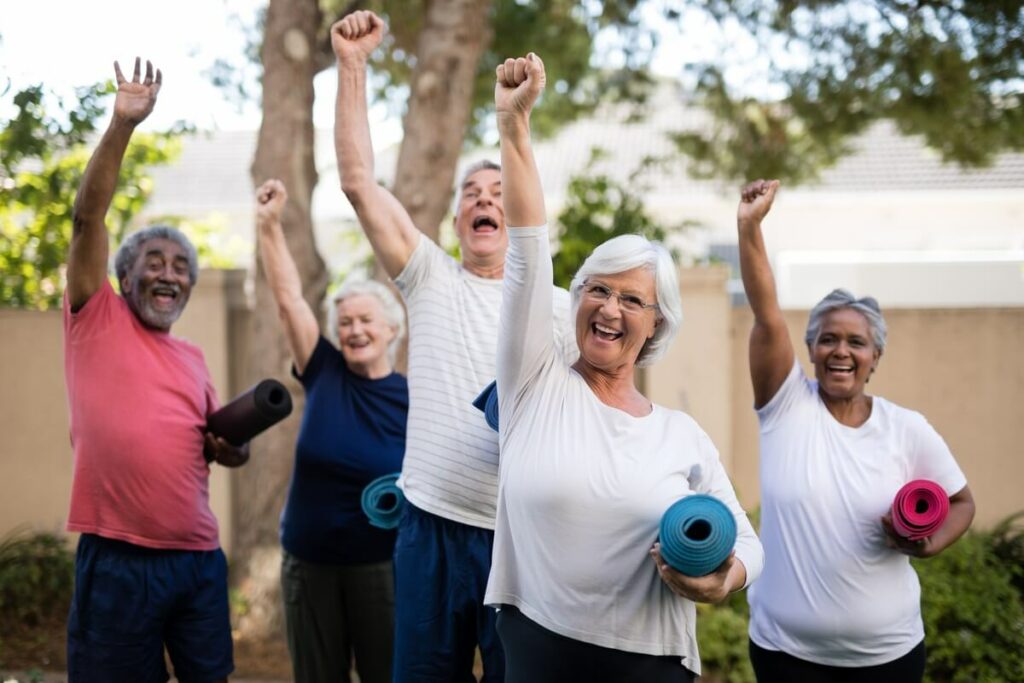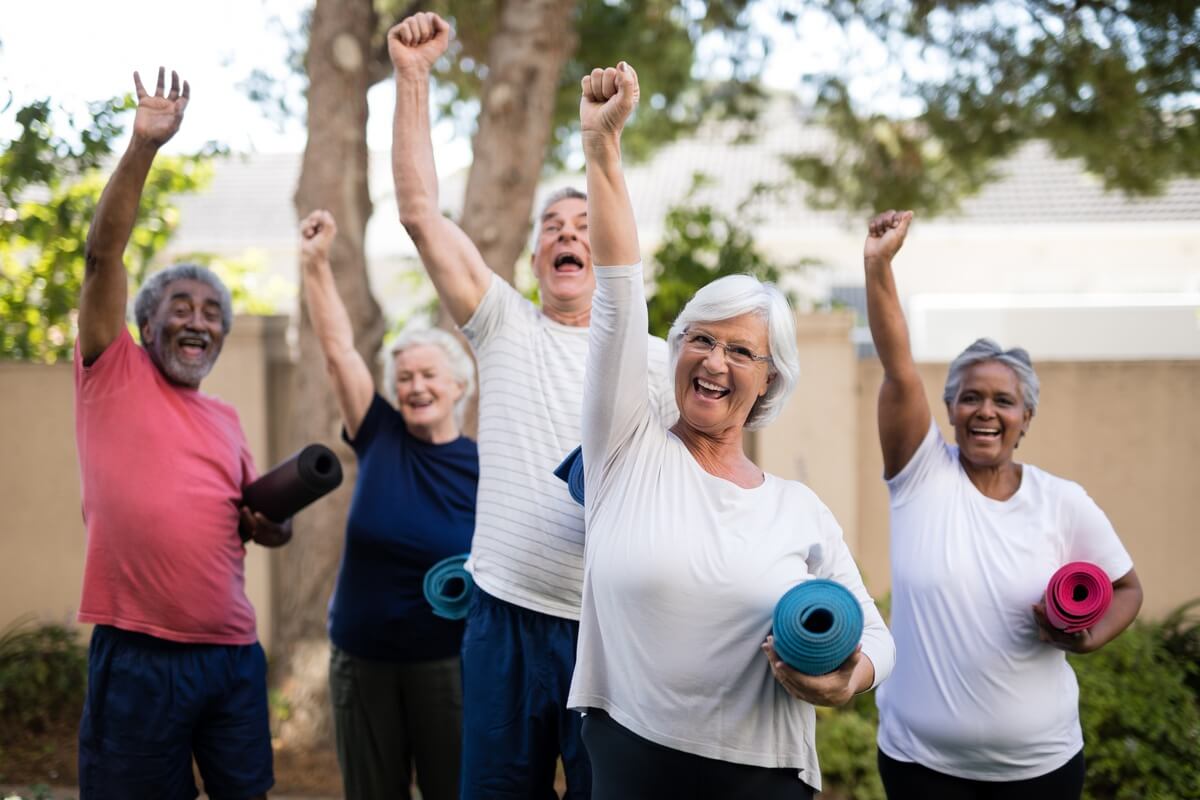 2. Say No
It's okay to know your limitations. Saying no to chores like deep cleaning and home maintenance can prevent avoidable accidents. Team members at Pegasus Senior Living communities are available to help change a lightbulb, clean the house, and even cook all of your meals.
Saying no to living in a large house with a lot of responsibilities and clutter can be a freeing experience. Senior apartments come in many different floor plans but are just the right size and feature things older adults appreciate:
Grab bars
Walk-in showers
Bright natural light
Modern flooring free of trip hazards
3. Embrace Change
Communities that offer assisted living provide a service that helps retirees live confidently. Many seniors are capable of living independently, but help in one or two areas can make life a lot easier.
Say yes to help with activities of daily living. Whether you need assistance with buttoning a shirt or managing medications, assisted living communities can tailor a personalized plan to fit your needs. Leave your worries behind and let our team members take care of your hassles.
4. Stay Connected
When seniors don't have anyone to share their lives with, their well-being can diminish. Being lonely is not the cause of dementia, heart disease, and high blood pressure. Loneliness and isolation cause a greater risk of inactivity, which leads to health problems.
Keeping up with a social circle encourages active participation. It's cliche to say seniors love bingo, but the game has immense health benefits:
It connects community members
It's a fantastic brain exercise
It's an excellent way to work on hand-eye coordination
Win or lose; you're having fun
5. Stay in Motion
The Centers For Disease Control and Prevention recommend at least 150 minutes of physical activity per week. One study found that 7500 steps per day can also lead to immense health benefits. The point is to move more than you sit, and in senior living communities, being on the go is built into the lifestyle.
In Pegasus Senior Living communities, most mornings begin with group exercises such as:
Chair yoga
Tai chi
Stretch and strengthen
Attending meals and other activities presents easy ways to increase your step count throughout the day. Almost all of our communities are pet-friendly and feature walking paths for you and your furry friend to enjoy.
Staying in motion is also not just about maintaining a healthy weight. Seniors who move more might experience:
Less joint pain
Better cardiovascular health
Lower fall risk
Speaking of weight, providing a balanced diet is another form of senior care in our communities. Our culinary teams prepare seasonal menus using locally sourced ingredients to offer our residents the tasty fuel they need to get through their day.
Grow Into Retirement With Pegasus Senior Living
Our communities are an oasis for seniors to live their best lives. We provide independent living, personal care, assisted living, and memory care to older adults in over 30 locations around the country. Find a community near you and discover how to grow during retirement.