As residents of Magnolia Place of Roswell continue to practice social distancing, they stay busy by learning and having fun through a variety of indoor events. More than 'just another senior living facility', Magnolia Place residents are happy to have a creative team that offers many engaging physical and digital tools, such as crossword puzzles, educational webinars, and movies in Magnolia Place's Memory Care neighborhood and Personal Care Home.
Activities Galore at Magnolia Place of Roswell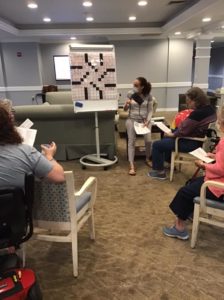 The residents once gathered as a group around a large whiteboard covered with a transparent printed crossword pattern. Once they discovered which word belonged to each row of squares, they would tell the leading associate what to write with a marker. What is usually considered a solitary activity became a new way to challenge their minds while connecting with others!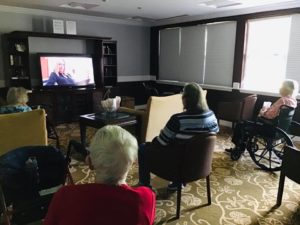 On our most recent Movie Night, residents snacked on fresh popcorn from authentic decorative bags typically found at theaters. The staff also dimmed the lights to create a similar atmosphere. The seniors enjoy all types of movies, from classic films to modern Netflix television shows. They have seen comedies, action films, documentaries, and more.
Supporting Seniors with Mental Health Services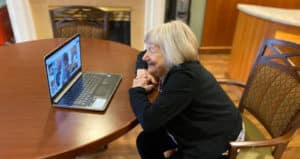 Learning does not always take place in person. The Roswell seniors have also gained helpful knowledge about the topics that interest them through webinars. Every resident is able to choose what he or she will learn about; one of the most popular topics is mental health. WellQor, for example, is a national care provider and educator in the mental telehealth industry, and it is especially popular at Magnolia Place. It helps seniors better understand their emotions so they can effectively manage them and build stronger relationships with their friends, family, and Magnolia Place associates. The program also emphasizes physical health, as it is crucial to maintaining healthy minds. WellQor has been invaluable during the COVID-19 pandemic, during which many of our seniors were at first struggling to adapt to the threat of a dangerous virus and the loneliness it could bring.
Since the year began, the associates and residents of Magnolia Place of Roswell have faced unique challenges that they have undoubtedly overcome by supporting each other and taking part in supportive projects. If you or a loved one are interested in joining them by seeking senior housing in the Roswell area, please contact us today; we look forward to improving your or a loved one's health and happiness, too.