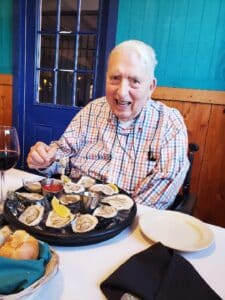 Peter R. Vail is a world-renowned geologist living at Houston assisted living community The Farrington at Tanglewood. Peter has many amazing stories to tell, and The Farrington loves hearing the fascinating tales he shares about his life, his career, and his many travels!
Peter's Background
Peter was born in New York City on January 13, 1930. From a very young age, Peter was interested in in the outdoors, which ultimately inspired his love for geology. Peter's mother first noticed his fascination with being outside when he was only one-year old. Peter's mother would sit him on top of a rock in his mother's beautiful garden in their backyard. She said Peter was just as happy as a clam listening to the birds and observing the butterflies in the garden. "Ever since then I had this basic love for the outdoors. That is of course what got me interested in geology too," says Peter.
Years later, Peter was enrolled at the Deerfield Academy in Massachusetts. Founded in 1797, Deerfield is one of the oldest schools in the United States. Upon being accepted, Peter's parents put him on a train at New York's Grand Central Station headed for Deerfield. Deerfield is in a beautiful valley, and instead of attending study hall on Saturdays, Peter would walk through Deerfield Valley. It was a love for the great outdoors that ultimately inspired Peter's interest first in biology, then geology. In his biology class, there was a contest to see who could most expertly dissect a dogfish ear, and Peter won a prize for it during an awards ceremony. Peter excelled at Deerfield, and upon graduating he was awarded a Bausch & Lomb Science Award by Deerfield. In other academics he was accepted to Dartmouth College.
Peter's interest in geology
Peter began at Dartmouth as a biology major; however, he soon realized he was not interested in learning about certain topics in biology, and, unlike Peter, most of his fellow biology students were premed. Peter changed his major to geology and received straight A's all throughout his college years. One of his professors was very impressed with Peter's academic performance, and suggested he pursue a PhD at Northwestern University. The only problem was Peter's father was having some financial difficulty and was facing challenges paying for his son's education. Peter was accepted to the program at Northwestern.  Peter paid his way through Dartmouth and was accepted to the program at Northwestern. Thankfully, Northwestern had a Shell Oil Fellowship which was offered to Peter and paid for the last two years of his schooling, and that is how Peter's career with the oil industry was launched. After receiving his PhD in 1956, Peter began working for Exxon and stayed with the company for 30 years.
Career at Exxon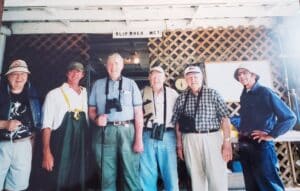 Peter began his career with Exxon as a Research Geologist with the Research Division of Carter Oil, an affiliate of ExxonMobil. During his time with Exxon, Peter traveled all over the world to Exxon's affiliate companies teaching short courses and consulting with their geologists. Peter often would travel for months at a time, so his wife Carolyn would often accompany him on his trips. Carolyn was very interested in art, and while Peter was working, she would often visit flea markets and collect various pieces of art. Peter and Carolyn enjoyed vacationing in France, which was their favorite place to visit during the summer.
Peter recalls his five-week excursion to Greenland as being the most interesting trip he experienced while attending Northwestern. Peter assisted a professor at Northwestern to measure the rate of the movement of the ice, trying to determine where the ice was moving the slowest. Once they found that, the US Air Force built a huge tunnel back into the ice where they could hide their airplanes from the Russians. "That was really interesting," says Peter.
Teaching at Rice, "Friends of Pete" get-togethers, and Peter's Award-Winning Research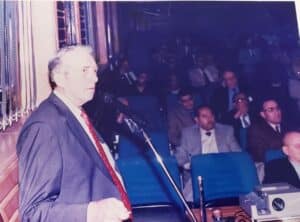 Peter left Exxon as a Senior Research Scientist with Exxon Production Research in Houston, Texas, upon which time he became W. Maurice Ewing Professor of Oceanography at Rice University. Peter calls his 15 years at Rice the best years of his life. His favorite thing about Rice was the students, and prior to the coronavirus pandemic, a group of his students called "Friends of Pete" would take him out for special treats once a month. A big sports fan, Friends of Pete would often take Peter to Rockets and Astros games. Friends of Pete meets every two weeks via Zoom calls and includes graduate students at Rice as well as Peter's former colleague and best friend, Bob Mitchum, whom Peter has written many academic papers with. The group is working on an ongoing project involving interregional sequences which is of great interest to oil companies. Despite living in The Farrington for the past 14 years, Peter remains very much involved with Rice University.
One of Peter's most memorable experiences as a professor was during his sabbatical leave at The French Centre for Scientific Research (CNRS) in Paris. Peter developed many theories in conjunction with Exxon and Rice, for which he received many awards. Due to his wide recognition in the field, he was able to raise plenty of money to pay for his sabbatical and to travel across Europe, working with various European scientists. He made arrangements with many universities in Europe and interested researchers would accompany him on field trips to test his theories about sedimentary rocks. The researchers wrote papers on how the results matched Peter's theories. The papers submitted were eventually compiled to form a book, comprising of approximately 800 pages. The professional society that published the book, the Society for Sedimentary Geology (SEPM), thought the book would never sell. However, the results on the studies based off Peter's theories were very compelling, and the book – Mesozoic and Cenozoic Sequence Stratigraphy of European Basins – became a bestseller!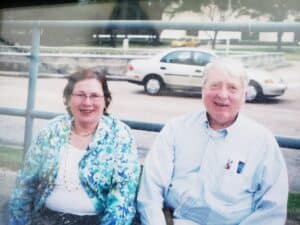 Peter brought his entire family to Paris, including his wife Carolyn and their four children Andrea, Susan, Tim, and Clare. While in France, Peter and his family fell in love with the country. The father of one of Peter's students, Catherine Ponsot, owned a winery in Côte D'Ors, a region of France known for its incredible Pinot Noir. Catherine would bring Peter her father's wine, which he calls "the best wine ever." To this day, Peter still loves Pinot Noir, and has a wine cooler in his apartment at The Farrington. Occasionally he enjoys sharing a bottle with his friends at the community. 
Moving to The Farrington
Peter moved into The Farrington, then under Hampton Senior Living management, following a head injury that nearly took his life. During Peter's sabbatical traveling across Europe and speaking at various universities, he fell out of a chair in Naples, hitting the back of his head. He iced his head and continued onto other European universities in Sicily then the Netherlands, thinking not much of the head injury at that time. Peter frequently led field trips during his sabbatical, and during a field trip in the Netherlands, he noticed he was experiencing headaches. Considering the onset of his headaches, Peter returned to the apartment he and his wife shared in Paris.
Peter went to the American hospital in Paris and discovered he had a subdural hematoma. His brain was swelling due to blood building up between his skull and brain, necessitating major surgery. However, the French doctor had never performed the surgery. The father of a friend of Peter's son, Dr. Williams, was called to help. Dr. Williams, a neurologist who worked on President Kennedy, flew to Paris, and spoke with the French doctor. After meeting with Peter, the French doctor suggested to his wife Carolyn that all his children come to Paris; he did not think Peter would survive the head injury. 
Peter's children flew to Paris and he had the necessary operation. Following the surgery, Peter was closely monitored in the Intensive Care Unit. One day, when Carolyn and their son Tim were visiting, Tim noticed he was trying to tell them something. They gave him a piece of paper, and Peter wrote "Food." Tim determined that Peter was going to be alright after all!       
A nurse at the hospital told Peter he was going to be paralyzed on the left side of his body for the rest of his life. "You'll have to learn to make the best out of it," she said, and that is what Peter has been doing ever since. "That's what I've been trying to do and I'm still working on it," Peter says.
Upon recovering from his surgery, Peter returned to Houston and moved into The Farrington at Tanglewood with Carolyn in October of 2006. During his time at The Farrington, Peter's love for Houston-area sports was ignited. He started regularly watching the Rockets, Astros, and Texans on the television in his room. At The Farrington, Peter is known as something of a sports expert because he keeps up with all the games and final scores. Often fellow Farrington residents will ask Peter about the latest game. "It's really out of character for me, but I enjoy it."
Besides his interest in sports and ongoing involvement with Friends of Pete, Peter is also an avid bird watcher. He bought many bird feeders for the beautiful garden behind the community. "We go out everyday and fill the birdfeeders, which attract cardinals and other pretty birds," says Peter. "For the ground birds, I put birdseed on the edge of the sidewalk." Peter created a brochure of all the birds he has seen during his time living at The Farrington at Tanglewood, which includes diagrams featuring bird migration pathways through Texas. Another Farrington resident, Dorothy Doggett, wrote the following poem about Peter Vail:
The Birder's Ball
Peter Vail, so I've heard,
Really likes every bird.
Road in the bus the other day
Looking for special food they say.
The sunflower seed was not found
But regular seed was around.
So they got a great big sack
To give the birds a nice snack.
Seems some birdies came to call
And some residents had a ball!
Sorry I missed the nice affair,
So I produced a poem & prayer.
Peter, please do that again
For a sparrow, dove & wren
And more of us will come to see
How kind you are to each birdie!
Meeting Camille
Peter lived at the community with his wife Carolyn until she passed away 5 years ago after 59 years of marriage. Peter befriended a fellow resident named Christine Lucas, who became one of Peter's best friends, and they often discussed their mutual love for the Astros and enjoyed every meal together. After several years of friendship, Christine passed away. Some of the associates at The Farrington were determined to find Peter a new girlfriend, and one day one of the Care Partners told him "I found you a girlfriend." Peter asked "Who?" but the Care Partner would not tell him who, convinced he would find her himself. Peter was on alert, so one day when he was sitting in the dining room, he looked up and met eyes with a beautiful lady named Camille Jackson. "I gave a little wave, and she waved back," says Peter. Peter knew this was his new girlfriend. It has been smooth sailing ever since!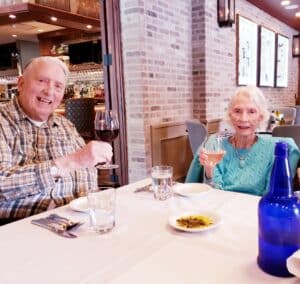 Now Peter and Camille watch and feed the Farrington birds every day together. Prior to the coronavirus restrictions, Peter and Camille enjoyed the Thursday lunch outings offered by The Farrington at Tanglewood. Some of their favorite restaurants include Pappadeaux and Carrabba's. Peter and Camille also enjoy playing poker and bingo, as well as sitting together holding hands and simply talking.   
When the coronavirus pandemic hit, Farrington residents were confined to their rooms, but Peter is still able to spend all day with Camille which has made the experience more enjoyable. "It really makes a big difference," says Peter. Recently all Farrington residents and staff were tested for COVID-19, and there is currently no sign of the disease in the building. "That was great news."
Family and Life after Lockdown
During the lockdown, Peter keeps in touch with his four children, Andrea, Susan, Tim, and Clare via phone. Andrea, Peter's oldest daughter, lives in Houston and is a team leader for the Texas Children's Hospital investment team. Susan, his second daughter, is a CPA who has retired and enjoys spending time with her three children, two girls and a boy. Tim is a businessman in the Houston area who ran a refinery producing methanol. Clare, his nephew who Peter and his wife Carolyn raised as their own, is in the real estate business. He misses all his family and looks forward to seeing them again when it is safe to do so.
The Farrington at Tanglewood is honored to care for Peter and the rest of our incredible residents. We look forward to re-opening our community and invite you to come meet Peter! Contact us today if you are looking into senior housing options in Houston, Texas!
Sources: