Families go through so much when discovering a loved one is living with a type of dementia. In between experiencing the stages of grief, family members also have to decide the best route for care.
Many individuals who begin acting as caretakers of a parent or spouse can quickly experience burnout. Avoid this common problem by finding the care your loved one deserves.
What are the options for Alzheimer's and dementia care?
Memory care
In-home care
Adult day centers
Memory Care
Memory care provides 24-hour supervision and evidence-based treatment for Alzheimer's. Communities like The Courtyards at Mountain View in Denver, CO offer families peace of mind with secure housing in calming environments.
Loved ones receive daily living assistance, brain-healthy meals, opportunities for socialization, and engaging activities.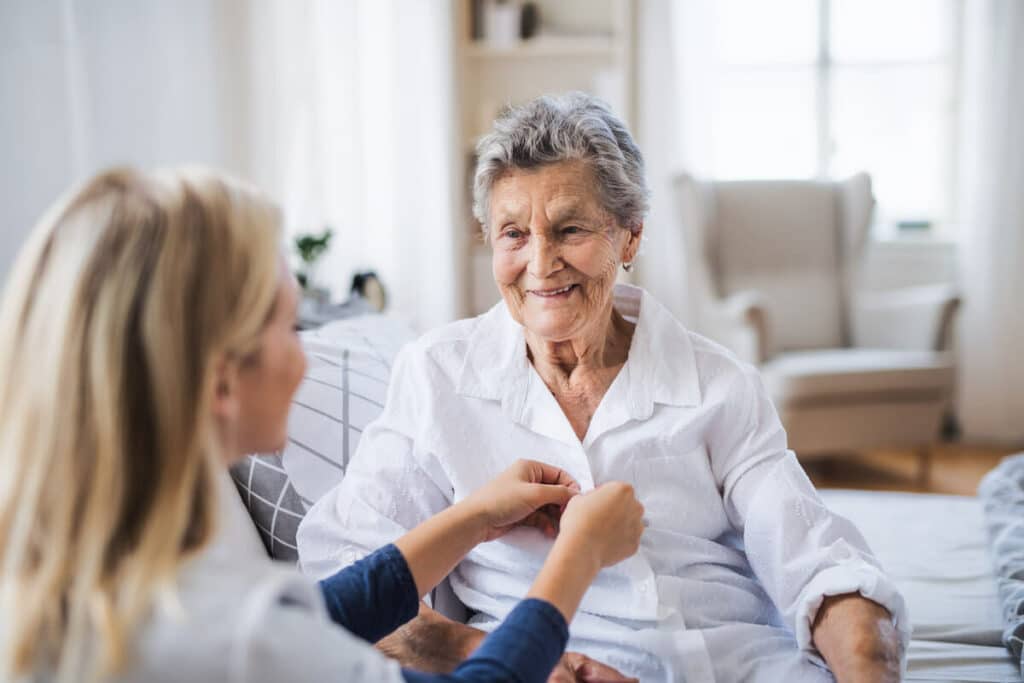 In-home Care
Hired caretakers provide services including:
Personal care
Companion and activity services
Skilled nursing care
Homemaker assistance
In-home care lets your loved one remain in a familiar environment. In-home care can become exponentially expensive when 24-hour care is required.
Adult Day Centers
Day centers can provide vital socialization and activities in the early stages of a parent or spouse's dementia experience. They'll receive meals and some care services, but most day centers cannot provide care for later stages of dementia.
These programs usually charge a daily rate. It's an excellent option for family caregivers who work during the day or who may need a couple of days off during the week.
What are in-home dementia care and memory care costs?
Depending on your needs, in-home care for dementia costs can vary. Payment is usually at an hourly rate. According to caring.com, home care services in Denver, CO average around $5,577 per month. This figure represents about eight hours of care, five days a week.
In-home care generally refers to personal care and companion services like bathing, dressing, and feeding assistance. Higher levels of care will become more costly.
Take into consideration extra costs associated with the house your loved one lives in:
Will modifications need to be made to the home?
Are property taxes increasing?
Is keeping up with the bills a hassle?
Who's taking care of maintenance and yard work?
Memory care offers an all-inclusive package of home services without surprise utility bills or taxes weighing overhead. Monthly costs include benefits like housekeeping, maintenance, and nutritious meals.
Depending on the care level your loved one needs, the cost of memory care is similar, if not more affordable. It also includes so much more than activities of daily living assistance.
Most importantly, the Connections Program available at The Courtyards at Mountain View provides evidence-based treatment for Alzheimer's and dementia. Alzheimer's does not currently have a cure. However, the neuroplasticity treatments available in Connections provide purpose and relief to people experiencing memory loss.
What is neuroplasticity, and how is it an evidence-based treatment for Alzheimer's?
Through physical and mental exercise, neuroplasticity can create new neural pathways and connections around damaged brain sections.
Health and Wellness Director of Pegasus Senior Living Dr. Sandra Petersen, developed Connections following her experience recovering from a stroke. Brain health specialists prescribed neuroplasticity treatments to help her overcome memory and mobility loss.
Dr. Petersen recovered through fun activities like dancing and learning a new language. She also discovered a new way of providing care to people with dementia.
What neuroplasticity activities are available in Connections?
Activities that keep the mind and body active can lead to less agitation, anxiety, and depression in those experiencing dementia. This type of care provides purposeful engagement.
Movement
Daily exercises adapted for the individual's ability level
Gardening
Challenging the Brain
Engaging the Emotions
Supporting Socialization
Visit Memory Care in Denver, CO
The Connections Program can provide purpose and relief for your loved one. Remove your caretaking duties and contact The Courtyards at Mountain View to get started.