Seniors living with dementia and Alzheimer's are facing all sorts of challenges, and so are their caregivers. It can be overwhelming to know where to turn for resources when you struggle to provide the care your loved one needs.
You likely worry about his or her health, security, and mental decline. We know that seniors with memory challenges often benefit from routines, engaging activities, and specialized care. But where do you find it? Thankfully, there are memory care experts that can help.
Memory Care Communities Offer Specialized Care
For those in Apple Valley, California, Whispering Winds' memory care offers much-needed resources and more. There can be peace in knowing that your loved one is receiving personally tailored care.
What sets us apart from other memory care facilities is our Connections program.
The Connections program was founded by Pegasus Senior Living Health and Wellness Consultant Dr. Sandra Petersen. After suffering a stroke, her journey back to recovery involved neuroplasticity treatments, leading her to learn new languages and activities. Her own treatment gave her insight to apply these techniques to our signature memory care services. As a result, we offer:
Modern therapeutic treatments
Brain growth through neuroplasticity
Personalized engagement
Individualized care programs
Purposeful programming in a secure and consistent environment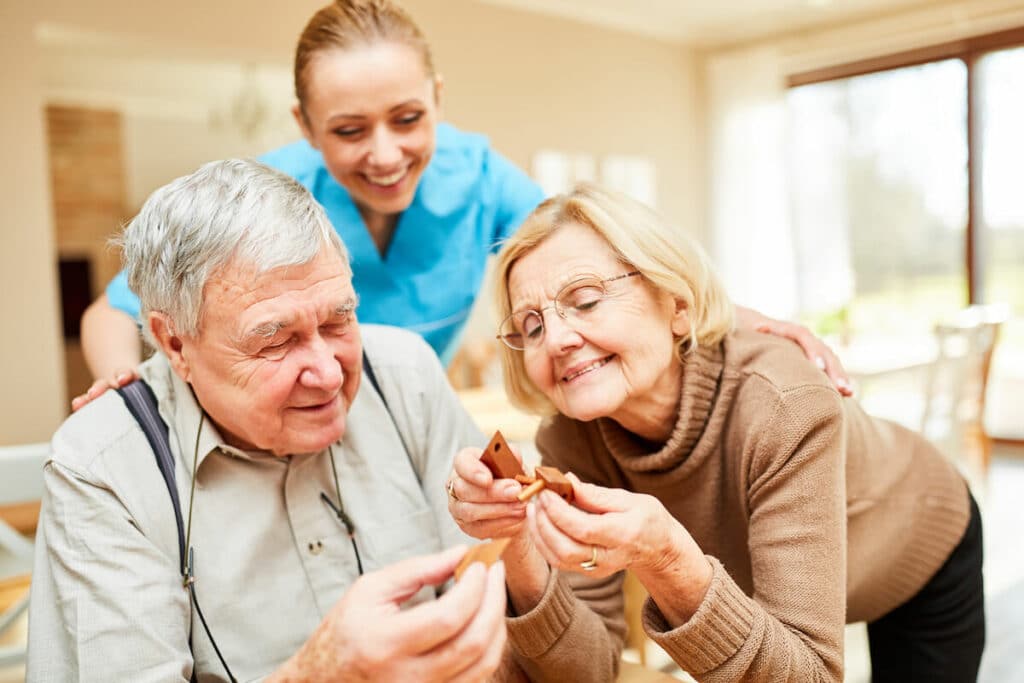 We engage those in our memory care program by using trusted methods to address their needs and ensure they thrive. We create environments and activities where seniors:
CONNECT: Keeping spirits high by interacting with the community, building relationships, and giving back.
LEARN: Exercising the brain with fun and stimulating the mind with trivia, guessing games, word association, and current events.
MOVE: Staying fit, being active, and building strength through exercise, dancing, and games.
"Remember that living with memory loss is not easy to navigate alone. It takes a team of professionals who know how to care for someone living with dementia or Alzheimer's. You can help your loved ones by getting them the care they need. Our expertise stands alone, and our associates are committed and passionate about senior care."
Why is Apple Valley, CA good for seniors?
Apple Valley is located in the Victor Valley of San Bernardino County, California, near the southern edge of the Mojave Desert; it is quickly becoming one of Southern California's premier residential areas. Here, you'll find blue skies, dazzling sunsets set against the desert landscape, and abundant recreational activities.
You might try brunch at Spirit River Café or learn about natural history at the Victor Valley museum.
In addition to being located in an up-and-coming area, our community also plans many on-site, brain-healthy activities for memory care residents like:
SingFit music therapy
Reminiscence therapy
Robotic pet therapy
Interactive technology and games
Chair yoga
Walking groups
Word games
Clay modeling and crafts
The journey through Alzheimer's and dementia is not a road to travel alone. Families can now put their trust in the memory care services offered at Whispering Winds of Apple Valley, where we provide those with memory loss the opportunity to live fulfilling lives.
We are here to be your resource when you need it most.
Let our expertise guide you through finding the best care for your loved one. Connect with us today.