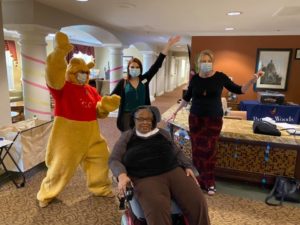 Parmer Woods in Austin, Texas is making sure all residents are experiencing a comfortable living environment during this difficult time. More than just a facility, as a community, Parmer Woods creates a sense of stability while also providing support for all our seniors' needs. Parmer Woods is keeping up with statewide mandates while also providing extra care to those who are in need. All team members and residents wear masks while around others and residents must keep at least six feet between each other.
Seniors at Parmer Woods are practicing social distancing, even while doing activities. Just recently, our staff put together a game of "Kahoot!" with a small group of seniors spaced appropriately apart. Our residents now enjoy the quiz game every Friday while also enjoying some delicious snacks. Seniors are also keeping up with art classes, which have become pretty popular! Every week, residents bring their creativity to life in small groups. Just recently they created their own dreamcatchers. As you can see, just because our normal days have changed a bit, it does not mean the fun has to stop!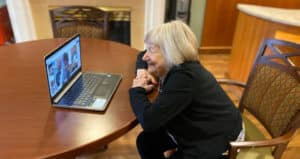 In an unprecedented time like this, it's common to not be able to process everything that's going on. This can take a toll on our mental health. At Parmer Woods, we're so lucky to be partnered with WellQor, a company that provides emotional and behavioral mental healthcare. Our residents are able to contact WellQor professionals who are specifically trained to speak to and help older adults. This is such an important part of our health that sometimes gets overlooked. We are grateful to offer this service to our residents.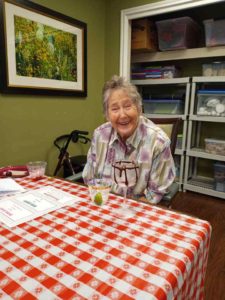 Parmer Woods is committed to ensuring our residents' and associates' health and well-being are at the forefront of all we do. Below are some of the protocols that our community has put in place:
Screening every essential visitor and associate when entering the community.

Screening our residents daily for any symptoms.

Continuous training on handwashing and other sanitation protocols.

Continuous cleaning of resident and common area spaces.

Personal protective equipment used by associates and essential visitors when needed.

Ceased use of dining room for those who do not require support and/or supervision.

Offering small group activities along with in-apartment activity options.
COVID-19 may have changed the way we live our lives, but it's not stopping our seniors from enjoying each day, in a healthy way. If you're looking for a senior living community in the Austin, Texas area, look no further than Parmer Woods. Reach out to us today!