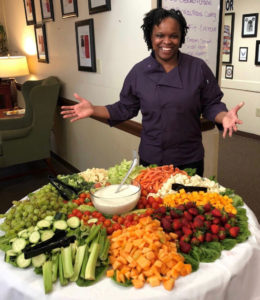 Dining Services Director Angie Smoots provides the most excellent dining experience for the residents living at Ridgeland senior living community, Ridgeland Place. Angie comes to work each day prepared to serve our residents!
Angie got involved in senior living when she was 18 years old. She applied to be a server at an Independent Living community and enjoyed serving the residents. Later she started dishwashing at the community, but one day the cook did not come to work, and Angie had to fill in. From then on, she was the chef!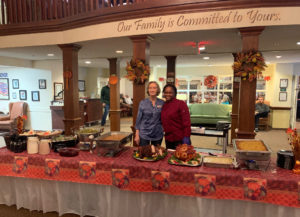 "My favorite thing about working at Ridgeland Place is the residents, because they always keep you laughing and they always have a story to tell," says Angie, who has been with Ridgeland Place for 6 years. "They tell me something funny every day." Angie recalls a particularly hilarious time when she let a resident be an employee for the day. Standing at the door, the resident welcomed everyone to the community, saying "Welcome to Walmart – I mean Ridgeland Place."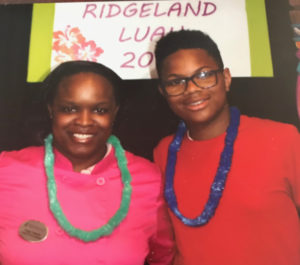 Angie always goes above and beyond to serve the residents at Ridgeland Place. While our community was under Brookdale management, Angie was spotlighted in Brookdale's magazine. She was chosen to be featured among many strong competitors because she decorated an entire hall for Hawaiian luau family night. There was another memorable time Angie made a resident's 90th birthday party extra special. Mary, one of Ridgeland Place's resident ambassadors, wanted to invite all her children and grandchildren to her 90th birthday party at the community. "Mary wanted me to go by her recipes to prepare the meal. She and I sat down, and we planned the meal together. That pretty much made her day because she couldn't go into the kitchen and cook it herself. I went by all the recipes to a T to make sure everything was nice for her, and it turned out great. That really made her happy."
Angie's favorite dishes to make are desserts, and it is no surprise that her pies are among the residents' favorites. "They all have a sweet tooth, so they love my lemonade pie, sweet potato pie, coconut cream pie, and one of their favorites is chocolate chip pie. You know this is the South, so they love fried chicken, mac & cheese, greens, and cornbread."
Angie was inspired to become a chef by watching her Aunt Ava and Grandma Georgia Smoots cook. Each year, her aunt would bake a birthday cake for Angie's birthday. Angie's birthday is New Year's Eve, so Aunt Ava always put sprinkles resembling confetti on her birthday cake. Ava's specialty was macaroni & cheese, and she taught Angie how to make dressing. Angie's grandmother Georgia made everything: jelly cakes, pot roast, ham, mac & cheese – you name it. "She did everything," says Angie.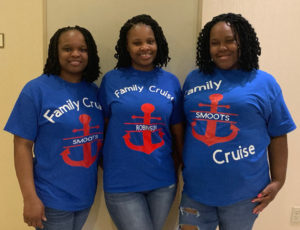 Angie grew up in Canton, Mississippi, which is about 20 minutes away from Ridgeland. She still goes to Canton every weekend. Angie lost both her parents – her mother when she was only 28 and her father when she was 31. Angie is very close to her two sisters, Makeira and LuShun. They try to spend time together at least once a month. "I don't care what we have going on – we try to spend one day together." When asked if her sisters also like cooking, Angie jokes, "No, I'm the cook, but I made sure to teach both my sisters how to cook their favorite dishes because I told them, 'You're not going to screw up your favorite dish.'" She taught LuShun how to cook pork chops, and Makeira how to fix tacos. "She can do a pretty good taco now."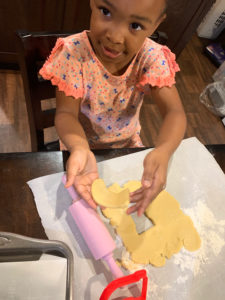 Angie loves cooking with her daughter, Tangie, who is five years old and just began kindergarten. Like her mom, Tangie loves making desserts. Tangie especially likes making rice crispy treats and giving them to her aunts with Skittles and M&Ms as toppings. Angie enjoys what she calls "walk and talk" with Tangie on the weekends. "We just go walking in the park and talk."
Since the restrictions were implemented in response to coronavirus, many things have changed in Ridgeland Place's meal service. The menu changed and the dining room closed, but Angie tries to make everything as normal as possible. Angie will often push a cart down the hallway offering snacks to the residents. "I always tell staff, 'This is the residents' house – they just invited us in.' I always try to make everything as normal as possible. Whatever they ask me for, I try my best to make it happen."
Ridgeland Place is lucky to have such passionate and hardworking associates, and Angie is no exception! We cannot wait to re-open our community and have you come in to taste Angie's famous fried chicken and delicious desserts!