If your loved one is one of the 120,000 people living in Washington State with memory loss due to Alzheimer's, you're likely already acting as their caretaker. At least 297,000 family members care for someone with the most common form of dementia.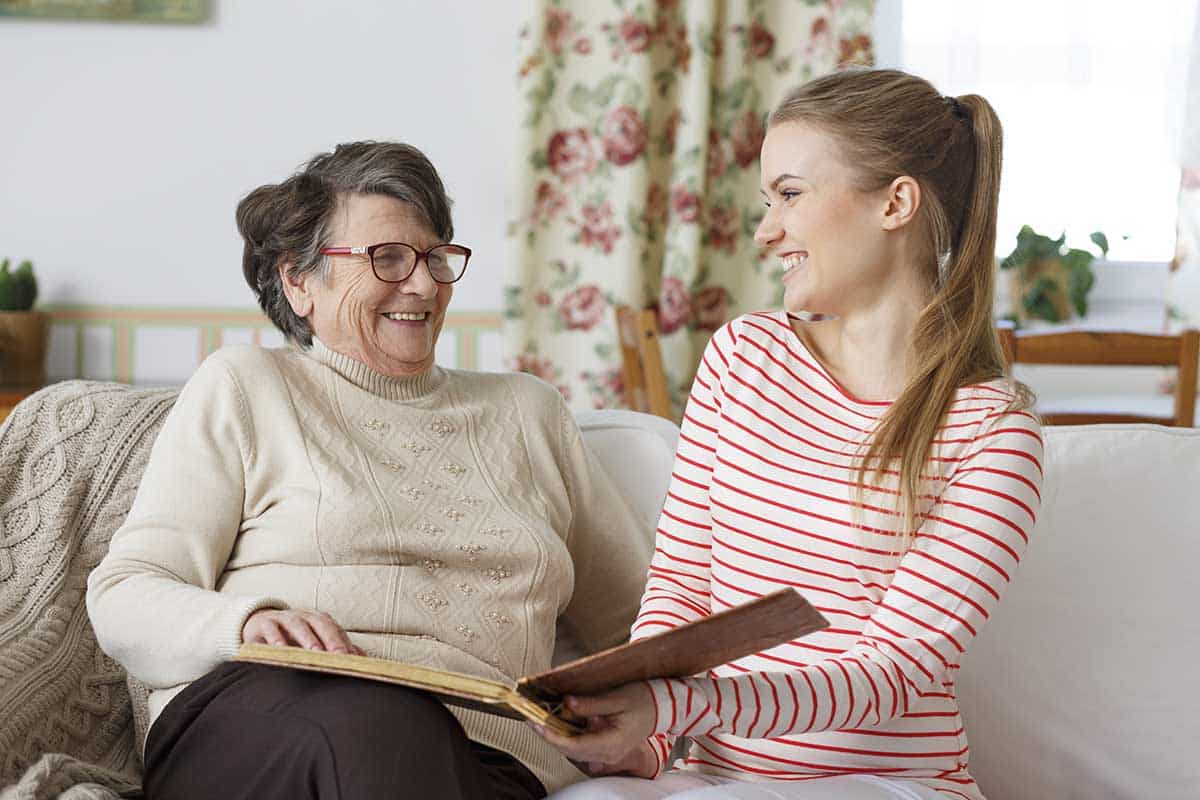 Before stretching yourself too thin, consider how data-based memory care can be a resource for your family. This Alzheimer's and dementia care approach opens soon in Puyallup, WA at The Rivers at Puyallup.
What is memory care?
Memory care is a type of senior living community that offers purposeful support to older adults experiencing memory loss dementia. These types of dementia include:
Alzheimer's
Parkinson's dementia
Vascular dementia
Creutzfeldt-Jakob Disease
Lewy body dementia
Frontotemporal dementia
Mixed dementia
This form of senior care often occurs in a secure wing of an assisted living facility, but standalone dementia care communities also exist. Memory care communities provide activities of daily living assistance and purposeful activities that promote healthy brain function.
Residents typically live in private or shared living spaces. They are encouraged to participate in group activities, eat brain-healthy meals in the dining room, and stay as physically active as possible.
When is it time to consider memory care?
According to the Alzheimer's Association, "Dementia is a general term for loss of memory, language, problem-solving and other thinking abilities that are severe enough to interfere with daily life. Alzheimer's is the most common cause of dementia."
Alzheimer's and other forms of dementia affect everyone differently, but the key indicator is when memory loss interrupts daily life. It may be time to find alternative care if:
Accidents are becoming more commonplace.
Wandering is a serious concern.
Providing supervision becomes a full-time job.
The person with dementia is not receiving adequate nutrition.
Depression and anxiety create abrupt mood changes.
Finding care is a personal journey, but if the support you and your family can give creates financial stress, emotional strain, or caregiver burnout, you're likely ready to begin exploring other options.
Memory care offers a higher quality of life for seniors with dementia. Finding care as soon as possible can improve outcomes and help strengthen the bond with your relative. Specialized team members take care of the heavy lifting so you and your loved one can spend quality time together.
What are your Alzheimer's care options in Puyallup, WA?
In-home caregivers
Adult day center
Long-term care
In-home Care
Cost: $6,673 per month for 44 hours of care per week*
Hiring a full-time in-home caregiver can help offset supervision and support duties while allowing your loved one to live in a familiar environment.
Companion services can provide supervision and activities, while personal care services assist with activities of daily living. Homemaker services provide meal preparation and household chores, while skilled care focuses on medical services carried out by a licensed health professional.
Without a strong network of friends and family, people with dementia may become lonely or feel isolated. These feelings can lead to inactivity and depression.
Adult Day Centers
Cost: $1,625 per month*
Adult day centers provide socialization, meals, and activities but may not accept later-stage dementia patients. You'll need to coordinate supervised transportation to and from the centers to prevent wandering.
Many family caretakers rely on this service as respite care to take breaks from their supportive duty, if only for a few hours per week.
Long-term Care / Nursing Homes
Cost: $9,764 to $10,707*
Long-term care comes in many forms, most commonly thought of as a nursing home. Nursing homes can provide care for memory loss but are beneficial for people with chronic conditions. People who require skilled nursing medical care usually live in these facilities while recovering from procedures.
If your loved one does not require additional medical services, memory care is an option you may want to explore.
Memory care is also a form of long-term care and provides a personalized level of support. Other types of senior living, like independent living or retirement communities, often lack the resources to provide appropriate care for people living with Alzheimer's.
*Cost figures are taken from the 2021 Genworth Cost of Care Survey, Olympia, WA area.
Find Puyallup Memory Care
The Rivers at Puyallup provides assisted living and memory care services for people experiencing a form of dementia in Puyallup and Pierce County. We're proud to introduce the Connections program for memory care to our senior living community.
Our dedicated Alzheimer's and dementia care neighborhood at The Rivers at Puyallup will offer a calm and secure environment for your loved one. Residents can live with honor and purpose while operating independently at a pace that's right for them. They will benefit from:
An individualized care plan
Activities of daily living assistance such as bathing, grooming, and personal hygiene
Housekeeping and laundry services
Scheduled transportation for medical appointments
Brain-healthy meals
The Connections Program
Emphasis on socialization and engaging activities are something your loved one may not have access to with in-home care or in a nursing home. The Connections Program by Pegasus Senior Living is rooted in data-based evidence and experience.
Pegasus Senior Living Senior VP of Health and Wellness, Dr. Sandra Petersen, lost mobility in the left side of her body and experienced memory loss following a stroke.
Through exploring new body movements and brain challenges, she regained mobility and memory by working with brain health specialists, who encouraged a process called neuroplasticity.
The idea of creating new neural pathways and connections around the damaged sections of the brain is not a new idea for stroke patients. Still, it did inspire Dr. Petersen to explore its effects on people living with Alzheimer's and dementia.
How Connections Slows Memory Loss
Dr. Petersen took up ballroom dancing and made strides at learning to speak Spanish to complete her recovery. Utilizing repetitive movements, emotions, socialization, and challenging the brain is how the specialized caregivers at The Rivers at Puyallup will work with your loved one to slow memory loss and add purpose to their life.
Encourage Movement
Researchers widely support physical exercise to increase brain function throughout life. Our memory care program encourages movement with:
Walking club
Chair yoga
Group fitness
Engage the Emotions
Some people living with a form of memory loss may have a hard time communicating their feelings. We utilize creative pursuits and help from furry friends to build emotional connections with:
Baking and chef demonstrations
Arts therapy
Pet therapy
Support Socialization
Our daily tasks create connections between team members and residents. Forming new bonds helps your loved one establish a sense of community through experiences like:
Manicures and hand massage
Dining together
Recall therapy and storytime
Challenge the Brain
The brain is not a muscle, but strengthening the vital organ is essential for growing new neural connection pathways. Your loved one will have the ability to enjoy:
Find Alzheimer's Care in Puyallup, WA
Contact The Rivers at Puyallup in Puyallup, WA. Arrange a tour and learn more about the grand opening of our dedicated memory care neighborhood and the Connections Program. We look forward to being a resource in your journey of finding dementia care in Washington.