The Point of View of an Independent Living Resident at Ridgmar Place in Fort Worth, TX
Ms. Evelyn, Resident Council President, writer for the resident newsletter PAL – People Adding Life, as well as being involved in other activities, describes her busy and active life at Ridgmar Place Independent Living.
Why are we featuring Ms. Evelyn?
Evelyn displays the fortitude of a strong and courageous woman. With all of the trials and tribulations of 2020, Evelyn lost her husband and her brother weeks apart at the end of 2020, as well as having numerous health issues herself. Through this pain, despair, and chaos, she has continued to honor and serve the residents and team of Ridgmar Place by continually showing up for anyone in need.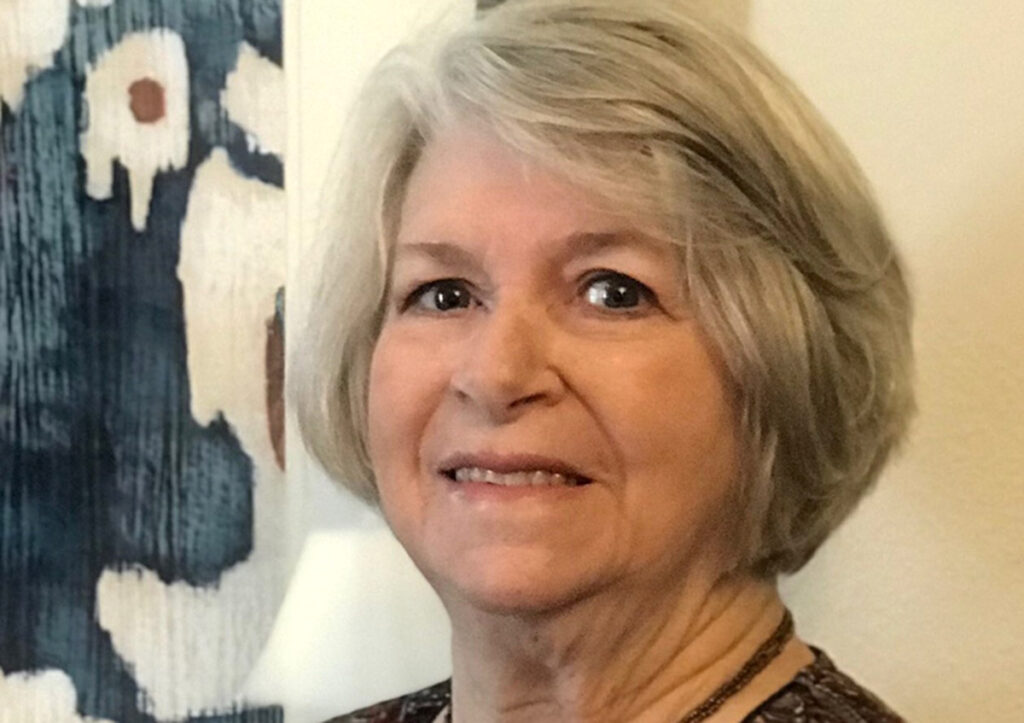 Read Evelyn's story in her own words below.
When did you move into Ridgmar Place?
"I have lived at Ridgmar Place since 2018," says Evelyn. "I had been hospitalized with meningitis in October 2017 and completed rehab the day before Thanksgiving. I had to learn to walk, speak and write all over again.
My husband had been diagnosed with frontotemporal dementia the previous summer and he was extremely visually impaired with macular degeneration. My first weeks back home I had a part-time caregiver and had arranged for Meals on Wheels for my husband's needs.
I would often lose my balance and had a fall that caused me to lose consciousness. Instead of calling for help, Frank left me on the floor and got me a pillow and a blanket. The next day he fell in the backyard. Still using a walker, I managed to get him to the doctor who put 48 stitches in his arm.
It became obvious that living at home was dangerous for both of us," she continues.
"My son started looking for places for us, and when he and his wife came for Christmas, they spent a day at Ridgmar and arranged for us to move in here. We signed the lease on December 31, 2017 and moved in on January 15, 2018.
I spent most of 2018 continuing outpatient rehab and getting stronger. I was still falling with some regularity and was transported for falls six different times.
One of the falls in 2019 was particularly bad and I was admitted with what turned out to be sepsis. After I was released, I was contacted by my insurance company about how they could help me. I told them I would be better if I didn't have to be the constant caregiver for my husband whose dementia had progressed. They sent a hospice representative to assess him and then he was placed on in-home hospice care in July of 2019."
Describe 2020 and how the newsletter People Adding Life (PAL) began?
"Caregiver visits made it possible for me to become more involved in the community," Evelyn proclaims. "I joined water aerobics. In order to make use of the time I needed to be in the apartment with my husband, I started making greeting cards and sold them in the Nook, our community convenience store and donated half of the proceeds to the Employee Appreciation Fund. I was able to be away from the apartment for a couple of hours at a time.
The Employee Appreciation Fund is the best way residents can show their appreciation for the services of the hourly associates since tipping is not allowed. Each year in December the associates are presented with a gift of appreciation from funds donated by the residents.
I had an obstruction in my throat which required surgery. When elective surgery was finally allowed in a brief window of time in June of 2020, I was admitted and Frank was placed in a residential memory care unit for the duration of my hospital stay.
During my two-week hospitalization, I started thinking about finding a way to communicate with the residents about the Employee Appreciation Fund. We were no longer able to have resident meetings due to COVID.
I had been publications director for a large church and had many years of writing and editing experience. I came up with the acronym PAL – People Adding Life to Ridgmar Place. I would do a short bio of each of the hourly employees along with their photos. I would also include articles from fellow residents and news from within the community. I would also devise a survey for each issue about resident interest in particular activities.
When I recovered, I bounced the idea off Courtney McLaughlin, our Executive Director. He approved and we published the first PAL in August 2020," she shares with joy.
"It proved to be a great tool in raising the $55,000 for the Employee Appreciation Fund.
Unfortunately, Frank finally succumbed October 6, 2020 and my brother followed six weeks later.
COVID was a constant concern, but I was able to escape its grip. When we were placed on total lockdown in December, I used that four or five weeks to decompress after the challenges of the last four years."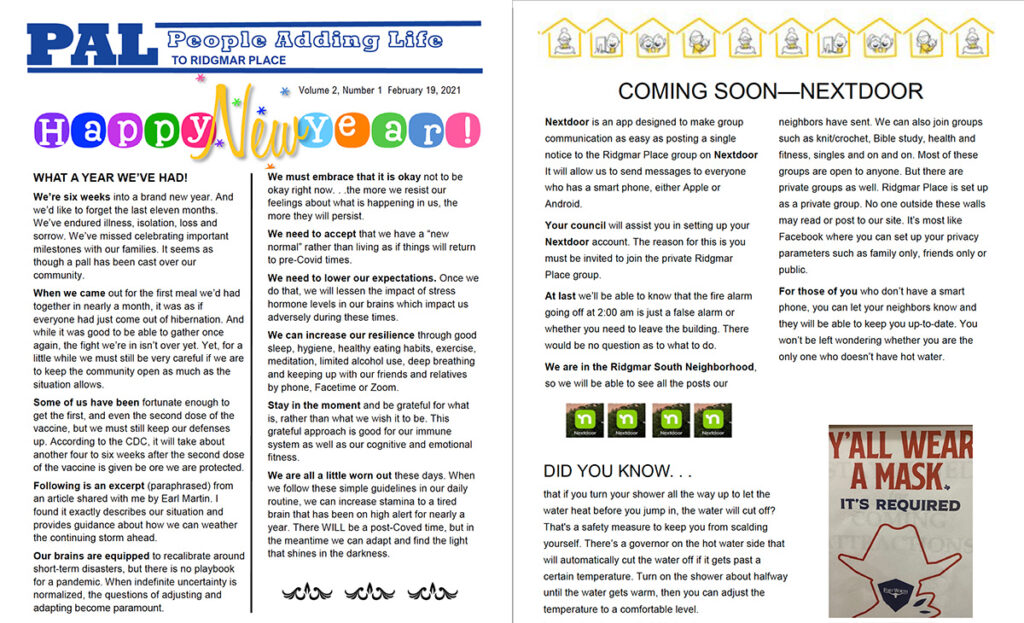 How did you become involved in the Resident Council?
"The Resident Council election had been in December 2019, but the elected vice president moved out of the community a couple of months later. The president asked me if I was interested in filling the slot. I said yes. Then, within a couple of months, she and her husband, who was treasurer, bought a house and moved out," Evelyn says.
"That made me president by default. Building the Resident Council to a full slate of officers has been a challenge. Those working with me on the Council have been transient, from moving out of the community or passing on. Such is life in a senior living community."
Describe the "guided" painting activity you led?
"The 'guided' painting activity was lots of fun," she explains, "although guiding turned out to be as effective as herding a roomful of cats! My master's degree is in special education-gifted and I had 17 years of teaching experience with children from kindergarten to fifth grade. This was my first experience with a group of very creative seniors. Our inspiration was supposed to have been a trip to the Fort Worth Botanical Gardens. None of the participants had been on the trip."
What the team at Ridgmar Place has to say about Evelyn
Evelyn truly is an amazing woman who we cherish here at Ridgmar Place. Thank you for being a part of our community, Evelyn!
If you want to make new friends in an independent living setting, Evelyn and the Resident Council will make sure to offer you a seat at their table! We have all walked different paths in life but we all come together to create a loving and familial-like environment in our independent living community in Fort Worth. Contact us today to learn more and schedule your personalized tour.