Get to Know Chef Jay
At Town Village Crossing, team members give their best for residents and are committed to excellence in their craft. One great example is Executive Chef Javad (Jay) Barband, affectionately known as Chef Jay.
After studying environmental design at Oklahoma University, Jay worked as a space planner for an Architectural firm in Dallas. This is when he did some work for a big restaurant concept around the country.
"That marked a turning point in my life in the early '90s. I struck on my own and opened an Italian Restaurant in Dallas," says Chef Jay.

"During my culinary career, I had the opportunity of working with and learning alongside the best chefs in the business, enabling me to discover my true love of cooking."
Delicious and nutritious choices
Chef Jay's focus on dining at Town Village Crossing is all about health and longevity. With that perspective in mind, he creates daily healthy options for residents with a farm-to-table flair.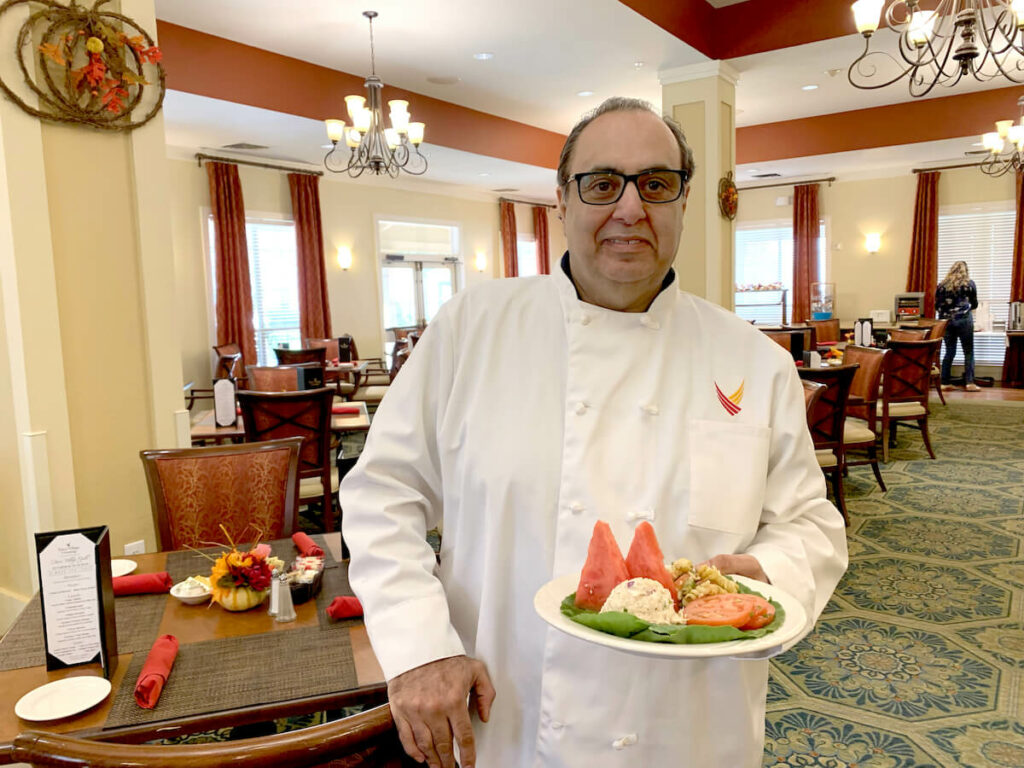 Examples include daily salad or soup bar with each meal and always using the freshest ingredients. Menus are also skillfully planned around seasonably available ingredients including fruits, produce, and seafood.
Dining well at Town Village Crossing
We offer heart-healthy menus daily, featuring items like skinless grilled chicken breast, grilled salmon, steamed filet of fish, whole grains, fruits, and fresh vegetables. We bake most of our pies and cakes in-house and include diabetic-friendly options for dessert.
Our restaurant-style dining offers many make-to-order choices that we can provide with speed and efficiency. To streamline our processes, the staff use tablets to transmit requests directly to the kitchen.
Residents also love our "chef's action table" that we set up for our omelet bar or our weekend dessert bar featuring bananas foster.
Resident feedback drives our decisions
We feel it's important to engage the community as we plan our meals, ensuring residents' requests, likes, and dislikes are reviewed.
"I have a monthly residents' meeting for feedback and suggestions on food, service, and quality," Chef Jay says. "I'm always open to feedback and suggestions. You can also contact me directly with any questions."
We request input on special occasions and holiday meals. Our celebrations are important and we treat them with high standards.
Food brings us together
Food is not only fuel, it's life. It's a way for people to come together and enjoy their time. Food celebrates our heritage, fond memories, and special moments. That's why Chef Jay and the Dining Services team are committed to providing an exceptional experience for each resident.
Chef Jay shared, "I have discovered the rewarding senior living business in the past 10 years. I've had the honor of working for and satisfying many seniors with my cuisine and making a difference in their lives."
"Working with our seniors who help make today's America is more than just a personal reward. It is not a job, it is LOVE."
When Chef Jay isn't creating masterpieces in the kitchen for our community, he is spending time with his wonderful wife Kristina of over 25 years, son Alex, and daughter Sarah.
You'll also find him cooking, drawing, consulting with restaurants, and watching and attending food shows which stimulate his endless culinary curiosity.
We're so grateful that he brings his creativity and passion for cooking for seniors to our community.
Dine well at Town Village Crossing
To learn more about our community and to sample some of Chef Jay's creations, contact us for a visit. We'll save a spot at the table for you.