Where does Fairfield, California have living options for seniors?
The Village at Rancho Solano senior living community sits between Sacramento and San Francisco, two miles west of I-80. We're a centrally located assisted living and memory care community offering senior apartments with a multitude of amenities, services, and floor plans.
Does The Village at Rancho Solano offer senior care?
Our community provides personalized care services to older adults. Seniors who wish to live independent lives can do so thanks to comforting services like:
Activities of daily living assistance: bathing, grooming, dressing, transferring
Physical, occupational, and speech therapies
Licensed nurse oversight
Medication management
Dining assistance
Health monitoring
Many seniors are healthy enough not to need a nursing home or skilled nursing facility. Independent living communities are an excellent fit for recent retirees who want to stay social and don't require care services. Assisted living fits in the middle of those two services to offer care that's just right for older adults who want to focus on living at a pace they enjoy.
In our dedicated memory care program, Connections, seniors living with Alzheimer's and dementia can find comfort and purpose.
Connections relies on evidence-based therapies and approaches to dementia care. Dr. Sandra Petersen created the program used in Pegasus Senior Living communities all over the country. Her experience with a stroke led her to discover how exercise and continued learning can help the brain create new neural connections.
Neuroplasticity is the brain's ability to adapt and change and slow memory loss. Specialized team members work on an individual level to offer loved ones a chance at finding purpose in their lives.
Encouraging socialization, providing access to brain-challenging games, expressing emotions, and dementia-friendly exercise support the residents of our memory care community in Fairfield.
What are my senior housing options in Fairfield?
The Village at Rancho Solano offers five floor plans to residents who wish to live in a supportive community. Our apartments have been recently renovated to provide seniors with contemporary designs and modern features.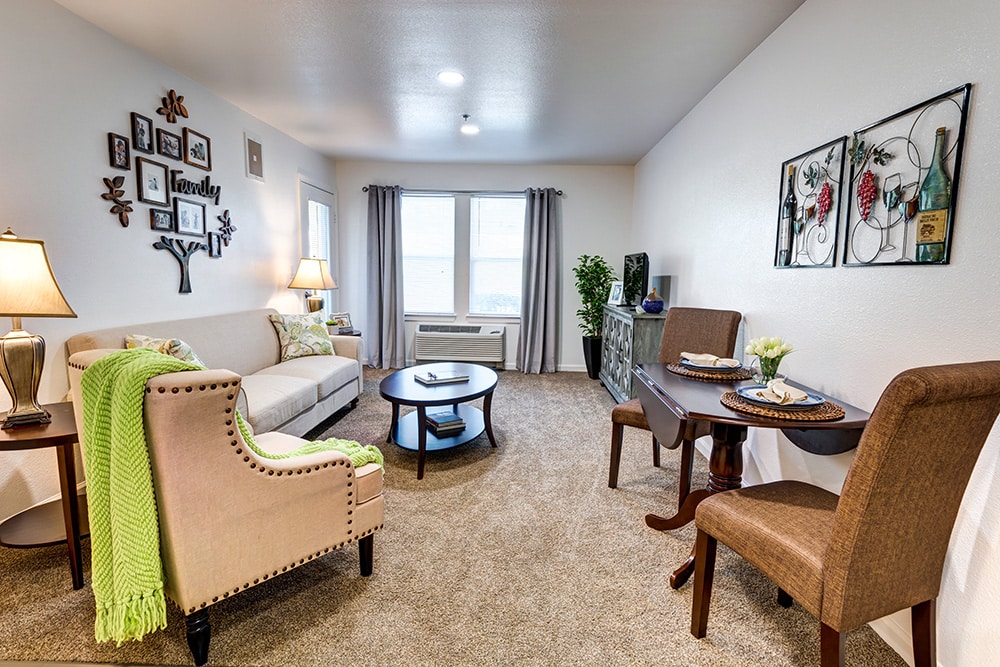 All senior apartments in our community are pet-friendly and feature:
Housekeeping
Laundry and linen service
Home maintenance
Cable TV
Utilities paid
Window coverings
Personal temperature control
Studio
Studio apartments are a cost-effective option for senior residents. These private living spaces include:
A kitchenette
Multiple storage closets
Walk-in showers
Grab bars in the restroom
A private patio
Smaller living spaces offer seniors fewer hassles. With so many amenities waiting outside, a smaller private living space is perfect.
One Bedroom
One-bedroom apartments feature a larger kitchenette and buffet, great for entertaining guests. Seniors will love patio access from their living room and the large amounts of storage space.
Two-Bedroom Options
Seniors who want to live with a roommate or want an additional bedroom for activities or family visits will love one of the three options we have for two-bedroom apartments.
One option includes two private bathrooms. The primary bedroom features a relaxing tub and the other a walk-in shower. Shared bathroom layouts are also available. Seniors can enjoy starting a garden or creating their perfect outdoor escape on the private patio.
What are the advantages of senior living in Fairfield?
Seniors living in Fairfield enjoy receiving the care services they need in the privacy of their homes. Our senior apartments are a great place to recharge in between all of the events and activities available in our community.
From community arts and crafts shows to movie nights and planned outings, there's something on our calendar for everyone to enjoy. Imagine living with these regular events:
Stretching and strengthening classes
Three meals per day in the dining room
Community transportation to scenic drives, lunch, and shopping
Card and board games
Live music
Worship services
Happy hours
Some of our residents recently enjoyed taking a technical support class from students at the University of California, Davis. UCD students stop by and cheer for us too. We enjoyed hosting Taiko drummers in our beautiful backyard; some residents got the hang of it and joined in on the performance.
There are many opportunities to meet new people here. Outside is access to a garden area, paved walking paths, and a patio. Inside are many comforting places to catch up with friends like the:
Fireplace living room
Theater
Library
Salon
There's never a reason to be bored in our community. Senior apartments offer personalized continuing care so older adults can enjoy their golden years. You'll find our community to be more active than you'd expect.
Visit Fairfield Assisted Living and Memory Care
Our senior apartments include the care older adults need to live with confidence. Contact The Village at Rancho Solano for a tour of your new lifestyle.