What makes something unique? It could be its exclusiveness or something so simple it takes people by surprise.
Senior assisted living in Houston has unique aspects. While many senior living communities try to reinvent the idea of an extravagant lifestyle for older adults, The Farrington at Tanglewood retains its uniqueness by keeping things simple and doing as the Houstonians do.
What's unique about Houston?
Well, besides The Farrington at Tanglewood, Houston is known for many things you won't find anywhere else.
It is more culturally diverse than New York or Los Angeles.
It is home to over 10,000 restaurants.
It's the location of the largest mall in Texas. The Galleria is a short drive from our community.
The Texas Medical Center holds the title of the largest hospital in the world.
Its motto is, "The City With No Limits!"
Seniors can live a good life in Houston. Farrington residents like Peter enjoy the tranquility of sitting in the garden and watching the birds. He's lived in the community for over 17 years.
Who needs assisted living in Houston?
Assisted living is independent living at a pace that's right for you or a loved one.
The Farrington at Tanglewood is home to a diverse group of retirees. These residents are active seniors who enjoy our community's independence and convenience. Senior aids for daily living help give these older adults the freedom to choose what they do every day.
Consider if any of these activities of daily living could benefit you or a loved one:
Bathing
Dressing
Personal care
Medication management
Housekeeping
Transportation
Cooking
Many seniors don't realize that assistance in one or two areas can make a world of difference. Receiving personalized support frees up time to meet up with friends, spend quality time with family, and explore what makes Houston special.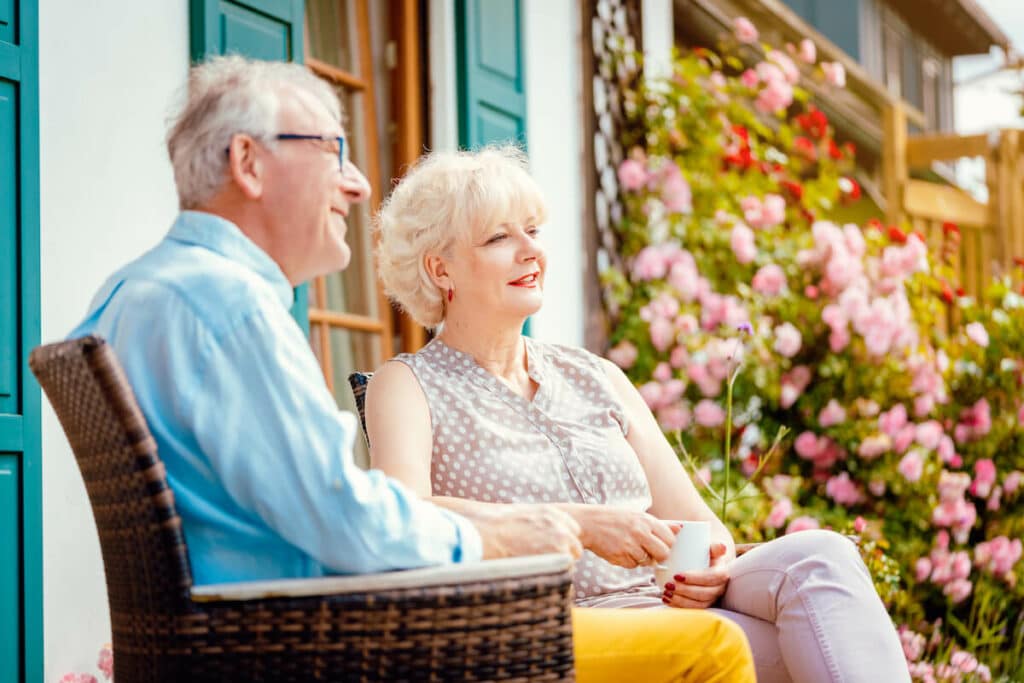 What's unique about The Farrington at Tanglewood?
Chef Joe
The residents of The Farrington at Tanglewood are spoiled. Chef Joe can cook anything, and his creations look as good as they taste.
He treated us to a surf and turf dinner for Valentine's Day. The meal featured French onion soup, red velvet cookies, and hibiscus spumante.
Residents love watching him lead a demonstration and show off his skills.
Chef Joe always surprises us with a special pop-up style chicken and waffle night, noodle bar, or gourmet dining party.
Surprises
We love having an old-fashioned good time with our passionate team members and unique visitors. See for yourself:
Assisted Living and Memory Care
Making a move to an assisted living community like The Farrington at Tanglewood may be the last one you'll ever have to make. By offering memory care, we provide an additional level of care to relieve duties from Houston families.
Assisted living memory care is a specialized senior living service for people experiencing Alzheimer's and dementia. We honor these residents by giving them the aid to live independently at their pace. Our community is fortunate to include the Connections program.
Connections is an evidence-based program that boosts brain neuroplasticity through purposeful learning. Exploring creativity, forming new relationships, and living in the moment are encouraged. We tailor our dementia care services to individual preferences. It's how we honor and celebrate your loved one.
Is assisted living the same as long-term care in Houston?
Assisted living is long-term senior housing with the benefit of senior care and aid services. Seniors living with chronic conditions who cannot live independently in any capacity may prefer the services of a nursing home living facility in Houston.
Skilled nursing facilities include services like intravenous and wound care. Medicare usually covers short-term stays in nursing homes due to the medical treatments occurring.
Many of these nursing care facilities include rehabilitation to get seniors back on their feet.
To offer a higher level of care, The Farrington at Tanglewood also provides on-site physical, occupational, and speech therapy to residents. Unlike a nursing home, senior residents of The Farrington at Tanglewood receive assistance and care in the privacy of their apartments.
Our community is where hospitality meets health care.
Why do seniors love living in Houston?
Families love our convenient location near Woodway Dr. and Chimney Rock Rd. We're a couple of miles west of the Houston Arboretum & Nature Center.
Seniors in our community love planned excursions to Tanglewood Park, the Rienzi Museum of Fine Arts, and The Houston Fire Museum.
Residents like Teno enjoy our location. Her family members stop by every day for a cup of coffee or a glass of wine. She says, "When you have a relative that doesn't know where to go, this is the place."
Find an Assisted Living Community in Houston Near You!
Experience the surprise of easy living in assisted living at The Farrington at Tanglewood. Contact us to learn more about the levels of care and cost of assisted living. Personalized tours are also available.