We answer all of your burning questions about senior living in Stockton, CA.
The Oaks at Inglewood is an assisted senior living community located in Stockton, CA. Residents there live in private senior apartments and enjoy engaging community activities.
How much does it cost for senior living in Stockton?
There is no one-size-fits-all, or even most, when it comes to senior living in Stockton, or anywhere for that matter. Even in the same community, residents receive vastly different services.
Living at the Oaks at Inglewood is also a unique experience. We take the time to get to know you to come up with a plan and program that meets your individual needs.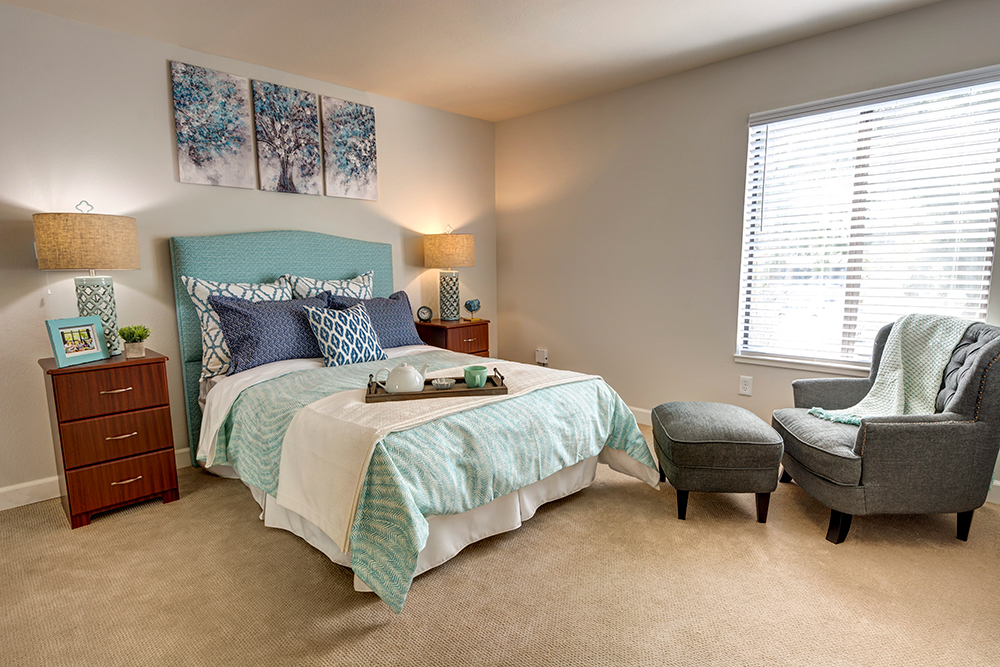 Why choose Stockton?
Stockton, CA is a lovely city along the San Joaquin River south of Sacramento. According to VisitStockton.org, It was the center for supplies during the California Gold Rush and more recently the set for several famous movies.
The Oaks at Inglewood senior living community is located minutes from the Kaiser Permanente medical offices as well as shopping at the Lincoln Center and the Bob Hope (Fox) Theater. Our residents regularly take excursions to local favorites like Haggin Museum and Oak Grove Regional Park.
How do I pay for senior living in Stockton?
In addition to the carefully curated plan you will receive, you may have financial assistance that will alter the bottom line.
Veterans' Benefits for those who have served in the United States Military
Long-term Care Insurance
Reverse Mortgage
Life Insurance
What are the benefits of assisted living?
Our needs change as we age, and suddenly we find that the living situation that has happily sustained us for decades no longer serves us. The Oaks at Inglewood has all that covered.
| | |
| --- | --- |
| Concern | How we can help |
| Your mobility is not what it used to be. What if you slip and fall in your bathroom? | We are a newly-renovated community designed with seniors in mind, including senior-friendly bathrooms complete with walk-in showers and grab bars. |
| Keeping up with chores is becoming – well, a chore! You just don't have the energy or ability to keep up with it like you did in years past. | You have worked so hard all your life. Let us take care of you now with things like laundry, housekeeping, and cooking. |
| It's getting harder and harder to do the basic things necessary to maintain yourself, and there may not be anyone around to help. | We can help with that too! We are happy to provide you assistance with activities of daily living such as dressing and bathing. |
| Did you take your pills today? Are you not sure? | The Oaks at Inglewood provides medication management as well. Never miss taking your medication because we will keep track of that for you. |
| Are you feeling lonely and depressed? When you look around your neighborhood, do you wish you had friends your own age? | Our senior living community in Stockton provides you with an entire community of people your own age as well as a full schedule of fun and engaging opportunities to get to know them! |
How do I prepare for assisted living?
Start early. There is much to do, and it is better to start sooner than later. In order to be able to thoughtfully sift through decades of memories, don't leave the process for the last minute.
Figure out what you will need in your new senior apartment. When you move into your new senior apartment in Stockton, it will be a much different experience than what you are used to. You won't need most of your belongings, but make sure that you do keep some fun things to really personalize your apartment and make it a home.
Digitize your photos and momentos. After over half a century of collecting memories and photos, you probably have quite a few boxes. Take advantage of 21st century technology by scanning and creating digital copies. Then you can refer to them without any hassle and reminisce any time you want!
Ask for help. Preparing to move is a big task, but one you don't have to do alone. Ask friends and relatives to assist you, and if they are busy, you can even contact a third party to help you. And when you choose to move into the Oaks at Inglewood, we can even provide assistance!
What is life like in an assisted living community in Stockton?
It is important for seniors to stay active and social. At the Oaks at Inglewood, we provide support for activities of daily living while encouraging our residents to remain as independent as possible. From dining, to laundry, to medication and health management, we do it all so that you are free to enjoy the indoor and outdoor amenities of our beautiful assisted living community. There are opportunities for self-directed activities, or you can jump into one of the scheduled activities or take an excursion to downtown Stockton.
Does moving to a senior living community in Stockton take adjustment?
The answer to this is a resounding yes. Relocating to a senior living community can be a big, scary change, but you have nothing to worry about. We are here to help every step of the way.
We are excited to welcome you into our community where you can finally live life to the fullest again! From the expert care to the community amenities to the exciting activities, you will be glad you are here.
Are you ready to join the fun? Call today to schedule a tour!