Senior transportation in Mesa, AZ is an essential service. Older adults can maintain their independence if they have access to support systems. Having a way to get from point A to point B is a crucial factor in retaining autonomy.
Mesa assisted living communities are an excellent way to keep seniors moving. Many seniors also require mobility assistance even to consider using a transportation service. In addition to transportation, access to mobility assistance is needed.
At Broadway Mesa Village, we understand that the decision to move into an assisted living community isn't always easy. We strive to ensure our residents are comfortable and enjoying life in all aspects.
Providing quality care and assistance is our first quality. However, we recognize it is important for seniors to have the opportunity to get a cup of coffee with friends, get to medical appointments, or visit cultural attractions like the San Tan Historical Society.
Transportation Services and Mobility Assistance in Senior Living
Seniors often have difficulties with transportation due to physical limitations or other factors that come with age. At Broadway Mesa Village, a team of dedicated professionals helps seniors get where they need to go by providing efficient transportation services.
Transportation is available, whether it's a trip to the grocery store or an appointment at the doctor's office. Team members are always ready to provide general mobility assistance when necessary. We provide this service because our community likes to have fun:
Quality senior care is supplemented and improved by offering robust socialization opportunities.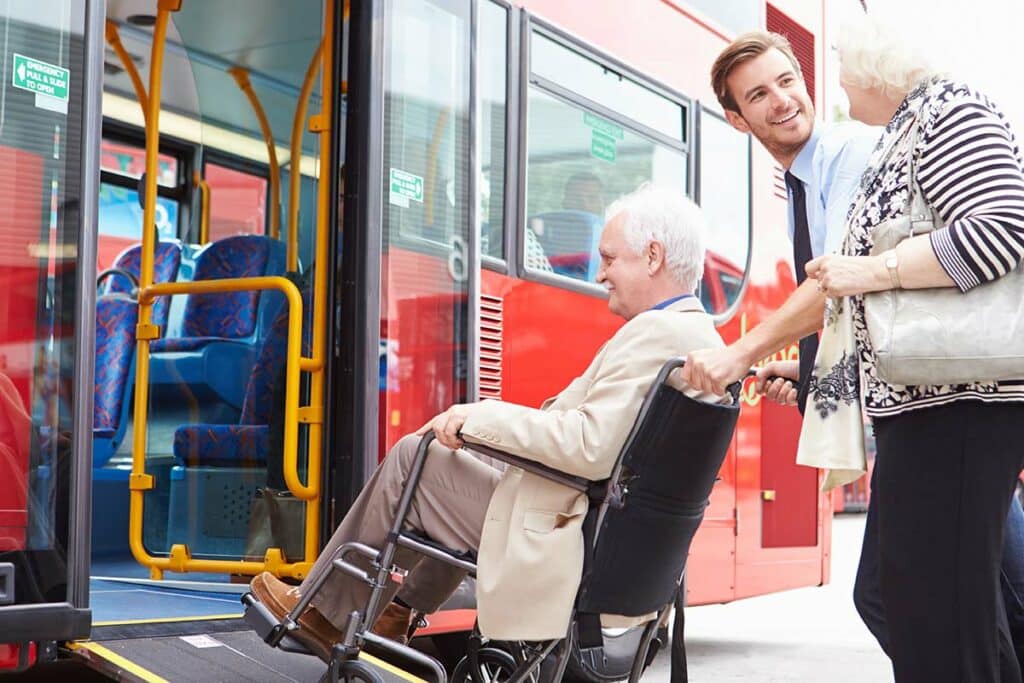 Exercise and stretching are also a daily staple in our assisted living and memory care community. Daily movement is essential for promoting:
Bone and muscle strength
Balance
Endurance and stamina
Positive mental health
Anxiety and depression reduction
Self-esteem
Many of those benefits can help older adults maintain or even improve their mobility. In addition, our in-house physical and occupational therapy programs can help residents meet their wellness goals.
Exploring Mesa, AZ on Senior Transportation
Many older adults use public transportation options such as the light rail or taxi services to get around Mesa. Of course, these options are not always the most reliable or senior-friendly. Seniors must be on time for health care services or when visiting with friends.
Our senior transportation services make it easier for retirees to get around Mesa, AZ easily. Even people with mobility issues can enjoy trips to:
Walmart
Wild Horse Pass Casino
Red Lobster
Mesa Historical Museum
Connections memory care residents also get to enjoy scenic drives that provide entertaining opportunities to connect with community members.
The Average Senior in Assisted Living is 87
Our community was recently awarded Best of Senior Living by A Place for Mom. According to their data, the average age of an assisted living resident is 87. About 41 percent of residents are between the ages of 65 and 84.
Additional National Center for Assisted Living information found that 62 percent of Arizona senior living residents need help walking. The need for mobility assistance is a significant factor in Mesa assisted living communities.
The average cost of assisted living in Mesa, Arizona is $3,975 per month. That's over $500 less than the national average for most assisted living facilities. At Broadway Mesa Village, we include multiple floor plans to accommodate various budgets and lifestyles.
More Than A Ride
Broadway Mesa Village offers assisted living and signature memory care services. Scheduled transportation and outings are only a fraction of the perks in our senior living community.
Residents can relax and unwind here. Our professional team members provide individualized support that lets seniors continue their path of independence. We offer a vibrant lifestyle that encourages social interaction and activity. That feature is hard to find in nursing homes where residents may be less mobile.
Independent living facilities in Mesa, AZ are excellent places for seniors to say goodbye to chores and life hassles. Assisted living communities like ours to provide the same qualities, plus:
Bathing and dressing assistance
Grooming and personal care
Medication management
In-house therapy services
Senior-friendly exercise
Chef-prepared meals
Housekeeping
Get Around Maricopa County with Broadway Mesa Village Assisted Living
Contact us to stop by our senior living community for a tour. Let us provide the independent lifestyle your loved one needs.