How Broadway Mesa Village is Keeping Seniors COVID-19-Free
The assisted living and memory care community in Mesa, Arizona has maintained a secure and comfortable environment for its residents since the beginning of the pandemic. With open communication from medical professionals and social distancing practices in place, our seniors are able to enjoy their days, worry-free.
How is Broadway Mesa Village keeping its residents secure?
Our community takes every precaution to avoid infection. From visitor and resident screenings to continuous cleaning of common areas, Broadway Mesa Village is keeping your loved one's health and well-being the top priority every day. Our seniors are able to keep up with their daily activities, knowing that they live in a secure environment.
What are some of the specific measures that Broadway Mesa Village is taking to prevent the spread of COVID-19?
Broadway Mesa Village continues to keep its residents secure with encouraged precautions outlined by the Center for Disease Control and Prevention (CDC). Below are some of the protocols that our community has put in place:
Screening every essential visitor and associate when entering the community

Screening our residents daily for any symptoms

Continuous

training on handwashing and other sanitation protocols
Continuous cleaning

of resident and common area spaces

Personal protective equipment

used by associates and essential visitors when needed

Ceased use of dining room for those who do not require support and/or supervision

Offering

small group activities

along with in-apartment activity options
The Mesa senior living community wants to ensure its residents receive the utmost care so they can get back to doing the things they love, like social gatherings or game nights. In a world full of uncertainties, life at Broadway Mesa Village is the clear choice for seniors looking for that next step. Make sure to reach out to our team today to schedule a visit to see our secure environment for yourself.
Where is Broadway Mesa Village gaining their medical expertise from?
Our community is part of the wonderful Pegasus Senior Living team. With that comes expert-level knowledge by Pegasus partner, Dr. Sandra Petersen. Dr. Petersen became a founding member of the Assisted Living Federation of America (ALFA) Nurse Action Committee and has played an integral part in the assisted living industry since the early 1990s.
"Dr. Petersen has been leading the charge when it comes to drawing up new protocols as CDC recommendations roll in daily and is overseeing existing procedures for the security of the Pegasus communities." (via PegasusSeniorLiving.com)
Dr. Petersen has years of experience along with strong relationships in the medical field. She has helped our Pegasus Senior Living communities in ordering hundreds of thousands of surgical masks along with on-site COVID-19 testing performed by Magnolia Labs. We are grateful for Dr. Petersen's expertise.
Click here to learn more about Dr. Sandra Perersen and her efforts.
What are some socially distant activities that Broadway Mesa Village provides for its residents?
At our assisted living and memory care community, Mesa seniors are never short of daily activities. With our security measures in place, your loved one will be able to enjoy small group gatherings or in-apartment exercises at ease. Here are some activities that our seniors are doing right now.
Broadway Mesa Village resident enjoying silk screening for the first time.
Seniors at Broadway Mesa Village enjoy all different types of activities. Art is a great way to de-stress and express ourselves. Our residents took the time to learn the process of silk screening t-shirts this past September. They enjoyed learning all the steps it took to get to their final masterpiece.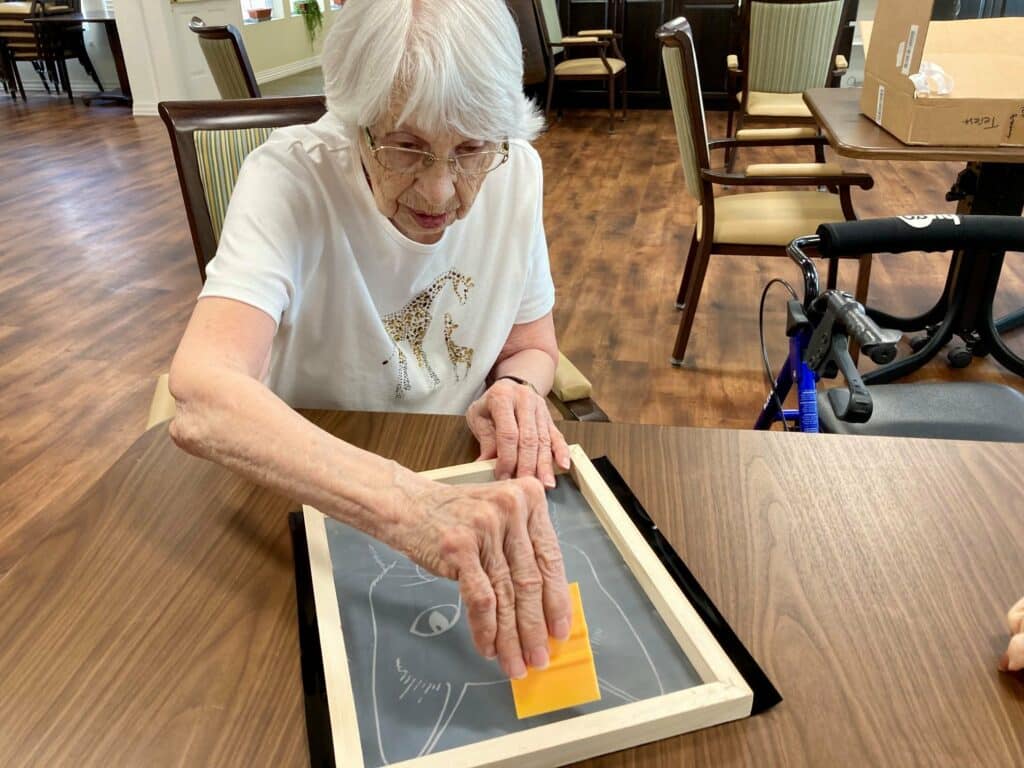 A Broadway Mesa Village resident enjoying a taste test on International Beer Day.
Residents got to taste test some beer on International Beer Day. With social distancing protocols in place, residents sat six-feet apart and enjoyed their beverages with snacks.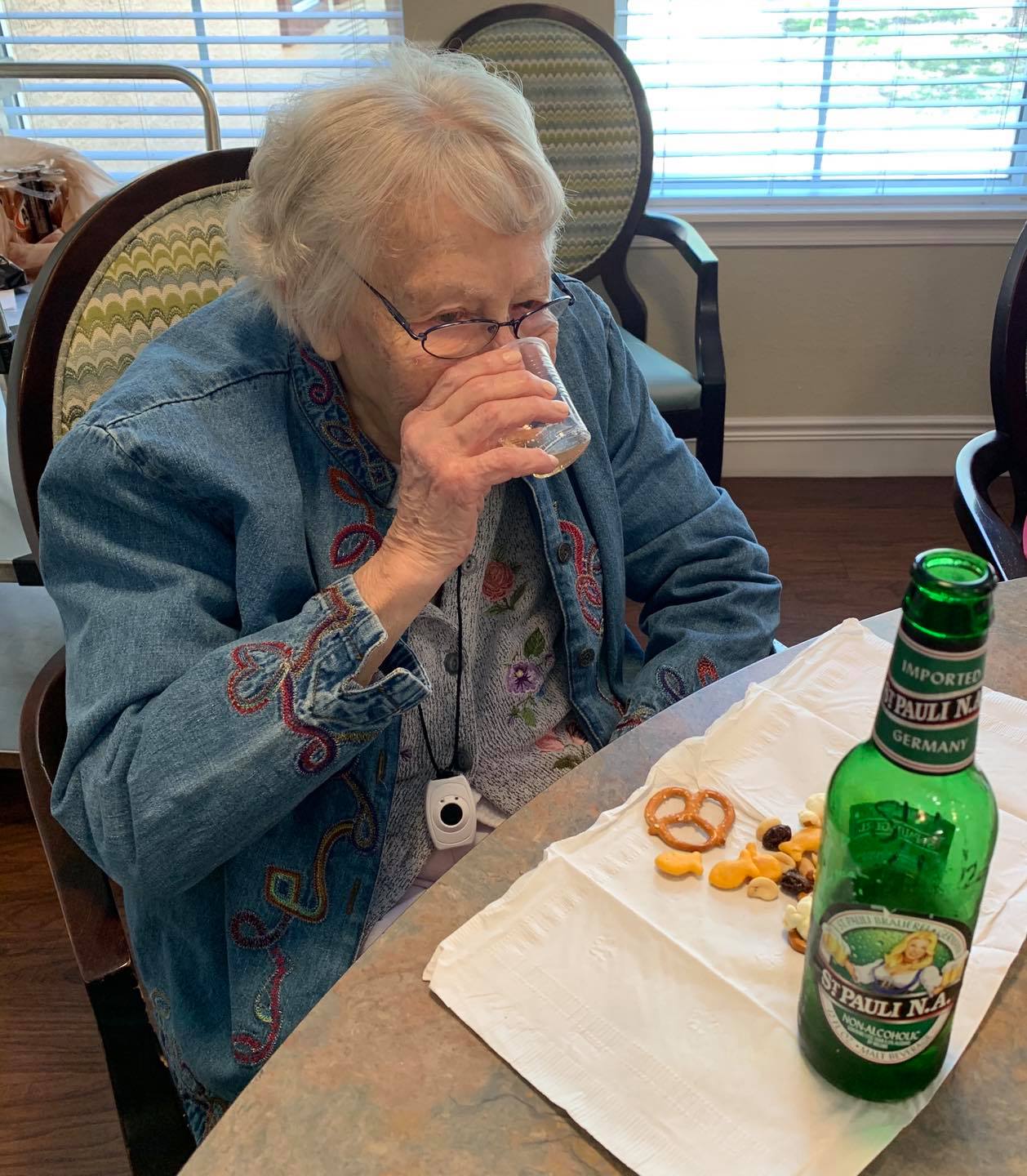 Family visits in the Broadway Mesa Village courtyard. Even dogs practice social distancing!
Thanks to our security measures at our Mesa senior living community, residents are still able to enjoy family visits! Families are able to spend time with their loved one in our beautiful courtyard. Both the resident and their family members must wear masks, practice social distancing, and adhere to other state guidelines.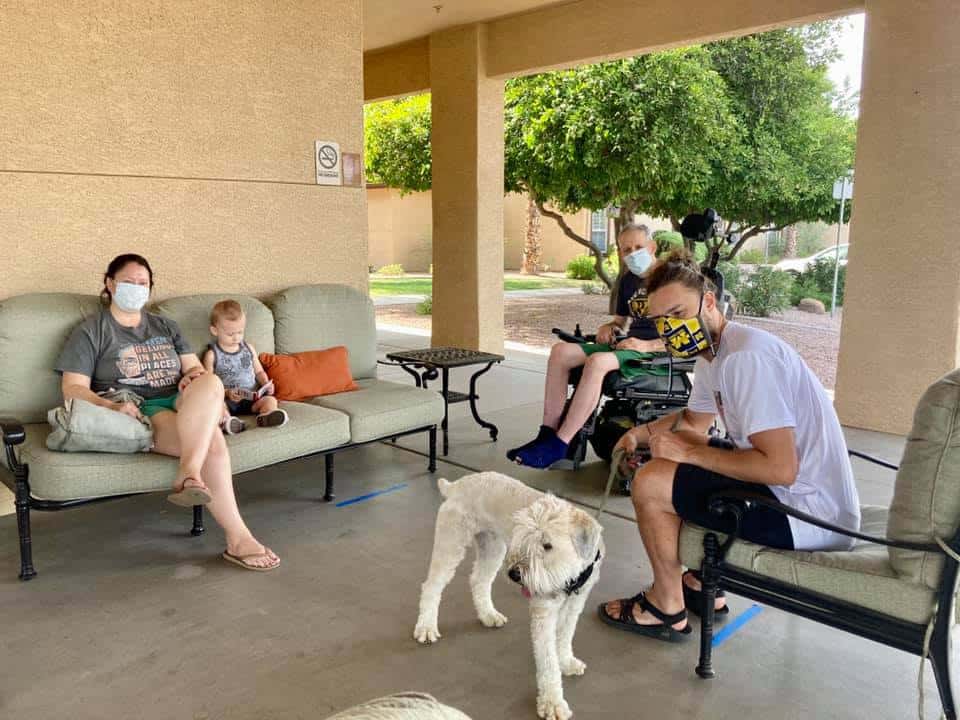 These are just a few of the many daily activities that our seniors are still able to enjoy. Visit our Facebook page to see what else we've been up to!
How is Broadway Mesa Village keeping its residents COVID-19 free?
Here at Broadway Mesa Village assisted living and memory care, security and comfort are our top priorities. From social distancing, mask wearing, continuous cleaning, and COVID-19 on-site testing, your loved ones are able to spend their days worry-free while remaining engaged. With the help of Dr. Sandra Petersen and the guidelines laid out by the CDC, we are confident that our Mesa seniors will continue to live in a secure and enriching environment.
Click here to read more about Broadway Mesa Village's efforts to stop the spread of COVID-19. To schedule a visit or book a virtual tour, please fill out our contact form here. We are ready when you are!