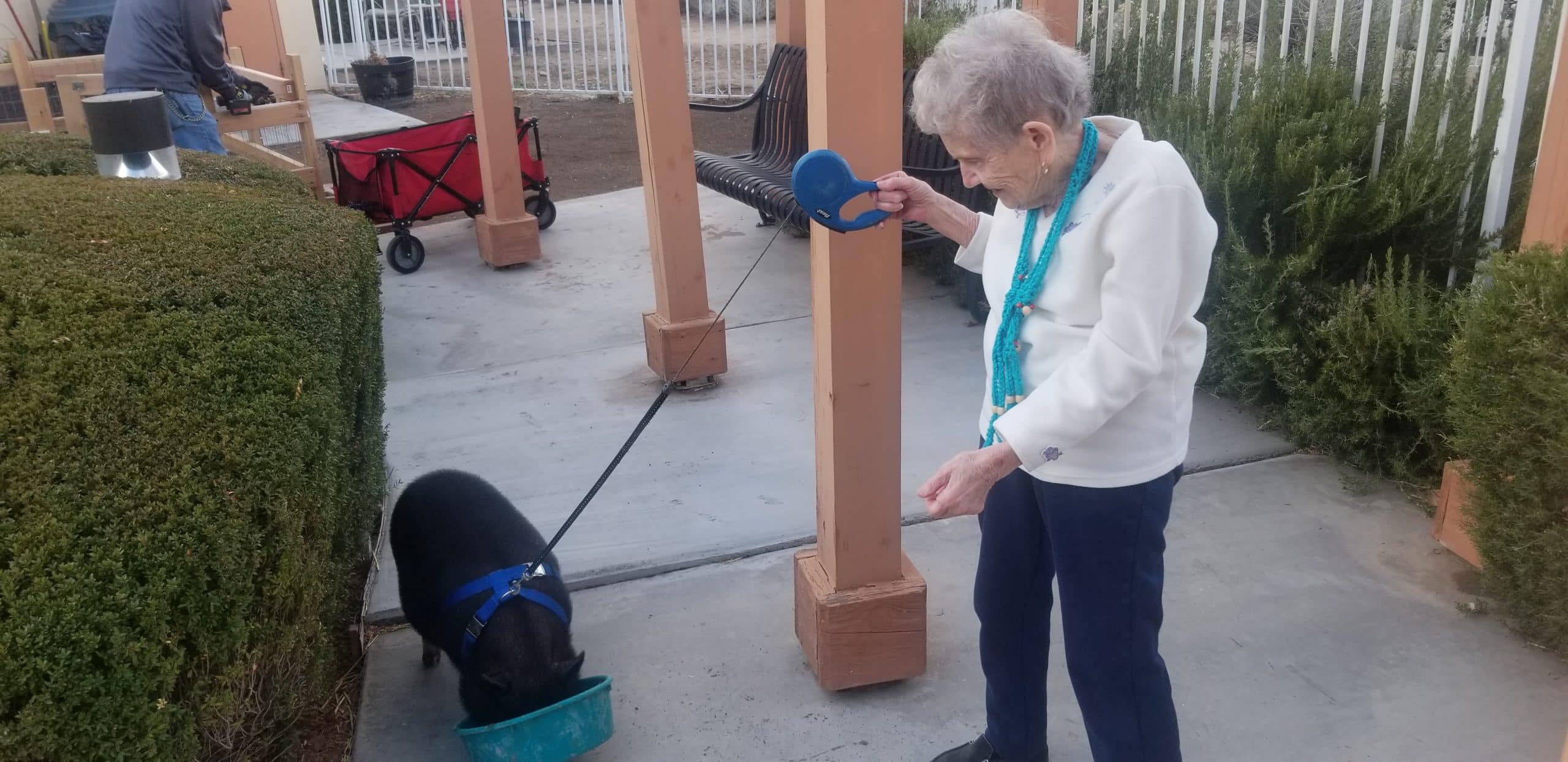 An assisted living and memory care community in Apple Valley is housing a therapy pet that squeals rather than barks. Meet Sox, Whispering Winds of Apple Valley's mini potbelly pig!
Sox was born on July 18, 2019. When Gloria Passo, our Life Enrichment Director, visited her good friend's farm in Victorville, she fell in love with the pigs that were born the day she visited. Since she was a child, Gloria has always dreamed of training and connecting with animals of all sorts. Six weeks later, Gloria took Sox home and introduced him to the residents of Whispering Winds of Apple Valley.
Gloria asked the residents for assistance in training Sox and coming along on his journey to be a certified therapy pig. Once Sox receives his certificate through the AMPA pig therapy program, the residents will form a group and take him to hospitals, schools, homeless shelters and other senior communities around southern California.
A lot of the Whispering Winds residents grew up on a farm and love having a pig in their home. One resident even crocheted a replica of Sox.
Sox knows nine tricks so far: saying bye, shaking hands, sit, spin to the right, spin to the left, playing basketball, walking through a tunnel on command, step-ups on a pedestal and pig kisses. He is always participating in the weekly walking clubs, and residents request special visits to their apartments if they cannot visit him in the lobby. Sox is always bringing smiles and laughs to residents, associates, and families, providing invaluable emotional therapy for all.
Sox is also bringing the local community together. Four elementary students from nearby schools and their dads volunteer and assist with walking, feeding, and training Sox.
Sox will receive his official certificate once he reaches a year old, which is only a few months away! Come meet Sox and see how he's enriching seniors' lives off 11825 Apple Valley Rd in Apple Valley, CA.
Our sweet therapy pig was also featured on Victor Valley News!
Learn more about the adventures we have at Whispering Winds of Apple Valley!