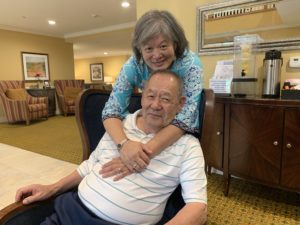 Jim lived in Utah, where all of Kathy's family is from, when his wife of nearly 66 years sadly passed away. Jim moved into a senior living community in Utah, and while they were grateful for family members living there who were able to help him when he needed it, Kathy and her two brothers – all living out of state – decided it would be best if Jim moved closer to one of them. Kathy was thrilled when Jim chose to move to Kansas! 
Father and Daughter Together
Jim loves living at Town Village of Leawood, particularly because he sees his daughter so often. He has made many new friends and enjoys playing poker with some of the other men. He regularly walks around the community and recently joined the Resident Advisory Committee. Prior to the coronavirus restrictions, Jim also enjoyed going to the casinos – often with Kathy on her days off! He loves Town Village's new Executive Director Tina Espinoza, who went above and beyond in making sure Jim got his crew cut perfectly at the recently opened onsite barber shop.  
Last year when Jim moved from Utah to Kansas, he and Kathy drove his car together. Kathy and Jim had a wonderful time during the 3-day road trip, reflecting on their earlier lives and sharing their most treasured memories. 
One of 15 children, Jim grew up on a farm in Utah. As a young man, Jim enlisted in the United States Air Force and served for 20 years. While stationed in Japan, Kathy was born! The family moved back to the United States, settling in Rapid City, South Dakota. Jim retired from the military at a young age, at which time he began working for the Department of Defense in Harrisonville, Utah. Jim is an avid golfer, enjoys gardening, and has always been a loving father and husband.
Kathy's History of Serving Seniors
Kathy has always loved working with seniors. In fifth grade, she was a candy striper at a county nursing home and that is when she fell in love with the elderly. Kathy pursued elder care as her career; she was a nursing home administrator for 18 years, and for the past 5 years she has been in sales and marketing roles for senior living communities. Kathy has been with Pegasus Senior Living for a year. Prior to joining the Town Village of Leawood family, she worked at one of Pegasus' sister communities nearby, Glenwood Village of Overland Park. She transferred to Town Village of Leawood in early May. 
When asked what she loves most about working with seniors, she says it's their stories. "They are walking history books and they teach me so much." 
At Town Village of Leawood, Kathy loves going above and beyond to help residents with their requests for assistance. "They are appreciative of whatever little thing we do for them, whether it is hanging the curtains, calling their families, or just listening to their stories over and over again," says Kathy. "We don't take enough time to really listen to what they have to say, and sometimes they don't always get the chance to say what they want to communicate because we are so busy with life." Here at Town Village, we believe the stories our residents share are truly priceless! 
An Unbroken Bond
When asked how she and her father are most alike, Kathy said they are both stubborn. As an example, Kathy recalls a road trip when she was 4 years old. Jim stopped at a gas station during a road trip to get the kids a bottle of pop. When he told the kids to leave the bottles and get back in the car, Kathy refused to leave her pop, but Jim packed up the rest of the family and proceeded to drive off. Determined to finish her soda, Kathy stood her ground. Jim eventually came back and had to wait for her to finish. This was just one battle Jim could not win!
As an adult, Kathy enjoyed going fishing, attending ball games, having fun at casinos, and golfing with Jim. Her dad was always there for her when she needed help; when Kathy was going through a divorce, she and her two children moved in with her parents who helped her with everything. Jim is not only a great father and husband; he is a wonderful grandfather. Every Saturday, Jim took Kathy's kids for a ride in his old pick-up truck to watch the seagulls at the dump. Later, in the same tradition as with Kathy and her brothers, he would take his grandkids to the gas station to get a bottle of soda. 
Kathy has tremendous respect for her father. While growing up, she never wanted to disappoint him. As Japanese Americans, their family is very competitive in every aspect of life, whether it be grades, jobs, children – you name it. At the end of the day, she knows it comes from the heart and that he just wants her to succeed and be happy. 
Kathy feels blessed that her workplace is her father's very own home. Call (913) 286-7043 today or contact us online to learn more about the true sense of family and community fostered at Town Village of Leawood!