Is Your Loved One with Dementia Exhibiting Unexplained Bumps and Bruises?
If you have a loved one with dementia, you often worry about their well-being. One concern that often arises is the risk of falls, which can lead to severe injuries such as broken bones, concussions, and internal bleeding.
Dementia can make it difficult for people to manage their medications properly, resulting in hospitalizations due to accidents or imbalances.
These issues can be especially concerning if your loved one keeps getting bumps and bruises or seems to be frequently hospitalized without an apparent reason.
Explore some possible causes of these symptoms and how memory care facilities in Denver can help prevent them from recurring.
Understanding the Signs & Stages of Dementia
Dementia is a term used to describe a decline in cognitive function and memory loss that can interfere with daily activities and quality of life. While dementia is a progressive condition, it is not a normal part of aging and can affect people of all ages and backgrounds.
The signs and stages of dementia can vary depending on the individual, but some common symptoms include:
Forgetfulness
Confusion
Disorientation
Mood changes
Difficulty communicating or solving problems
With progression, people with dementia may become less able to care for themselves independently, experience personality changes, and require assistance with daily tasks such as bathing, dressing, and eating.
The stages of dementia are generally divided into early, middle, and late stages based on the severity of the symptoms and the impact on daily functioning.
In the early stages, individuals may experience mild cognitive changes and memory loss that do not significantly interfere with their daily activities.
In the middle stages, symptoms become more pronounced, and individuals may require assistance with daily living activities.
In the late stages, individuals may lose the ability to communicate verbally, need extensive assistance with daily living, and may become bedridden.
If you or a loved one are experiencing symptoms of dementia, it is crucial to seek medical attention and support from a healthcare professional. Early diagnosis and treatment can help slow progression, improve quality of life, and provide access to resources and support for caregivers and families.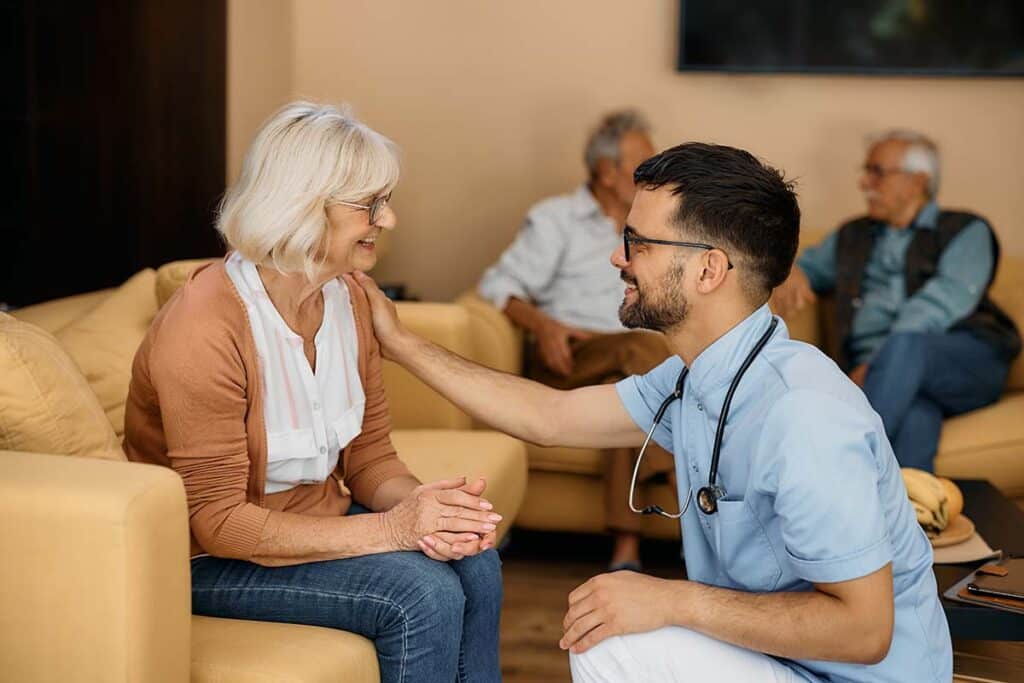 Does dementia cause more health accidents?
Memory loss from dementia or Alzheimer's can affect older adults' ability to remember essential tasks such as taking medication, attending medical appointments, and maintaining a healthy lifestyle.
Yes, dementia can increase the risk of health accidents and injuries, particularly among older adults. According to one study, the risk of falling nearly doubles for people with dementia due in part to the physical and cognitive changes that occur as impairment progresses. However, falls are not the only health risk associated with dementia.
A recent analysis of a 14-year study found that people with dementia are also at increased risk of injuries due to:
Choking on food
Mismanaging medication
The study found that these factors were associated with a higher risk of emergency room visits and hospitalizations for people with dementia.
Loneliness and isolation often increase the risk of developing Alzheimer's or dementia. Seniors without strong social support are seen to visit hospitals and emergency rooms for heart failure by as much as 68 percent.
These statistics underscore the importance of taking proactive steps to prevent accidents and injuries in individuals with dementia, including:
Addressing physical safety hazards in the home
Providing assistance and support with medication management
Implementing regular medical check-ins to address health concerns
Fortunately, Denver memory care communities provide specialized care, support, and resources to help seniors with memory impairment live independently, reduce their risk of health complications, and prevent repeated doctor or emergency room visits.
How Memory Care Facilities Reduce Accidents
Alzheimer's and dementia care facilities in Denver can help seniors with memory loss stay healthy and avoid unnecessary medical interventions through personalized care services performed by trained dementia care professionals.
Medication Management
Memory care communities employ trained staff to help residents manage their medications, follow their treatment plans, and avoid dangerous drug interactions or side effects. This benefit includes:
Reminding residents to take their medication on time
Monitoring their adherence to the medication regimen
Contacting their physicians or pharmacists as needed to adjust dosages or refill prescriptions
Preventative Care
Memory care facilities in Denver emphasize preventative care by providing regular health screenings, immunizations, and check-ups to identify and address health issues early on before they become more severe. Services provided include monitoring blood pressure, blood sugar, cholesterol levels, and other vital signs. Encouraging healthy habits such as exercise, nutrition, and hydration may also help.
Emergency Preparedness
Memory care communities in Denver have emergency plans to respond quickly and efficiently to medical emergencies. This provision includes 24/7 supervision by trained staff, on-site medical equipment, and transportation arrangements for off-site medical care if needed. With these resources, memory care residents can receive prompt and effective treatment, avoid complications or exacerbations of their condition, and recover more quickly from health crises.
Overall, memory care communities provide an essential service to seniors with memory loss by promoting their health, safety, and well-being. By engaging in proactive and preventative care, memory care residents can reduce their risk of health complications, avoid repeated doctor trips or emergency room visits, and enjoy a higher quality of life.
The Courtyards at Mountain View & The Connections Memory Care Program: Denver Dementia Support
At The Courtyards at Mountain View, we understand how challenging it can be if your loved one is experiencing memory loss. That's why we utilize our innovative Connections memory care program created by Dr. Sandra Petersen.
With a focus on socialization, movement, and learning, our memory care program helps individuals with dementia maintain independence, wellness, and quality of life through evidence-based neuroplasticity therapies.
Our secure, resort-style environment provides the perfect backdrop for our Connections program. Some of the data-based neuroplasticity therapies available include:
Music and art therapy
Multi-sensory stimulation
Memory recall exercises
Aromatherapy
Our highly trained team of professionals is dedicated to providing residents with specialized care and personalized attention, promoting socialization and exercise amongst the residents.
At The Courtyards at Mountain View, we know that dementia care is not one size fits all. Our Connections program ensures that each resident's needs are met with tailored treatment plans and specialized care.
Experience What Memory Care in Denver, CO Can Do for Your Loved One
Our innovative approach provides a stimulating and supportive environment for residents, where they can continue to engage in meaningful experiences that support healthy lifestyles. Contact us today to learn more about the Connections memory care program at The Courtyards at Mountain View.