One of the most remarkable aspects about living in Gig Harbor, WA, is the extra-long summer days when the weather is perfect. At Gig Harbor Court, we use that time to enjoy our porches and outdoor patios and surround ourselves with the beauty of the shady trees of Washington. Assisted living here is nothing short of a relaxing experience.
Do seniors get enough sleep?
Senior care at Gig Harbor Court is always a button push away, 24-hours a day. Often, seniors do not get as much sleep as they need. It can result in waking up at night and experiencing falls.
The World Health Organization says that 20 percent of senior falls occur between 9 p.m. and 7 a.m., but you don't have to be an older adult to know how easy accidents happen when a person tries to get to the bathroom or kitchen when they're half asleep.
Research appearing in the National Library of Medicine reveals seniors do not sleep as well as younger people. Older adults also sleep much lighter and don't spend as much time in the REM cycles of deep sleep. Seven to eight hours of rest every night is the goal for seniors, but many factors of aging often get in the way.
Daytime Naps
Studies estimate that upwards of 60 percent of seniors take daily naps. An afternoon nap that lasts 20 to 30 minutes is the sweet spot for finding the energy to finish the day, but research points to longer naps leading to health problems such as:
Irregular sleep patterns
Cardiovascular disease
Alzheimer's and dementia
Diabetes
Medications
Nearly a quarter of adults aged 65 to 85 experience four or more health conditions, and 40 percent of seniors take five or more medications. Both prescription drugs and over-the-counter medicines can drastically change sleep patterns by either making people feel drowsy or lethargic during the day and alert at night.
Certain medicines like beta-blockers and nicotine patches can cause intense dream cycles that lead to waking up frequently in the night.
Changing Seasons
As discussed above, summers in the Pacific Northwest have much longer days than the winter. Mother nature directly affects the circadian rhythm that helps people sleep. Exposure to light for extended periods can cause waking up more during the night and missing deeper sleep patterns.
An article released by Healthline notes that as much fun as the summertime is, it can change how people sleep. These factors include:
Longer exposure to light and delayed melatonin release
More socialization and feelings of euphoria
Higher temperatures
Why do seniors need 24-hour care?
Recognizing that some seniors have difficulty sleeping is one reason to choose 24-hour care. Washington assisted living communities like Gig Harbor court have team members available around the clock whenever accidents arise.
Activities of daily living (ADLs) refer to the basic necessities people need to lead an independent lifestyle. Seniors at Gig Harbor Court can live easier thanks to the assistance of our licensed nurses, medication aides, and care team members.
ADLs and senior care provided at Gig Harbor Court include:
Bathing, dressing, and grooming
Medication management
Transfering
Dining
Personal care services
Personal check-ins
On-site physical, occupational, and speech therapy
Many seniors don't need 24-hour caretakers in their homes to live an independent lifestyle. According to the 2021 Genworth Cost of Care Survey, 40 hours of in-home senior care a week can cost over $6,300 per month in the Gig Harbor area of Washington. Assisted living provides many more services than home care and is also more cost-effective.
Nursing homes may be considered another alternative for 24-hour care, but they still cost much higher than the national average of an assisted living community. Skilled nursing care is generally reserved for seniors living with chronic conditions or recovering from an injury.
Independent living and retirement communities are often great for older adults who wish to stay social and active. Still, depending on the facility, they may not offer higher levels of care that some seniors may require.
What are the benefits of assisted living with 24-hour care?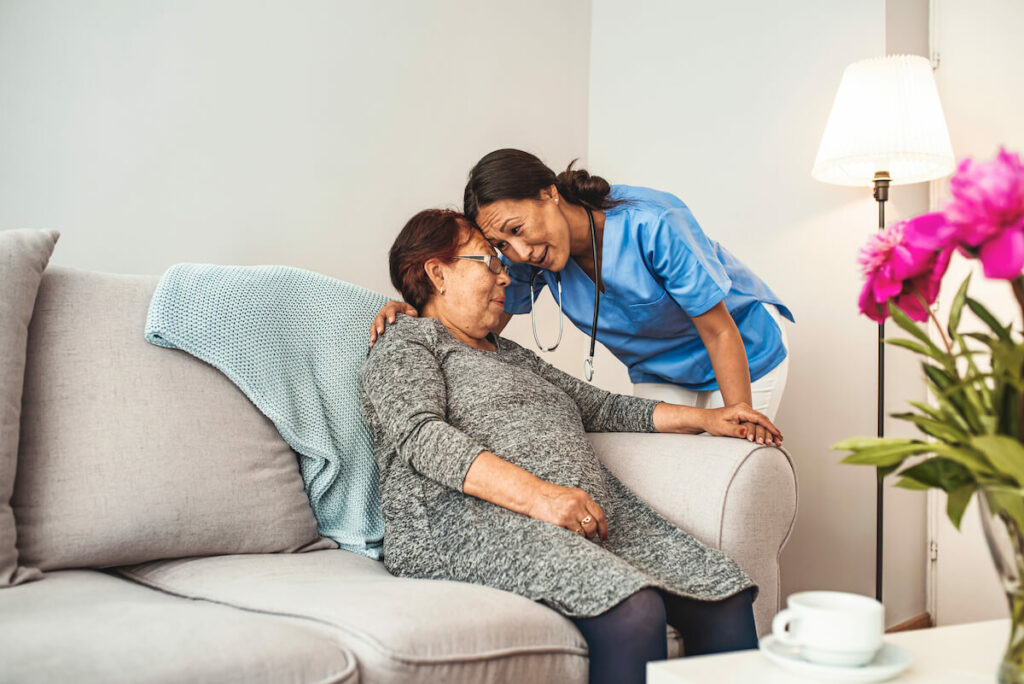 Senior Apartments
Our pet-friendly Gig Harbor senior apartments can reduce the chance of avoidable accidents in the home. Features like walk-in showers and grab bars in the restroom can give seniors additional confidence. In our community, seniors can avoid:
Using stairs
Changing light bulbs
Lifting heavy garbage bags
Using stools or ladders
Our accessible housing, housekeeping, and maintenance services make life easier for older adults, but improving their health is also built into the lifestyles we orchestrate for residents.
Senior Activities
Seniors who get regular exercise and socialization tend to be much healthier than sedentary people. As little as 150 minutes of moderate physical activity per week can help:
Strengthen bones, joints, and muscles
Reduce blood pressure
Reduce stress, anxiety, and depression
Improve mood and self-esteem
At Gig Harbor Court, residents enjoy a full calendar of morning exercises, art projects, gardening, social hours, and much more.
Senior Nutrition
Senior health care should include a balanced diet. A quarter of older Americans do not receive the nutrition they need to live a healthy lifestyle. This lack of nourishment can result in weight fluctuation, weakness, and a weakened immune system.
Our residents enjoy three meals a day prepared by our culinary team. We use seasonal ingredients to provide healthier and tastier meal options.
Respite Care
Many seniors may rely on a family member to provide them with care. Respite care is available at Gig Harbor Court as an option for care providers to take a much-needed break or vacation.
These short-term stays allow seniors to receive the care they need while also enjoying all of our community's benefits and amenities.
Find Assisted Living in Washington
We would love to introduce you or a loved one to our assisted living community in Gig Harbor, WA. Contact us to ask our senior living experts more about the cost of assisted living or to set up a tour.