Looking for fun and engaging activities for an older adult in an assisted living facility near Norcross, Georgia? Stop by Dunwoody Place to see how our personal care residents are having fun!
We have retirees from East Cobb, Tucker, and Decatur coming to our senior living community to join in our exciting and engaging activities for seniors. From educational seminars to movie nights and more, exercises and events make life in our community complete.
Why do assisted living communities place so much emphasis on activities for seniors? Are residents even able to enjoy the meticulously planned calendars?
Continue reading to learn more about our personal care activities and why they are essential to a high-quality lifestyle for Atlanta seniors.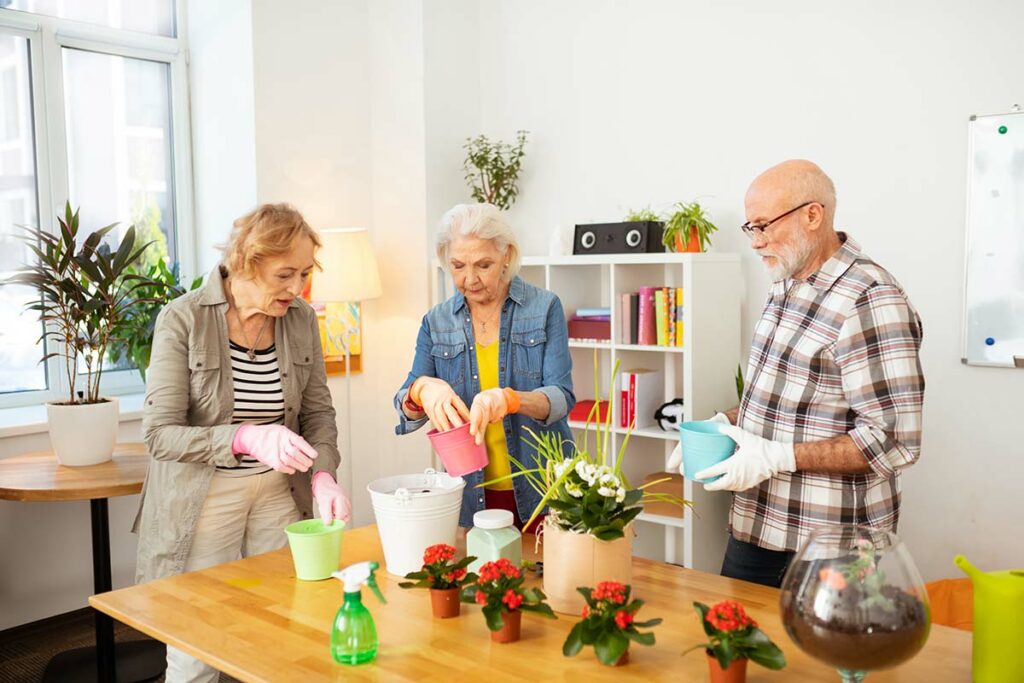 What can seniors do to keep busy?
Retirement is a time to slow down, take a breath and finally enjoy life. However, this doesn't mean seniors should become completely inactive. Keeping an active lifestyle is vital for seniors who want to stay healthy, engaged, and happy.
Let's look at the benefits of staying active in retirement and some ways seniors can keep busy during their golden years.
Staying active in retirement has many physical and mental health benefits. Research shows that regular physical activity helps reduce the risk of:
Stroke
Heart disease
Type 2 diabetes
Depression
Cancer
Alzheimer's and dementia
Exercise also helps maintain bone density and muscle strength and improves balance and flexibility. Those are important factors in preventing falls among older adults.
Staying active provides social opportunities to connect with friends or family members while engaging in enjoyable activities such as walking or golfing. Having a sense of purpose can help retirees feel accomplished. A meaningful life increases mental well-being and self-esteem.
Ways for Seniors to Stay Busy
Seniors can do plenty of activities to stay active in retirement. Take a look at some of these fun things to consider:
Join a gym: Many gyms have special discounts for people over a certain age. Joining a gym will provide access to treadmills or ellipticals that are perfect for gentle exercise. Plus, there are often classes such as yoga or Pilates specifically designed for older adults.
Try something new: Trying something new, like painting or dance classes, are an excellent motivator for getting out of your comfort zone. It's never too late to pick up a hobby or learn something new—and who knows? You might even discover an unexpected passion along the way.
Volunteer: Get involved in your local community while helping others in need. It doesn't matter what kind of work you do. Whether working at a soup kitchen, volunteering at an animal shelter, or helping out at a school, every little bit makes an impact. Plus, you get to meet new people along the way.
Seniors who stay active during retirement can reap numerous rewards, from improved physical fitness to increased joy from participating in meaningful activities with their peers or family members.
All the hobbies discussed above are excellent options. However, it can be challenging for seniors to leave their homes. Assisted living communities and personal care homes make staying active much more manageable.
Personal Care and Plenty of Fun
At Dunwoody Place, we understand that life doesn't stop when entering a personal care or assisted living community. We provide residents with plenty of ways to stay engaged socially and intellectually every day.
Our engaging activities range from educational seminars about science to mind-healthy games like bridge and bingo. There are also opportunities for residents to get creative with art classes or even join a book club.
We also offer a variety of special outings and events throughout the year. Residents take trips outside our community or participate in on-site holiday parties and staycations.
We have a lot of fun playing a senior-friendly version of volleyball. We listen to music, drink wine, and attend worship services. Residents at Dunwoody Place do it all!
These activities help our residents stay connected with their peers. We let seniors stay mentally and physically engaged.
At what age do most seniors go into assisted living?
Sixty-six percent of assisted living residents in Georgia are 65-85. People older than 85 make up 44 percent of residents. The typical assisted living or personal care resident is an individual who may need help with two daily living tasks.
Personal care residents tend to be more independent. Most assisted living residents in Georgia need help with:
Medication management, personal hygiene assistance, and eating are also available services. Assisted living and personal care are both senior living options to make life easier. Residents have the time and energy to stay active thanks to the services and amenities provided.
At Dunwoody Place, our staff is dedicated to providing quality care so that our residents can enjoy life while feeling fulfilled and secure within our community.
Assisted Living, Norcross, GA & Personal Care at Dunwoody Place
Seniors from Norcross, East Cobb, Tucker, and Decatur are encouraged to contact us for a personalized tour of our community.
At Dunwoody Place, we understand that life doesn't stop when entering a senior living community. It continues! We make all our residents' days enjoyable by providing various activities designed specifically for seniors' interests and abilities.