When it comes to caring for a loved one with Alzheimer's, there are many services available. It can be overwhelming to learn the differences between them and figure out which one is right for your family. In this blog post, we'll take a closer look at Alzheimer's day care and other Alzheimer's services, such as memory care communities, to help you make an informed decision about the best type of care for your loved one.
What are Alzheimer's day care centers?
Alzheimer's day care is a great option for those who need part-time support or temporary relief from the demands of providing 24/7 care for their loved ones. At adult day centers, individuals with Alzheimer's or other forms of dementia typically participate in supervised activities and can receive meals and snacks throughout the day. The goal is to provide a safe environment where seniors engage in programming that stimulates their minds and socialize with others in similar stages of life.
The staff at these centers are knowledgeable about the needs of those living with dementia and work to ensure your loved one receives the best possible care while you are away from them. The downside to an Alzheimer's and dementia resource center is that many of the services vary. Some may offer counseling, some can provide personal care, some include behavior management, and sometimes you can find all three of these services or none at all. It's best to check with the individual center to discover your options.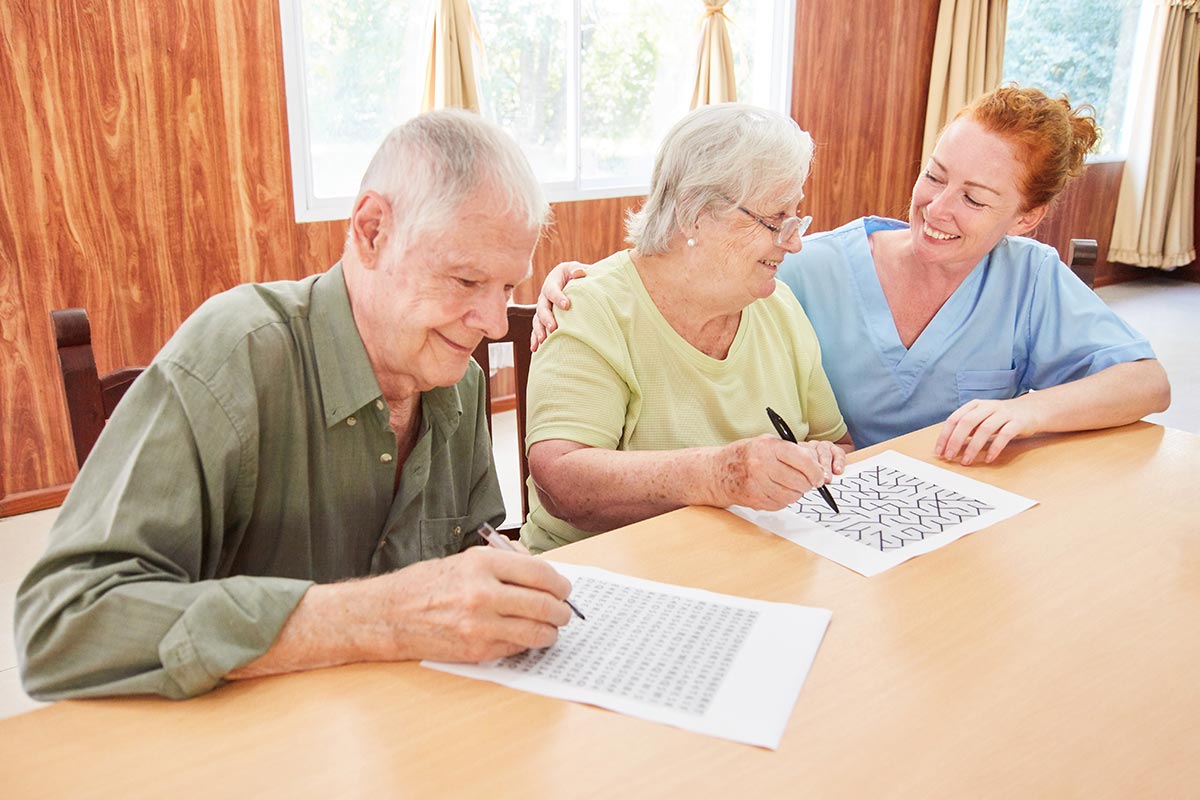 What are memory care communities?
Memory care communities provide comprehensive residential living options tailored specifically to those experiencing memory loss. They provide structured activities that focus on physical fitness, cognitive stimulation, social interaction, and more. Memory care communities also offer specialized amenities like enclosed outdoor spaces and 24/7 security to help ensure the safety of their residents. Additionally, they employ team members who have training in dementia-specific techniques so that your loved one will receive the highest level of professional care possible.
One of the best parts of memory care communities is that your loved one can live on-site and maintain a routine, helping them live more comfortably without having to travel back and forth to an unfamiliar center.
Are there Alzheimer's services in Tucson?
Yes! If you have a loved one living with Alzheimer's, Tucson Place at Ventana Canyon is an assisted living and memory care community that will go above and beyond for your loved one. Our team members can assist with daily living tasks such as bathing, dressing, and eating, as well as provide on-site physical, occupational, and speech therapy.
Residents also have access to plenty of first-class amenities, such as a:
Library
Full-service dining room with brain-healthy meals
Beauty/barber shop
Spacious family room
Private dining room
When your loved one isn't busy getting cozy with a good book, they'll participate in engaging activities as part of our signature Connections program to stimulate their emotions, body, and brain.
Discover the Right Fit in Tucson, AZ
Finding a comfortable atmosphere that provides quality care for your loved one can be a daunting task; however, understanding your options can make it easier to select the best solution for your individual situation. If you are looking for daytime supervision without 24/7 assistance, then an Alzheimer's day care facility could be right for you. On the other hand, if your loved one requires round-the-clock monitoring and more personalized care, then a memory care community like Tucson Place at Ventana Canyon may be a better fit. Schedule a tour today to find out more about our memory care services.