Finding Senior Care as a Pair Near You
Fifty-five percent of adults over 65 are married compared to the 48.6 of 18-64-year-olds who have taken vows. As rates for younger people getting married decline, people over 50 find love at a higher rate.
Around 10,000 baby boomers turn 65 every day in the United States. Many share a home with a spouse. Fifty-five percent of adults over 65 are married compared to the 48.6 percent of younger people who have taken vows. The day may come when "in sickness and in health" can be more than one partner can manage alone.
Just because one spouse's needs change doesn't mean a couple should have to live apart. Assisted living is an option for couples who want to receive personalized care and enjoy retirement living with their best friend.
Assisted Living for Couples
Near the Scofield Farms Neighborhood, assisted living and memory care communities like Parmer Woods at North Austin provide studio, one-bedroom, and two-bedroom apartments to fit a variety of senior lifestyles. These accessible living spaces offer individualized care options to suit the needs of older couples.
Assisted living is an excellent option for seniors who do not want to live without their partners. With the price of full-time home care for one person costing nearly the same as an assisted living facility, the choice is easy.
If one spouse requires more care than the other, those details will be outlined in a personal care plan. If the other partner is more active and wants to stay social, assisted living offers those opportunities every day.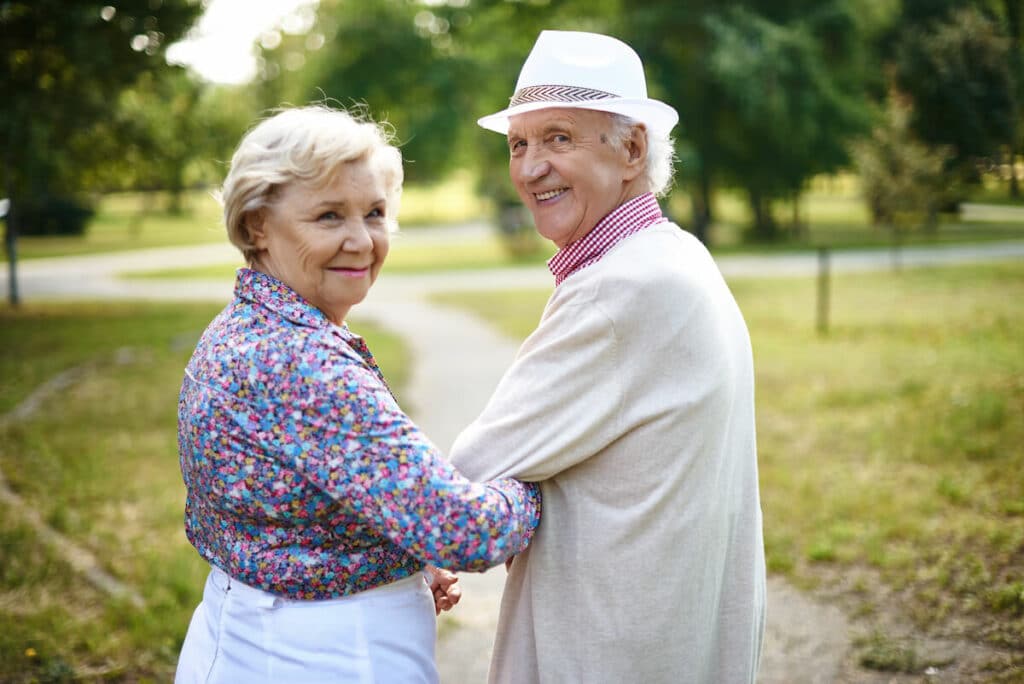 The person with higher needs should generally direct what sort of care facility a couple chooses. Independent living communities might be great options for one-half of the partnership but may not offer a high enough level of medical care or support.
People often find assisted living following an illness or injury; however, assisted living is an excellent option for preventing avoidable accidents and living in an environment that reduces fall risk. Many seniors opt to live at home for as long as possible instead of places like continuing care retirement communities, which have many benefits but feature hefty buy-in fees.
When one person is living with Alzheimer's or dementia, communities like Parmer Woods at North Austin can offer an easier transition for one person to receive memory care.
Connections is a data-based dementia care program in a secure neighborhood of our community. This program offers specialized relief and adds purpose to the lives of those living with memory loss. Couples can enjoy regular visits, meals, and social activities in a dementia-friendly environment.
How much is assisted living for couples?
Monthly costs for assisted living average $5,345 in the Austin area. Apartments are available at Parmer Woods at North Austin, currently starting at $3,750. Much of that cost is the base rate:
Monthly rent and utilities
Three meals and snacks per day
Housekeeping, laundry, maintenance, and transportation service
Daily activities and community amenities access
Health care and support is the primary price variable in assisted living communities. The fewer activities of daily living (ADLs) a resident requires, the lower their monthly care will cost. ADLs, medication management, and other care services average around $10-$15 per day.
If one spouse is a veteran, aid and attendance benefits can significantly help offset assisted living costs. Long-term care insurance can supplement monthly fees when one partner requires assistance with two or more ADLs. Check with your insurance plan for more details.
Spouses who do not need assistance or specialized care will generally pay an additional fee for room and board on top of their loved ones' cost of care.
Assisted living is a cost-effective option for 24-hour home care or one spouse living in a nursing home while the other stays at home. The skilled nursing care involved in these options is a much higher monthly price.
Moving both spouses to assisted living also saves on home repairs and modification costs. It can be overwhelming for an older adult to process paying thousands of dollars for a wheelchair ramp or bathroom renovation while also providing care to their partner.
Assisted living provides a higher quality of life for senior couples. This type of retirement living offers older adults a life complete with daily activities, nutritious meals, and personal care.
What are the benefits of assisted living for couples?
Parmer Woods at North Austin is a community where seniors can discover new hobbies and friends while receiving the care they need to live an independent lifestyle.
People over the age of 85 make up 46 percent of the population in assisted living communities in Texas, but that doesn't mean the time for having fun and enjoying retirement is over. Far from it!
Imagine living with access to these daily activities and amenities:
Resident-run brewery group
Private dining room for intimate family events
Beauty Salon
Library
Outdoor courtyard and paved walking paths
Worship services
Movie nights
Daily exercise
Trivia and live entertainment
To complete these activities and enjoy our senior living community, the team at Parmer Woods at North Austin provides:
Nurse oversight
Bathing, grooming, and dressing assistance
Medication management
On-site physical, occupational, and speech therapy
Nutrition tracking
24-hour support
Living with 24-hour support offers peace of mind. Couples who choose assisted living can say goodbye to chores around the house and hello to having fun. As Senior VP of Health and Wellness for Pegasus Senior Living, Dr. Sandra Petersen says, "Seniors in assisted living enjoy the group environment to keep up with friends and like-minded people."
Find Assisted Living for Couples Near Me in Austin, TX!
Senior couples are welcome to tour Parmer Woods at North Austin. Choose the floor plan that best suits your needs and enjoy easy retirement living. Contact us to find out more about care plans that can serve the needs of you and your partner.