Experience the beauty of the Pacific Northwest while still receiving quality care. As an assisted living resident of Gig Harbor Court in Gig Harbor, Washington, you could enjoy all the benefits of small-town waterfront living while remaining close to larger cities like Tacoma and Silverdale. This area of Washington also features plenty of quality health care centers and hospitals, giving you peace of mind that your health will be well taken care of.
Why should seniors and their families consider assisted living near Tacoma?
Tacoma is only 20 minutes away from progressive senior living communities like Gig Harbor Court, making it the ideal destination for resident excursions. From visiting museums and galleries, like the Tacoma Art Museum, Museum of Glass, Harbor History Museum, and Museum of Flight, to shopping trips at the Tacoma Mall to enjoying outings to the Olympic Game Farm and Point Defiance Zoo & Aquarium, every day can be an adventure in this vibrant community!
If you're looking for more relaxing pursuits, hop on a scenic drive, watch a movie in the park, or take a stroll through Gig Harbor Court's beautifully landscaped grounds, gardens, and private courtyard. This is retirement living at its best, with engaging activities on campus and transportation services to help you explore the historic Gig Harbor and nearby Tacoma.
Can I find progressive assisted living near Silverdale, WA?
Yes. Silverdale is approximately 35 minutes away from Gig Harbor Court. Our campus sits less than a mile from Salmon Bay, enabling boating and fishing enthusiasts to continue enjoying the water as they have at Hood Canal and Dyes Inlet.
Those not looking for an aquatic adventure can explore local shops and restaurants, take in views of the harbor and Puget Sound, or visit some of the many nearby parks for a day filled with outdoor activities such as bird-watching or walking.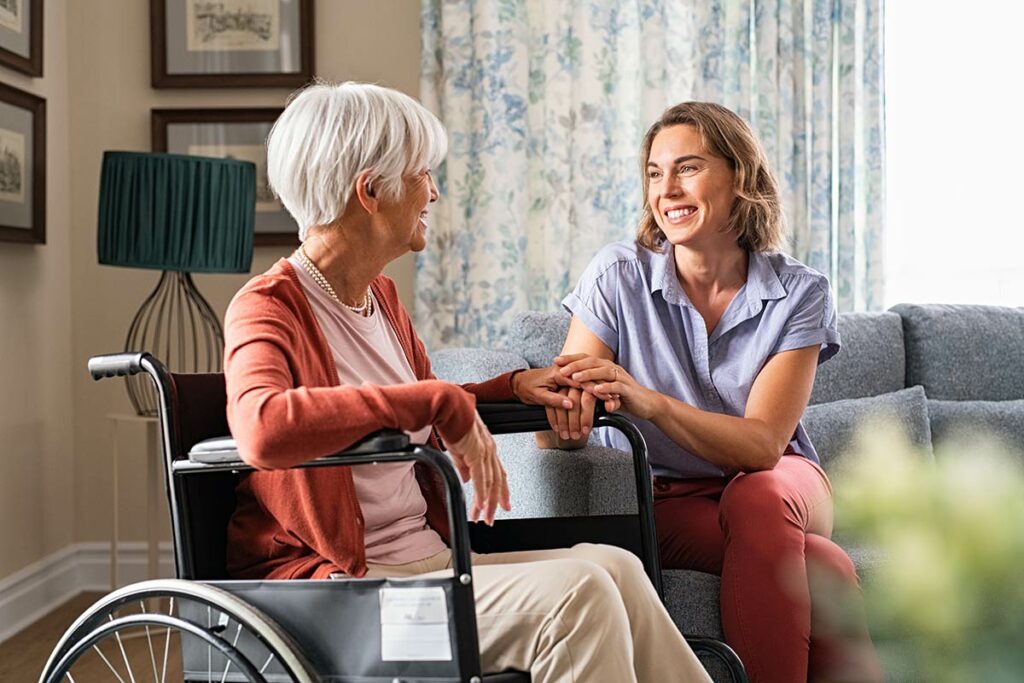 What holistic assisted living services does Gig Harbor Court offer?
Gig Harbor Court prides itself in providing quality care tailored to each resident's needs and plenty of life enhancements that make living here truly enjoyable.
Progressive Care Senior Living
Our team members are trained to offer holistic assistance for residents' physical and mental health. This includes:
Medication management
Bathing and dressing services
Assistance with dining needs
Behavior tracking and management
Diabetic care
Chronic condition management
On-site physical, occupational, and speech therapy
We're committed to providing personalized care that meets your needs, so you can have the confidence to continue living a meaningful and exciting lifestyle.
Life Enhancement
In addition to quality care services, our community offers several amenities, including:
Full-service dining room with delicious chef-prepared meals
Outdoor garden with raised beds for gardening enthusiasts
Outdoor courtyard and covered patio to take in picturesque views
Beauty salon/barber shop
Library
Workout room
Spacious family room
With all these amenities available on site, plus easy access to nearby Tacoma and Silverdale attractions, you'll never run out of ways to stay active and engaged at Gig Harbor Court! Best of all, we'll take care of the chores like housekeeping and laundry, giving you more freedom to explore on and off campus.
Moving into assisted living can often feel overwhelming, but it doesn't have to be when you choose progressive senior living communities like Gig Harbor Court. Here, you can find quality care tailored specifically to your needs, plus access to plenty of life enhancements that can make every day more fulfilling. So, if you're looking for assisted living near Tacoma, Silverdale, or any surrounding cities of Gig Harbor, contact us today at Gig Harbor Court! We'd love to help you start your new life adventure!