Connections, a memory care program coming soon to The Courtyards at Mountain View in Denver, utilizes a data-based idea of neuroplasticity to slow memory loss and add purpose to your loved one's life at any stage of their journey with Alzheimer's.
Our solutions for dementia care are inspired by Pegasus Senior Living Senior VP of Health and Wellness, Dr. Sandra Petersen. Thanks to neuroplastic treatments of movement and brain challenges, she recovered from memory and mobility loss due to a stroke over a decade ago.
Connections is a program rooted in not only research but also experience.
What is the most common Alzheimer's Stage?
Middle-stage Alzheimer's generally lasts the longest, making it the most common. Also known as the moderate stage, symptoms become more apparent to friends and family, and diagnosis is usually determined in this stage. People can live up to 20 years following diagnosis.
What are the stages of Alzheimer's?
Preclinical Alzheimer's disease
Early-stage: Mild
Middle-stage: Moderate
Late-stage: Severe
Preclinical
Amyloid, the abnormal protein known to cause Alzheimer's, can begin setting into the brain decades before noticeable effects. Advances in research now have brain imaging tests to detect this abnormal protein, but it's not always apparent enough to catch.
Alzheimer's advances at different rates for everyone, and no stage has a set time frame.
Early-stage
People with early-stage Alzheimer's may still be working, raising a family, or beginning retirement. They can go about their daily lives with no problems except an occasional lapse in memory. However, over time it will become more difficult to:
Remember names
Focus on tasks
Recall something they just read
Find the right words they need to express their feelings
Stay organized
Manage finances and pay bills
Middle-stage
Typically, this is the most prolonged stage of dementia when problems become noticeable to others, and a diagnosis can be made. During this stage, the need for assistance will begin to increase. Its symptoms include:
Forgetting the time and date
Forgetting personal information
Repeating information
Forgetting to complete tasks
Difficulty recognizing friends and family
Personality and behavior changes
Tendency to wander
Sundowning
Requiring personal care for activities of daily living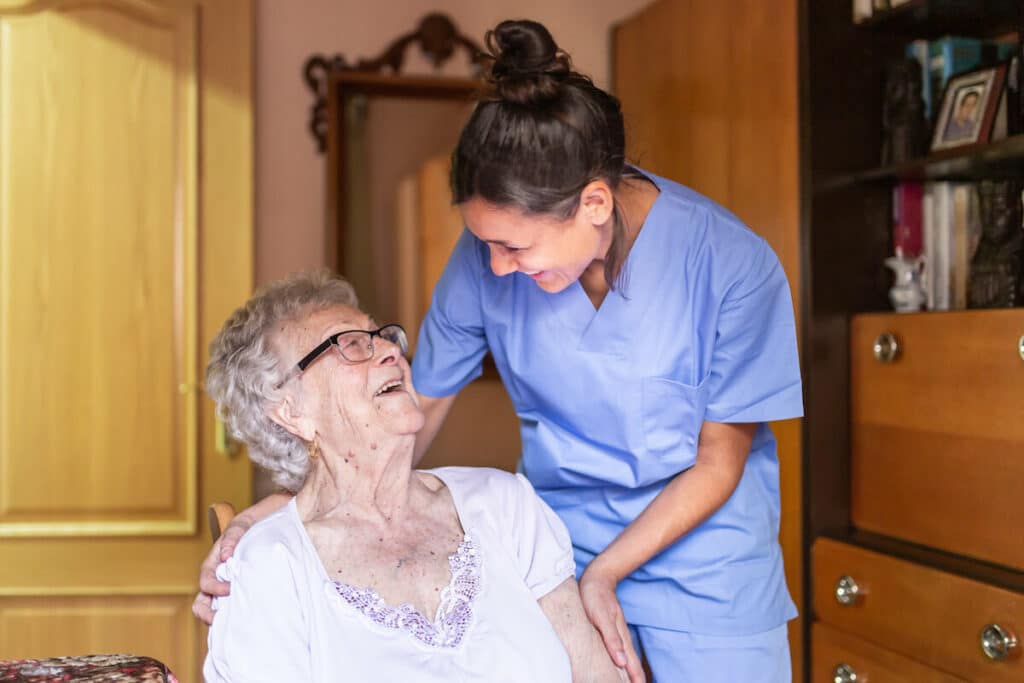 Late-stage
Alzheimer's is progressive and currently has no cure, but long-term memory care can provide relief and offer purposeful engagement for even those in late-stage Alzheimer's. Your loved one will require round-the-clock care and may exhibit:
Mobility loss
Loss of communication and speech
Loss of awareness of their surroundings
Severe memory loss
Weight loss
Are there other forms of memory loss dementia?
Alzheimer's is the most common form of dementia and makes up about 70 percent of all cases. Dementia affects one in three people over the age of 85, but it is not a normal part of aging. Other forms of dementia include:
Lewy-body dementia
Parkinson's-related dementia
Frontotemporal dementia
Vascular dementia
Mixed-dementia
We now have evidence supporting the fact that some forms of dementia can be caused by high blood pressure in younger years and excessive alcohol use. Whatever type or stage of dementia your loved one is living with, The Courtyards at Mountain View offers long-term care in a modern environment with the added benefit of specialized memory loss programming.
Is middle-stage Alzheimer's the best time to receive care?
Finding long-term dementia care should start as soon as possible in an ideal world. Those living with Alzheimer's who are making the transition may be more open and accepting to finding relief and purpose in their lives earlier in their journey.
While your loved one may not require 24-hour care at this time, memory care can help prevent avoidable accidents like:
Leaving an appliance on
Wandering
Fall risks
The Connections Program relies on trained memory loss experts creating an environment for your parent or loved one to express themselves and live in the moment. The experiences include:
Using creative pursuits to express emotion
Focused movement and exercise to promote wellness
Brain-healthy meals and snacks
Playing fun games to challenge the mind and dexterity
Creating community and fostering new relationships
Find Care for Middle Stage Alzheimer's in Denver
Discover how your loved one can live an honorable life, surrounded by support and amenities to give them comfort through their journey. The Courtyards at Mountain View is proud to offer families in Denver Alzheimer's care very soon. Contact us for a personalized tour of our secure memory care community.