The Havens at Antelope Valley offers long-term assisted living and memory care services to seniors and their families in Lancaster, CA.
Unlike traditional nursing homes, our care involves various ways to entertain, enlighten, and engage residents. New memory care residents especially enjoy getting playful, dancing, and listening to music in our activity program.
Melodies and singing can create movement and recall memories. They create moods and celebrate accomplishments. It's a powerful tool that links history and builds relationships. The power of song can give people with dementia a way to express themselves.
Music can help people with Alzheimer's and dementia.
How does music affect people with dementia?
What's your favorite song? It's hard to narrow it down to just one. As soon as you hear a familiar tune, the memories start coming back. While some songs are good, others involve reminders of good times.
People with types of dementia such as Alzheimer's have a much more difficult time remembering recent events. An article by Verywell Health mentions how people with dementia who are musically inclined may enjoy singing or playing an instrument as it's a failure-free activity.
Even into middle-stage Alzheimer's, they won't miss a beat. Experts suggest that neurocognitive disorders may not affect the area of the brain that recalls music.
Songs can also be an excellent distraction in extending the length of physical activity or social interactions in people with early to middle-stage dementia.
One study explored how a structured program of singing and listening to music led to an improvement in:
Mood
Cognition
Orientation
Attention
Executive function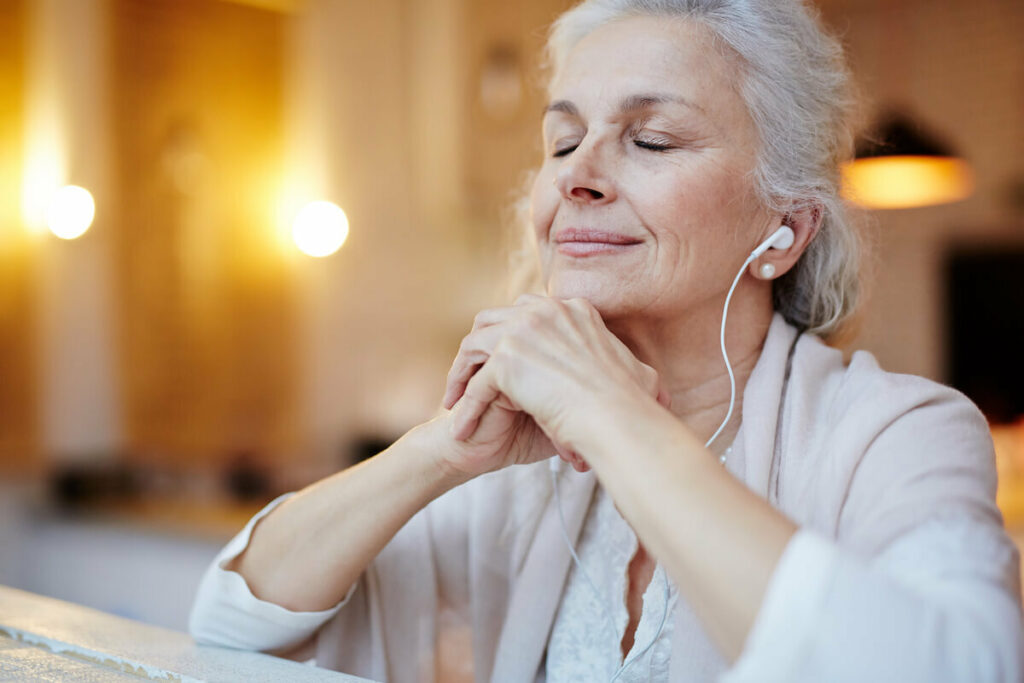 Can music calm people with dementia?
According to the Mayo Clinic, music has the power to:
Relieve stress
Reduce anxiety and depression
Reduce agitation
Studies show that even for late-stage Alzheimer's, music is a way for people to connect. They can still tap their foot or bob their head to a beat and express emotion.
A powerful way music can help calm individuals with dementia is by reminding them who they are. It can reignite something inside that brings people out of their shells.
In the 2014 documentary "Alive Inside" by Michael Rossato-Bennett, audiences are introduced to Henry. Henry lived with dementia for many years. It left him reserved and uninterested in most things until he was reintroduced to music.
Long after his playlist stops, Henry remains animated and excited to talk about how much he loves music.
"It gives me the feeling of love. Romance!" says Henry, "I figure right now the world needs to come into music."
How do I introduce music to someone with Alzheimer's?
If you're caring for a loved one, you likely have insight into the music they like. Asking them for their favorite type of music is a good idea too. Once you've established a playlist, keep these tips in mind when introducing melodies to their life:
Use something like an MP3 player or a streaming service free of commercials to avoid confusion.
Eliminate outside distractions like background noise or visual stimulants like TV.
Encourage clapping, dancing, or tapping along to the beat.
Sing along to the music with them.
Follow their mood. Play it again if your loved one seems to enjoy some songs more than others.
Use different tempos for different activities. Slow and relaxing songs for calming. Something more lively when you want to boost their mood.
What is recall therapy?
Recall therapy is an easy process to evoke memories. You can do it at home with a loved one using prompts. Music is an excellent way to trigger memories, but you can also use:
Pictures
Family heirlooms
Movies
The taste of favorite foods
Aromatherapy
If you're looking for a conversation starter or want to teach grandkids about their grandparents' lives, recall therapy is a great start. It's also one way the Connections Program helps create new bonds and relationships within the memory care neighborhood.
What is Connections?
Connections is the data-based program created by Pegasus Senior Living's VP of Health and Wellness, Dr. Sandra Petersen. The Havens at Antelope Valley is proud to offer this program to seniors and their family members in the Lancaster, CA area.
Trained memory care team members follow an activity calendar for seniors with dementia.
It focuses on combining physical movement, emotional connection, and continued learning to build new neural pathways in the brain. It utilizes a process called neuroplasticity.
Neuroplasticity refers to the brain's ability to adapt and change around damaged sections. A stroke introduced Dr. Petersen to these treatments, and she regained memory and mobility loss using many of the same techniques used in Connections today.
Where can I find out more about Alzheimer's treatment?
Contact The Havens at Antelope Valley. Our community was recently renovated to include memory care. We'd be happy to give you a personalized tour of the building, where you can see Connections in action.