When it comes to finding the perfect memory care community for your loved one, there are a lot of factors to consider. You may be wondering about the cost, the care provided, and what makes memory care facilities in Denver, CO so attractive. In this guide, we'll explore all of these topics so that you can make an informed decision about memory care for your loved one.
How much does memory care cost?
The cost of memory care varies greatly depending on location, extent of care needed, and size of apartment. This is also true for assisted living, in which the average monthly cost in Denver is around $5,500, according to the 2021 Genworth Cost of Care Survey. You can expect to pay more for memory care than assisted living because of the specialized training needed to care for those with Alzheimer's and dementia.
However, most memory care facilities in Denver, CO include meals and other amenities in their monthly fees which can help ease some of the financial concern associated with this type of long-term care. Additionally, many families find ways to offset costs by utilizing long-term health insurance plans and other financing options such as social security and VA benefits if they qualify. The Courtyards at Mountain View starts memory care pricing just under $5,000 per month, making it an affordable option for your family.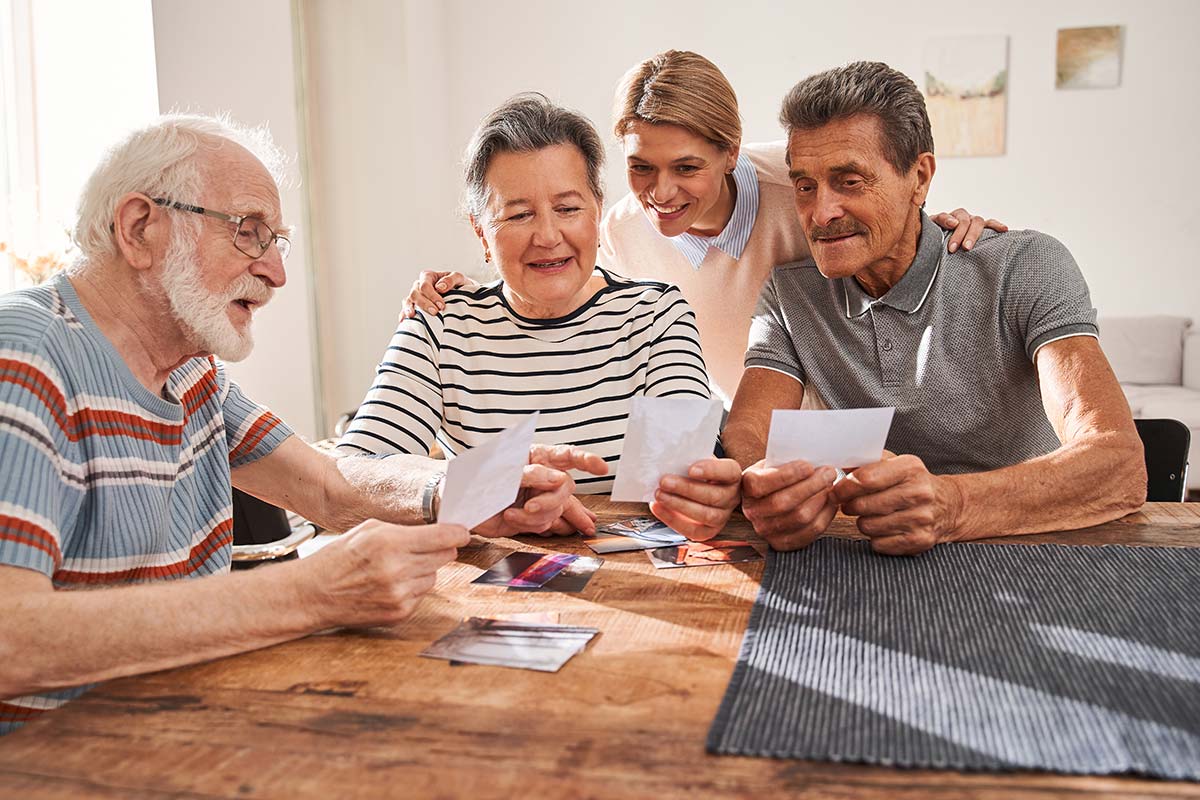 What services do memory care communities offer?
Memory care communities typically offer support with managing medications and activities of daily living, on top of specialized services for those experiencing memory loss. Such services often include 24-hour teams and/or emergency response and programming designed to stimulate the brain, form emotional connections, and encourage physical activity. Some examples of activities you may find at The Courtyards at Mountain View include:
Stretching
Brain Works
Good News Reflection
Story time
With plenty of activities and amenities available, memory care communities offer a secure and enriching environment where your loved one can interact with peers and enjoy their golden years.
Why should seniors consider memory care in Denver, CO?
Denver is a great place for retirees because of its mild climate and beautiful scenery. The mild climate makes it comfortable year round, while the abundance of outdoor activities allows residents to get out and enjoy the sights and sounds of nature. The city also has plenty of attractions like art galleries, shopping centers, and museums that seniors can enjoy.
Additionally, this area features many high quality, affordable communities that provide excellent care, one of which is The Courtyards at Mountain View. We offer an array of luxurious amenities for seniors in need of independent living or assisted living. For dementia care, many of the same amenities are available to your loved one, including:
Beautifully landscaped, gated courtyards for comfortable exploring
On-site beauty salon and barber shop
Fireside living room
Library
Your loved one can also enjoy scenic drives to places like the Rocky Mountain Arsenal National Wildlife Refuge. Our team members remain dedicated to providing quality service in a supportive atmosphere so that memory care residents can continue living a fulfilling life despite their diagnosis.
There are plenty of factors to weigh when it comes time to choose a memory care community for your loved one. You'll want to make sure the community can meet your family's needs both financially and medically, as well as offer an enjoyable atmosphere where your family member can feel comfortable as they receive personalized attention from trained team members who understand their unique needs. The Courtyards at Mountain View is here to provide exceptional memory care services for your loved one. Contact us to schedule a tour.