North Point Village provides data-based Alzheimer's care in Spokane, Washington. Our community has begun a discussion due to the recent news about actor Chris Hemsworth discovering his early risk of Alzheimer's. Many people wonder if they should be proactive and get screened.
Of course, everyone needs to assess their own level of risk, but more importantly, this news is an excellent reminder of the importance of early detection and potential treatment plans.
New developments emerge daily regarding prevention and treatment methods for neurological diseases like Alzheimer's. An evaluation of dementia can create pathways to better outcomes.
Early detection can help identify potential risks and provide support systems to those who need it most.
North Point Village provides an excellent program that connects seniors to memory care resources. Let's explore how early intervention can lead to better outcomes in managing Alzheimer's and what doctor's say about new treatments.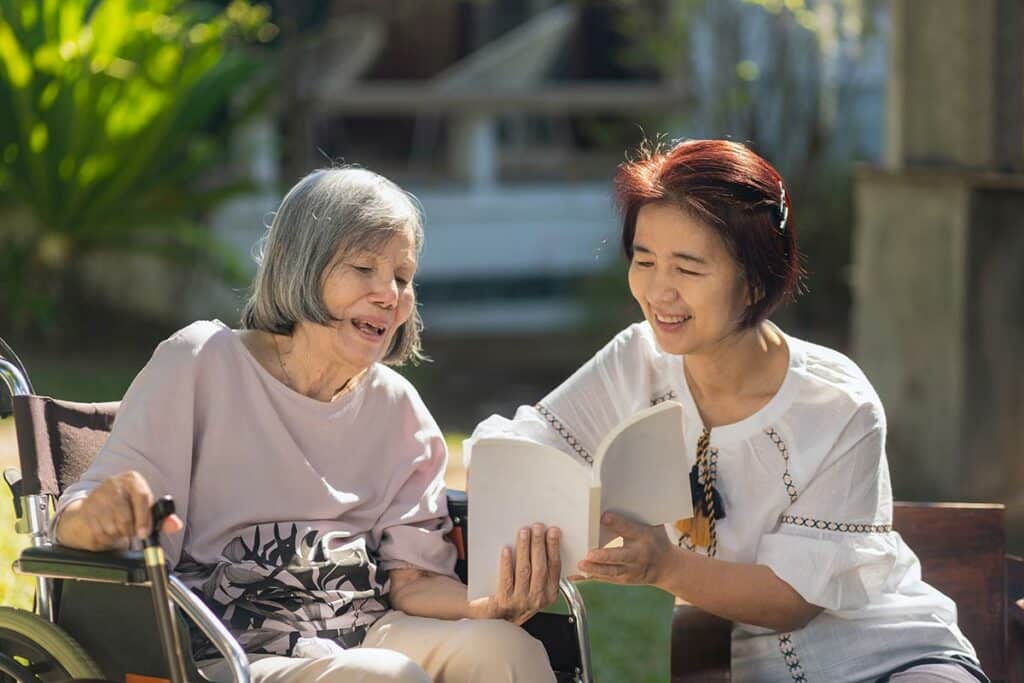 What is Alzheimer's?
Alzheimer's is a form of dementia, a group of conditions affecting cognitive brain function. It usually develops slowly over time and causes:
Memory loss
Difficulty with problem-solving
Difficulty communicating
Difficulty managing everyday tasks
In advanced stages, the need for help with basic needs such as mobility and eating increases.
While Alzheimer's is incurable, early diagnosis can lead to reliable treatments to manage the symptoms and improve the quality of life. Research into new treatments for this complex condition is ongoing, with a cure being the ultimate goal.
Caring for a loved one with Alzheimer's can be a daunting challenge. Over six million Americans are estimated to live with Alzheimer's Disease. Nearly 11 percent of people over 65 have this form of dementia. Although there is no cure, it is possible to manage it with medications, lifestyle changes, and proper care.*
*This post is intended only as a general discussion on managing Alzheimer's disease; it should not be used as medical advice nor taken as such without consulting your physician first.
The Importance of Treating Alzheimer's Early
Alzheimer's is a serious medical condition that a physician or specialist should continuously monitor. Early diagnosis helps physicians create individualized treatment plans that address each person's symptoms.
Detecting Alzheimer's early is critical in helping to manage the progression of the disease. Early intervention offers individuals and their families a sense of control over the future.
A person diagnosed with Alzheimer's early can create strategies for extending their level of independence. Planning for long-term memory care communities can be done while the person can still be a part of the process.
Medications can help slow down cognitive decline and reduce aggression and depression associated with the disease. Lifestyle changes such as exercise and activities can also help improve mood and overall well-being by increasing endorphins in the brain.
Regular check-ups allow doctors to monitor progress or any new developments so that any changes in treatment can be discussed if needed.
Professional caregivers are often needed to provide 24/7 support and supervision. Providing care can be difficult for family members who may already have full-time jobs or other commitments.
It is essential to start caring for Alzheimer's as soon as possible to reduce its severity and effects on daily life. The earlier one receives diagnosis and treatment, the better the chance of managing symptoms and living a high-quality life. This includes:
Taking medications
Participating in physical and mental activities such as puzzles or yoga
Eating well-balanced meals
Getting enough rest
Socializing with friends and family members
New Alzheimer's Medications
Researchers are cautiously optimistic about developing Alzheimer's treatments that can halt or delay the progression of Alzheimer's. A growing understanding of how the disease disrupts the brain has led to potential Alzheimer's treatments that short-circuit basic disease processes.
Most futuristic medication regimens that treat Alzheimer's will likely include a combination of medications similar to how we treat cancers.
Some of the new Alzheimer's treatments in development target microscopic clumps of the protein beta-amyloid (plaques). Plaques are a characteristic sign of Alzheimer's disease.
Recruiting the immune system, researchers posit that some medication regimens may prevent beta-amyloid from clumping into plaques or even remove beta-amyloid plaques from the brain. Monoclonal antibodies mimic the antibodies the body naturally produces as part of the immune system's response to foreign invaders or vaccines.
In June 2021, the Food and Drug Administration (FDA) approved aducanumab (Aduhelm) to treat some cases of Alzheimer's disease. The medicine was studied in people living with early Alzheimer's disease, including people with mild cognitive impairment due to Alzheimer's disease but has had mixed results.
Lecanemab has shown promise for people with mild Alzheimer's disease and mild cognitive impairment due to Alzheimer's disease. It has recently been approved for treatment in the U.S. by the FDA.
A phase three clinical trial found that Lecanamab slowed cognitive decline in people with early Alzheimer's disease by as much as 27 percent. It works by preventing amyloid plaques in the brain from clumping. This study was the largest to examine whether clearing clumps of amyloid plaques from the brain can slow the disease.
Donanemab is another monoclonal antibody with a similar promise. It is now in phase three trials. Another medication, saracatinib, has shown promise in reversing memory loss in animals; human trials are now underway.
Other therapies may reduce the amount of beta-amyloid formed in the brain. Research has shown that beta-amyloid is produced from a "parent protein" in two steps performed by different enzymes. Several experimental drugs aim to block the activity of these enzymes.
They're known as beta- and gamma-secretase inhibitors. However, some of these medications have significant side effects and have gained little support for further research.
Lastly, one category of medication that prevents tau proteins from "tangling" and shutting down the brain cell transport system is now being considered in clinical trials.
It is well known that Alzheimer's causes chronic, low-level brain cell inflammation. Researchers are studying ways to treat inflammatory processes in Alzheimer's disease. Luekine, a drug thought to stimulate immune protection of the brain, may someday offer promise.
Dementia care team members from North Point Village recently participated in an academy training with the Connections program for memory care founder Dr. Sandra Petersen. She explains exciting news about a breakthrough medication for Alzheimer's treatment emerging in Tokyo, Japan.
A recently published study in Neuropsychopharmacology Reports revealed that researchers at the Tokyo University of Science have discovered that "a cell-penetrating oxytocin derivative administered in the nasal passages of memory-impaired mice reversed the rodent's cognitive impairment."

This new knowledge of hormones being administered nasally could be applied to improve the brain delivery of many drugs. The results of oxytocin in the mice used for the study are promising.

-Dr. Sandra Petersen
Data-Based Alzheimer's Care: Spokane Options
North Point Village offers an exclusive program called Connections, which allows seniors to receive specialized care tailored to those with memory-related illnesses such as Alzheimer's and dementia.
Through the Connections program at North Point Village in Spokane, WA, seniors can receive access to various amenities such as:
Personalized fitness plans
Medication management
Nutritious meals
Supportive activities tailored around personal interests
Individualized wellness programs
24/7 team member support
Transportation services
Housekeeping services
Individualized therapy sessions
All these amenities are available through North Point Village's onsite health center so that seniors can receive personalized memory care without leaving the comfort of their home community!
Connections residents receive supervised care while enjoying beautifully landscaped outdoor and comfortable common indoor spaces. These environments are secure and calming.
The Alzheimer's care team at North Point works hard to form meaningful connections between residents through data-based activities like:
Music therapy
Gardening classes
Art projects
Group games like bingo and trivia
Cooking classes
Walking club
The Connections program provides compassionate care that allows seniors with memory loss issues to have meaningful experiences supported by experienced staff members who understand their individual needs.
With early intervention strategies combined with professional counseling and supportive services, loved ones facing this difficult journey will get the help they deserve. There is a possibility of living more independently while maximizing quality of life.
Alzheimer's affects millions of people nationwide every year. Many families find themselves caring for their loved ones without adequate resources or support systems available at home. Families can rest assured by connecting loved ones with the specialized memory care services provided by the Connections program at North Point Village in Spokane, WA.
Treat Alzheimer's Early with Specialized Care in Spokane, Washington
Contact North Point Village with questions about Alzheimer's care in Spokane. Let's work together to create better outcomes for dementia diagnosis.