Recently, news broke that actor Bruce Willis was diagnosed with frontotemporal dementia (FTD), which has brought this rare form of dementia into the spotlight. But what is it exactly, and how is it diagnosed? How can it be treated or prevented? Here we provide an overview of FTD, working to answer some of these questions to help you understand this type of dementia should your loved one be living with a similar diagnosis.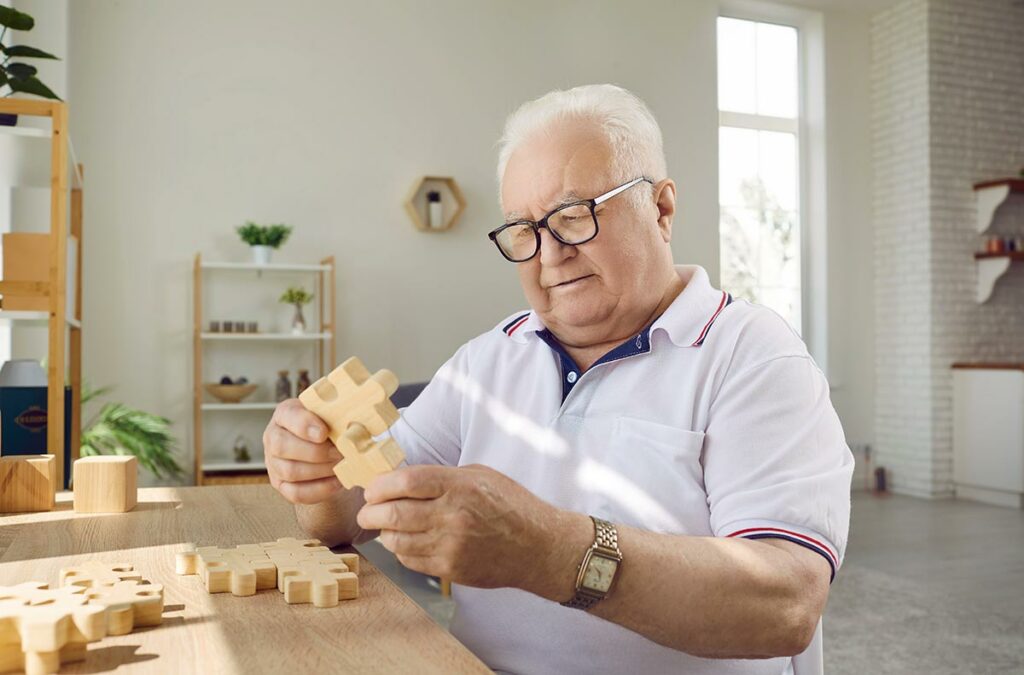 What is frontotemporal dementia?
FTD is a relatively rare type of dementia compared to more commonly known types like Alzheimer's. Dr. Sandra Petersen, Pegasus Senior Living's Medical Director whose personal experience inspired our Connections memory care program, says FTD represents 10 to 20 percent of dementias diagnosed.
Around 200,000 cases a year are diagnosed in the U.S. Age of diagnosis can vary from the 40's forward.
FTD predominantly affects the temporal and frontal lobes of the brain, which are responsible for personality, behavior, and language. Due to the damage done to these areas, FTD usually manifests as changes in behavior or language difficulties. Individuals with FTD may experience impulsiveness and struggle with word-finding or making sense when speaking.
How is frontotemporal dementia diagnosed?
Diagnosing FTD is often difficult.
Symptoms can be different in each individual, so it can be difficult to diagnose; it is often mis-diagnosed as another type of mental health disorder because the way it presents in different patients is so varied.
Diagnosis typically involves a physical examination and lab tests to rule out other conditions. A neurologist may review the person's medical history and conduct cognitive tests to assess their memory and thinking skills. Neuroimaging studies such as CT scans or MRIs can also be ordered to look for signs of damage in the frontal and temporal lobes of the brain.
Is frontotemporal dementia hereditary?
Sometimes FTD can be inherited; researchers have identified at least three genes highly associated with inherited forms of FTD. However, most cases are not hereditary and instead result from unknown causes or spontaneous mutations in specific genes.
While there are gene mutations that have been linked to frontotemporal dementia, more than half of the people who develop FTD have no family history of dementia.
Frontotemporal Dementia Care and Treatment
While there are no "cures" available for FTD at this time, there are treatments that can help manage its symptoms. These include:
Medications for behavioral challenges, including antidepressants, antipsychotics, and mood stabilizers
Speech therapy to help improve communication skills
Physical therapy for mobility issues
Occupational therapy for activities such as cooking or caring for oneself at home
Supportive care often found in memory care communities with team members specifically trained in providing dementia care
When you search for "dementia care near me," it can often seem overwhelming with all the options. Pegasus memory care communities provide a secure environment with caring team members committed to meeting the unique needs of various forms of dementia. We strive to maintain your loved one's safety while enhancing their quality of life through tailored care and programming.
Research-Based Memory Care at Pegasus Senior Living
Understanding FTD — what it is, how it's diagnosed and treated — can help you better prepare if a loved one receives this dementia diagnosis. Although no cure is available for this form of dementia, treatments like medications and therapies can help manage its symptoms so that your loved one can continue to lead a productive life with dignity and independence.
Pegasus' research-based memory care program goes beyond basic memory care to help your loved one engage their emotions, move their body, stimulate their brain, and socialize with others. Get in touch with us today to discover how we can further support your loved one in this stage of their life.