The Perfect Recipes for Your Holiday Meals
The holidays are great for putting on your best apron and making a mess out of the kitchen. It's also the perfect time to pause diets and break out the tried-and-true recipes that have been passed down for generations.
At Pegasus Senior Living communities, some of our home chefs thought it would be a great idea to share some of their favorite holiday dishes. From sweet to savory and sides to mains, our residents' recipes are delicious, and they are incredibly talented. We thank them for taking the time to share the secrets from their holiday cookbooks.
Author, economist, and activist Winona LaDuke put it this way, "Food has a culture. It has a history. It has a story. It has relationships."
Pegasus Senior Living is proud to introduce the history, culture, stories, and relationships that are a part of making our communities an enriching and engaging experience.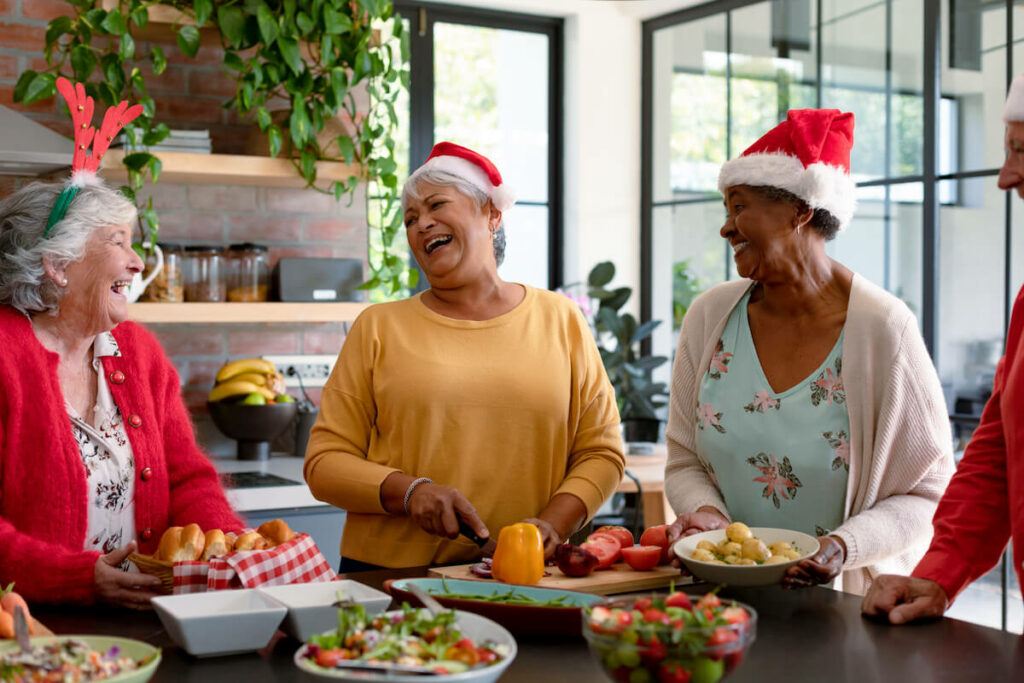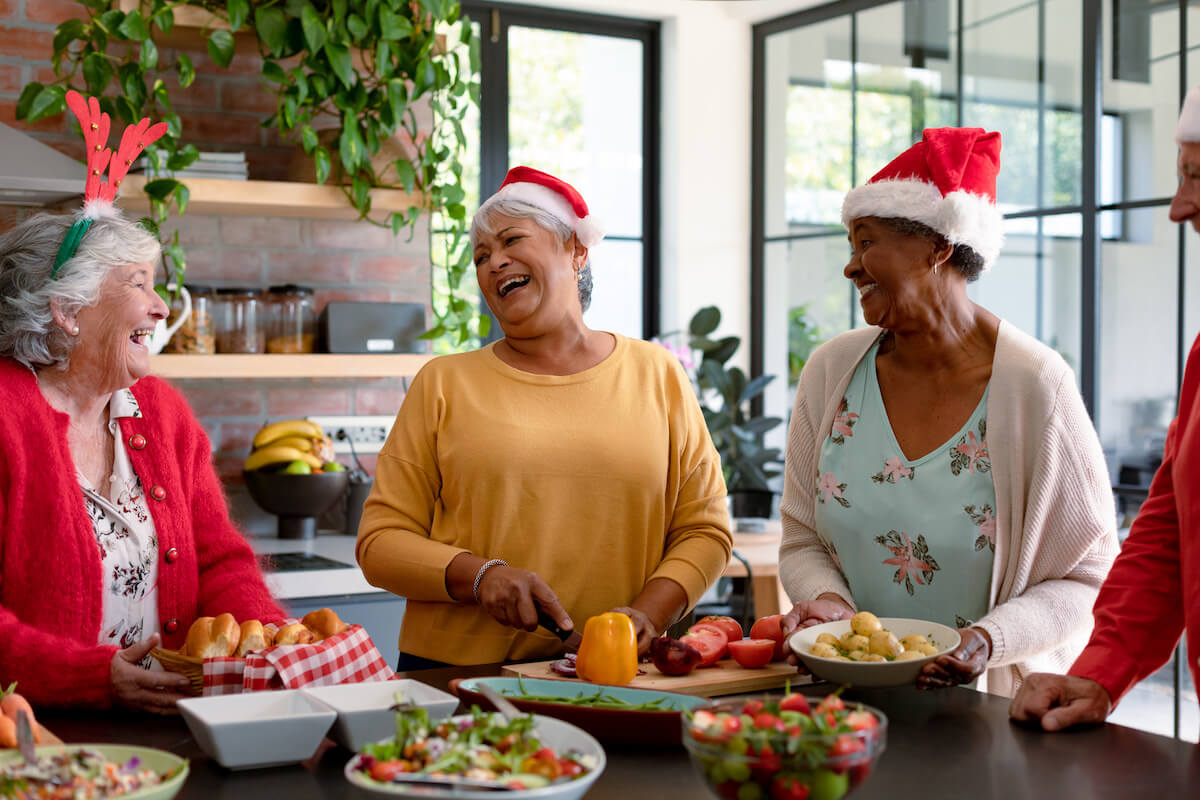 These are only a sampling of our talented residents' many recipes for us. Follow us on Facebook to find out when the cookbook comes out.
Family Secrets
Joe, a Town Village Crossing resident, gave us his grandmother's 100-year-old recipe to kick off our recipes for the holiday season.
This recipe features the note, "Cook slow. Don't cook hard. That is all, Mama." Joe's ingredient list withholds a little of the family secret, so you'll have to use your best judgment on the vanilla. Just remember, a little goes a long way.
Rustic and full of love, this is Joe's grandmother's Pecan Pie recipe.
Mae Taylor's Pecan Pie
Ingredients:
3 eggs
1 cup sugar
1 heaping tablespoon of flour
1 cup chopped pecan
1 cup white Karo Syrup
Dash of vanilla extract (secret amount)
Directions:
Heat oven to 350 degrees.
Mix all ingredients in a pie pan.
Cook slow. Don't cook hard. That is all, Mama.
The Main Attraction
We'd like to tip our chef hat to Edna, a fellow Town Village Crossing resident. Edna gave us a lot of recipes and is a true culinary master. Edna is sure to change your mind about fruitcake when the cookbook comes out.
We wanted to include Edna's recipe for Chicken Spaghetti. It's a casserole, but the love involved in the baking dish is something else.
Chicken Spaghetti
Ingredients:
1 package spaghetti
1 cooked chicken
1 medium onion, chopped
1 can cream of mushroom soup
½ cup evaporated milk
8 ounces of grated cheese
½ cup diced celery
2 tablespoons butter or oil
Directions:
Boil the chicken for a few minutes, then turn heat to medium-low and simmer for a good 30-45 minutes. Allow to cool and pick off the bone.
Cook spaghetti in the chicken stock until fork tender (not all the way; we're cooking it twice).
Reserve 1 cup of chicken broth.
Sweat onion and celery until tender in butter or oil.
Add soup and 1 cup of chicken stock—Cook for 5 more minutes.
Preheat the oven to 350 degrees.
Add cheese and milk.
Mix all the ingredients in a casserole dish and bake at 350 degrees for 35 to 45 minutes.
A Side From the South
Our cookbook includes a lot of the things everyone loves at the holidays: side dishes! In addition to a healthy amount of sweet potato recipes, we'll give you a taste of a little recipe from down in Georgia.
Yellow Rice and Corn Casserole will brighten up your dinner table and keep guests coming back for more. Thank you, Mary of Historic Roswell Place, for this blessing.
​​Yellow Rice and Corn Casserole
Ingredients:
1 (5-ounce) packet yellow rice mix
2 (10-ounce) cans of Mexicorn
1 stick of melted butter or margarine
1 can of cream of celery soup
1 cup of grated cheddar cheese
⅓ cup of milk
Pepper to taste
Directions:
Cook rice according to package directions.
Mix rice, corn, butter, soup, cheese, and pepper.
Add milk a little at a time. Enough to make it soupy.
Bake at 350 degrees for 20 minutes.
Snacks You Won't Forget
When you're throwing a holiday party, snacks are a must. Don't just give your guests something to hold on to while making conversation; make the snack the conversation.
Gig Harbor Court resident Cindy certainly gave us something to talk about with her recipe for Pickled Pumpkin. You can pickle just about anything, but pumpkin is a next-level culinary creation.
Pickled Pumpkin
Ingredients:
4 cups pumpkin, diced
2 ½ cups water
8-10 tablespoons vinegar
½ cup granulated sugar
6 cloves
4 cardamom pods
1 cinnamon stick
Directions:
Pour vinegar into a large saucepan. Add water, vinegar, and diced pumpkin.

*If you prefer a crunchier texture, let pumpkin soak in water and vinegar between 2 hours to overnight in the fridge.

Add sugar, cloves, cardamom, and cinnamon stick and bring to a boil. Boil for 20-30 minutes or until soft.
Transfer the pumpkin into sterilized jars and pour the liquid over. Add one clove to each jar for a more robust flavor. Seal with lids immediately.
Something To Sip
Edna, we have to take our hats off to you for this one again. Spiced tea, sometimes called friendship tea or Russian tea, can be a holiday staple. You may easily gift it in a mason jar with a pretty bow. It warms hearts and bellies at the same time.
Spiced tea includes Tang. If you're too young to remember the orange space drink, do a little research.
Spiced Tea
Ingredients:
½ cup instant tea with lemon
2 cups Tang
1 cup sugar
1 teaspoon ground cinnamon
½ teaspoon ground cloves
Directions:
Combine instant tea, Tang mix, and spices in a bowl, plastic bag, or container.
Pour the spiced tea mix into a blender or food processor and blend until the tea mix becomes a fine powder.
Mix 2-3 teaspoons of the spiced tea mix into 8 ounces of boiling water.
Season's Greetings and Happy Eating From Pegasus Senior Living
Pegasus Senior Living provides independent living, personal care, assisted living, and memory care to seniors in 12 states.
Every month, culinary teams across the country gather with residents to have Menu Chat and cooking demonstrations. Have a recipe for a Pegasus community? Find one near you and contact their team to let us know.