Mr. Richard G., a resident at Kansas independent living community Town Village of Leawood, recently sat down at the brand-new piano; it is a gift for the community residents. Demonstrating just how enjoyable hobbies for seniors can be, he splayed his fingers out on the ivory keys and played his heart out, testing out the instrument in the common room on April 13.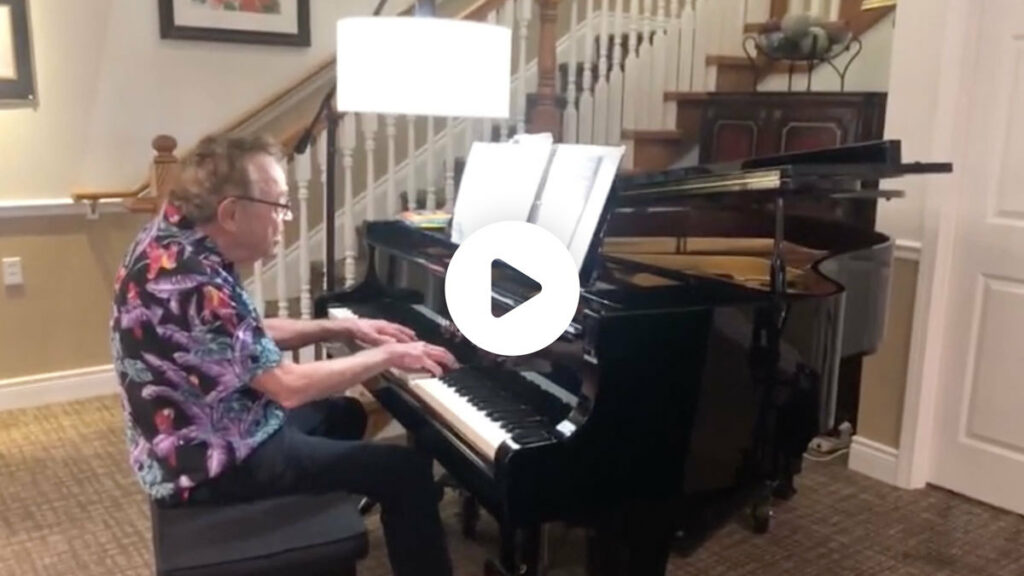 Richard was a concert pianist prior to moving into Town Village of Leawood. When he found out about the gift, he showed up with his sheet music and helped get the piano set up for proper playing. Several residents and staff members stopped by to listen to him play!
Richard started taking piano lessons at eight-years-old, two years after his mother taught him to read music. He studied classical piano until he was 24. Richard raised $1,000 for a group called GMOM in Marin County, California playing piano. He took organ lessons as an undergraduate and played as a substitute organist at churches. In addition, he has played at over 50 churches across the country.
What is the story behind our new piano?
The piano — symbolizing just one of many fulfilling senior hobbies at the community — was a gift from Chris Hollister. Chris is the Co-founder, CEO, and Chair of Pegasus Senior Living, Town Village of Leawood's management company. He wanted to honor his late maternal grandmother, Ms. Fay Robinson Threatt, through music for seniors.
"My maternal grandmother was a talented piano teacher from Grand Saline, Texas," shares Chris. "She toured the local area in the 1920s with her brother and sister on clarinet and vocals and played often at school plays and church services."
Coming of age in the 'roaring twenties', Ms. Fay loved 1920s Ragtime and would crank out rollicking tunes until just before her passing. She passed away in 1997 at age 95.
"This gift was so touching and thoughtful," shares Melanie Basham, the Life Enrichment Director for Town Village of Leawood. "We needed a piano, and Chris kindly provided one in honor of his musically talented Grandmother. We can't wait to keep playing and fill the halls with music."
We can't wait to keep playing and fill the halls with music."
"When I heard that the community could use a piano, the opportunity was too great to ignore," adds Chris. "Helping Pegasus seniors live their best lives is what it is all about and why we do what we do."
The community plans to add signage to the piano:
This piano donated in loving memory of:
Fay Robinson Threatt (1904 – 1997)
Life is harmonious at Town Village of Leawood.
The donation to our community for independent living in Kansas has brought joy and excitement to residents and associates at Town Village of Leawood, allowing seniors to continue loving music and rediscover their own musical abilities. It's a testament to the importance of hobbies for seniors and the incredible impact they can have on emotional well-being and quality of life.
Chris Hollister's kind gesture has created a lasting legacy for his musically talented grandmother while also providing a valuable source of entertainment to Town Village of Leawood residents for years to come.
If you're looking for an independent living community that values the importance of hobbies like music, consider Town Village of Leawood in Kansas. Our community is committed to providing opportunities for residents to pursue their passions and rediscover their talents. Schedule a tour today to see all of our amenities!