Do you need to find care for your loved one living with Alzheimer's or another form of dementia? It's ideal to begin searching for memory care as early as possible. However, neurodegenerative disorders are unpredictable in how fast they will progress, potentially impacting how much time you have to find long-term Alzheimer's care.
No matter what stage of your loved ones' dementia, The Courtyards at Mountain View is a resource to your family's search for memory care in Denver.
As a long-trusted independent living and assisted living community, we're proud to announce the Connections Program for long-term dementia care is a service now available to your family.
Knowing what questions to ask a memory care community will save your family precious time you could be spending together. Use these questions as a guide in your search to discover how the memory care community handles:
Specialized programming
Cost
Level of care
Staff training
Daily life
Does the community provide specialized programming?
The Courtyards at Mountain View utilizes a program rooted in science and experience to provide an active, engaged, and purposeful lifestyle for your loved one.
Following a stroke, Pegasus Senior Living Health and Wellness Consultant Dr. Sandra Petersen lost mobility and experienced memory loss. Through neuroplasticity training using movement and brain-stimulating challenges, she recovered and inspired Connections.
Ask the memory care community:
Is there any data to support the goals of your program?
What activities do you do to help cognition?
Are other residents benefiting from the program?
Does the staff receive specialized training?
How much does memory care cost?
When considering long-term care for your loved one, it helps to know what the cost includes. The Courtyards at Mountain View does not offer a one-size-fits-all pricing structure. We provide individualized care, so your family will only pay for the care services your loved one needs.
Ask the memory care community:
Are one-time fees associated with the cost?
How often are care assessments to determine cost completed?
What is the daily price for care versus housing?
Do you accept veteran's benefits or long-term care insurance?
What level of care can my loved one expect?
Memory care is often confused with skilled nursing care. Nursing homes will provide care for neurodegenerative disorders, primarily if a chronic condition is also present.
Memory care will save you thousands of dollars per month if your loved one doesn't require the daily skilled medical attention these facilities offer.
Ask the memory care community:
Are licensed nurses available?
How do you manage medications?
What personal assistance do you offer?
What's your plan in an emergency?
Do you offer help with ​​coordinating additional health care needs?
Is the staff trained in dementia care?
You have likely acted as your loved one's caretaker before finding long-term solutions. The team members at The Courtyards at Mountain View first get to know your loved one personally to offer individualized care and activities.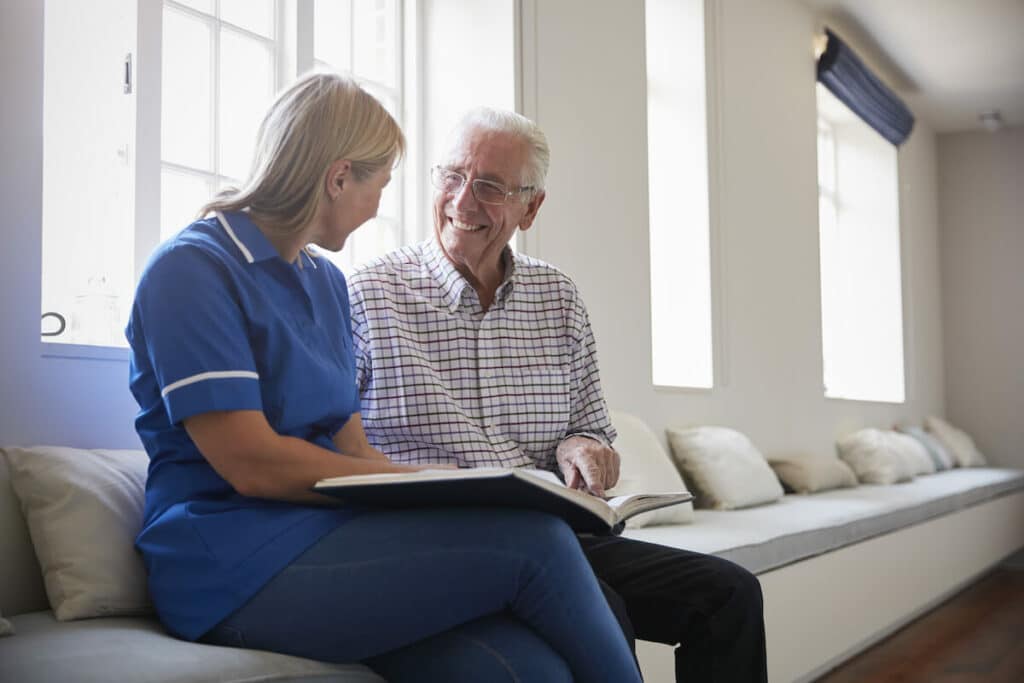 Ask the memory care community:
What certifications does your team complete?
Who is the memory care program director?
Are all team members CPR certified?
Is the staff trained to handle aggressive behaviors?
What is the staff to resident ratio?
What does daily life look like in memory care?
Your loved one will live in a secure memory care neighborhood in our community. In addition to private studios and shared suites, our residents enjoy spacious and easy-to-navigate indoor and outdoor spaces to gather.
Ask the memory care community:
Will my loved one get to go outside?
Will my loved one receive exercise and wellness opportunities?
When are mealtimes, and what's on the menu?
Is there a chance my loved one will wander?
What's different about memory care at The Courtyards at Mountain View?
The Connections Program
New and modern community
Specialized team members
Individualized care
Engaging activities
A focus on socialization
Private and companion living spaces
Secure outdoor area
Ample space for family visitation
Empathetic and experienced approach to care
Find Memory Care Near Me
Now that you have a better understanding of visiting a memory community, The Courtyards at Mountain View would love to give your family a personalized tour of our memory care program. Contact us to begin the journey.