When you search the internet for "luxury senior living near me," the results may seem overwhelming. Historic Roswell Place is here to help ease that feeling by offering only the best, a boutique senior living experience. It's the perfect balance between privacy and community, designed to provide residents with an exclusive lifestyle.
How does Historic Roswell Place compare to other senior living communities?
Historic Roswell Place is a boutique senior living community offering highly personalized services in a smaller setting. We understand that there is no "one size fits all" solution when it comes to senior living. That's why we strive to create an environment tailored specifically for residents — a place where they can feel comfortable while still enjoying all the amenities of luxury living!
According to the 2021 Genworth Cost of Care Survey, you can expect to pay, on average, just under $4,000 in the Atlanta area for senior living. Roswell, GA, sits just outside Atlanta, so the pricing may be similar. However, because of our individualized levels of care, we can provide more flexibility in your assisted living and memory care options. Compared to other senior living communities where apartments may be older yet still expensive, we offer small, cozy residences that live up to their price point — they even include housekeeping and linen services!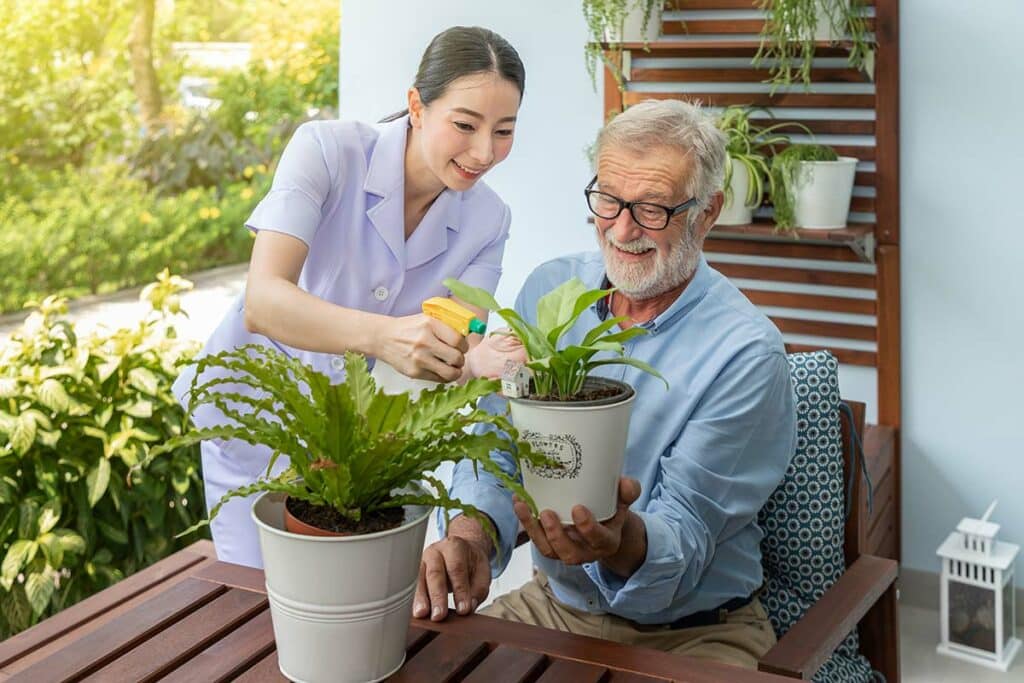 What are the benefits of boutique senior living?
You can enjoy elegant decor, personalized care, and extravagant amenities at a boutique senior living community.
Upgraded Apartments
No more spending time fixing old refrigerators or dishwashers; instead, enjoy the comfort and convenience of modern appliances and chic fixtures. Historic Roswell Place offers four floor plans ranging from studios to one bedrooms, each featuring a private bath and a large walk-in closet. Some units even come with balconies or patios that are great for entertaining friends and family or simply relaxing outside with a good book.
Plus, our expansive grounds are perfect for taking long walks and getting some fresh air without ever having to leave the comfort of your community. It's like having a private oasis right in your backyard!
Customize Your Experience
At Historic Roswell Place, we know that every resident is unique, and so are their needs. That's why we offer an extensive range of customizable services designed to meet each individual's needs and preferences. From individualized service plans to personal care assistance available 24/7 to scheduled transportation options, our team members are here to ensure that each resident feels supported and cared for daily. Our individualized service plans include support like:
Medication management
Diabetic care
Ambulation and escort services
On-site physical, occupational, and speech therapy
Best of all, because of our smaller community, you can receive the personalized attention and care you need.
Amenities Galore
When it comes to amenities, we make sure to include the details! From gourmet meals served daily in our elegant dining room to snacks in our bistro to specially designed fitness programs, Historic Roswell Place offers the comforts of home without any hassle or stress associated with traditional living spaces. Plus, we provide regular activities and events for residents so that they can stay active and engaged with their peers without worrying about feeling bored or lonely.
If you're searching the internet for top-notch "luxury senior living near me", look no further than Historic Roswell Place! At our boutique senior living community, we pride ourselves on providing a luxurious atmosphere without sacrificing quality care. With units in high demand and social activities that keep seniors engaged — all close to downtown Atlanta — Historic Roswell Place is the ideal place for seniors who want to experience first-class living! Contact us for more information about our senior living options.