Pegasus Senior Living Senior VP of Health and Wellness Dr. Sandra Petersen created the Connections program for memory care. She holds qualifying certificates in family practice, psychiatric-mental health, and geriatric medicine. As a founding member of the Assisted Living Federation of America's Nurse Action Committee, she is a nationally recognized expert in senior living care.
Dr. Petersen regularly contributes to SeniorsMatter and provides Alzheimer's and dementia advice. We are proud to offer a memory care program led by an accomplished senior care specialist.
One recent topic Dr. Petersen discussed was the warning signs of adjusting medications for people with dementia. Let's go into more detail.*
*Consult with your family doctor before adjusting your loved one's medications and care.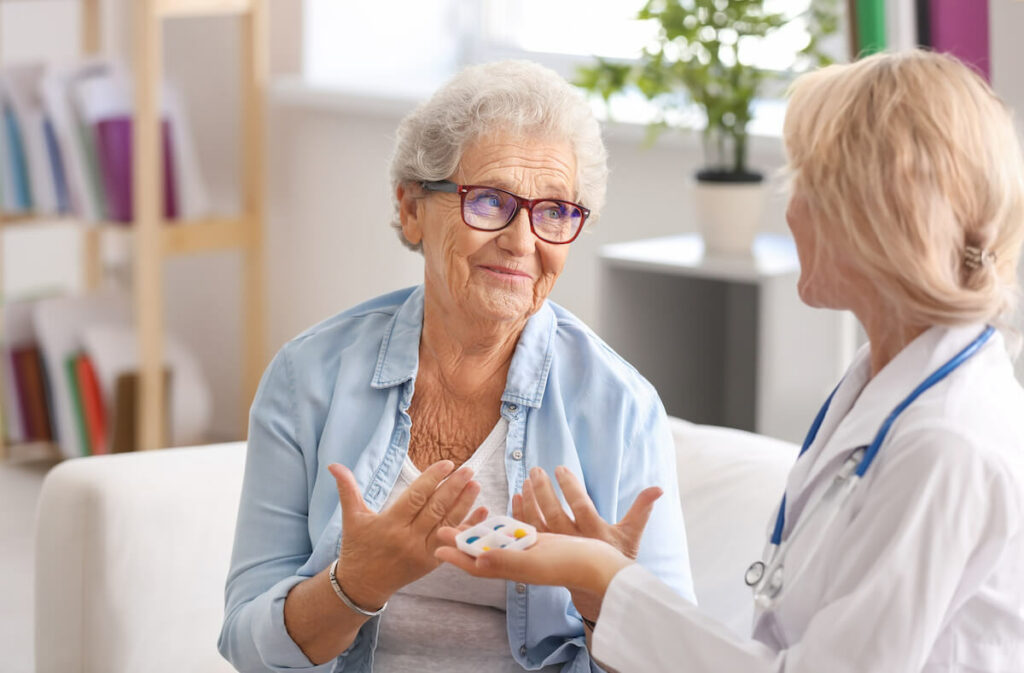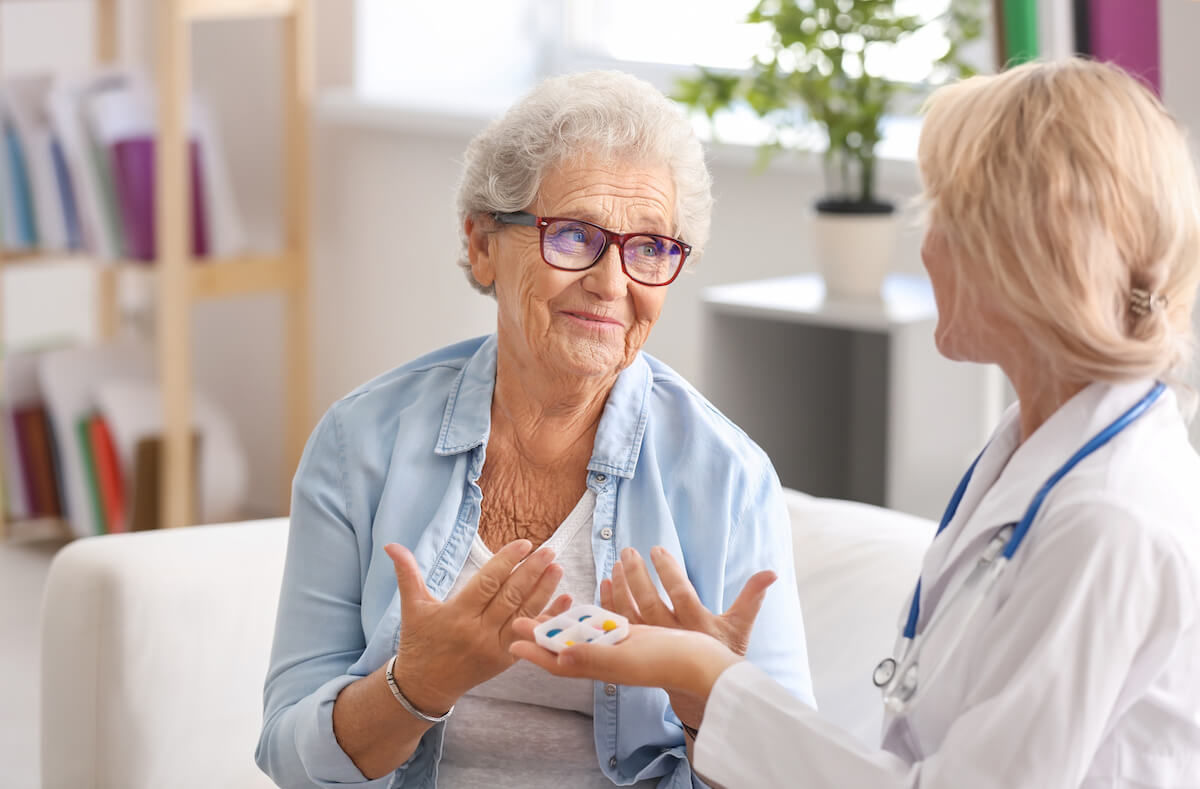 What are the warning signs someone with Alzheimer's needs their medication adjusted?
Alzheimer's is a progressive disease, and mood swings are common as people age with this type of dementia. In addition, an individual may have trouble understanding what's happening around them. This confusion leads to unstable moods, where anxiety could increase even more.
As the confusion of perception worsens, they become less able to communicate wants or needs.
The symptoms of Alzheimer's can be different in every person, but there are some commonalities. For example, combative or uneasy behaviors are often worse during certain times or after exposure to specific people or things. Learning to recognize the "triggers" in your loved one's life can help alleviate abrupt mood changes.
If you limit "triggers" by using redirection techniques and mood swings are still common, adjusting medications may be an option.
Is changing medications an immediate cure to curb behavior?
Medication can be a vital part of managing dementia, but it is also essential to understand how it can affect moods.
For example, many people with dementia take cholinesterase inhibitors. These medications are designed to improve memory and thinking by increasing the levels of acetylcholine in the brain. Acetylcholine is a chemical messenger that helps with learning and memory. However, these medications can also cause side effects like:
Nausea
Vomiting
Upset stomach
Weight loss
These types of medications may also cause agitation and aggression. Talk to your loved one's doctor if you notice their mood changes after starting a cholinesterase inhibitor.
In some cases, people with dementia may also be prescribed antipsychotic medications. These medications are typically used to treat psychosis but can also help calm agitated behavior. However, they can also cause side effects like drowsiness, weight gain, and changes in blood pressure.
It's common for individuals to experience periods of agitation when they first enter the stages of Alzheimer's. This is because it can take weeks or months before a person begins showing signs and symptoms.
Agitation may also occur when transitioning to a later stage of dementia. Changing from mild cognitive impairment to early-stage Alzheimer's can be emotionally and physically challenging. These changes might make them feel worse initially but, over time, subside significantly. Be open to decreasing or discontinuing medications when they're no longer needed.
Remember that each person experiences dementia differently and that not all treatments will work for everyone. Talk to their doctor if you are worried about how medication affects your loved one's mood. They will be able to help you find the best way to manage their condition.
How can caregivers adjust to mood swings?
A lot of the time, people experience abrupt mood changes due to:
Confusion
Anxiety and depression
Boredom
Having the support of a social circle and engaging activities is beneficial for people living with dementia. Staying busy and physically moving can improve mood. You may be able to curb disruptive behavior by:
Keeping a consistent routine
Encouraging regular exercise
Supplying a healthy diet
Providing engaging brain games
Providing opportunities for social interaction
Talking to their doctor about alternative treatments or medications
If you are a caregiver for someone with dementia, you know that mood swings are common. One minute your loved one is happy and smiling, and the next, they are angry and upset. It can be challenging to deal with these changes, especially if you don't understand why they are happening.
If mood changes persist, it may be time to consider outside help. Memory care facilities or communities can do the heavy lifting of caregiving. This specialized care can allow you and your loved one to enjoy better days again.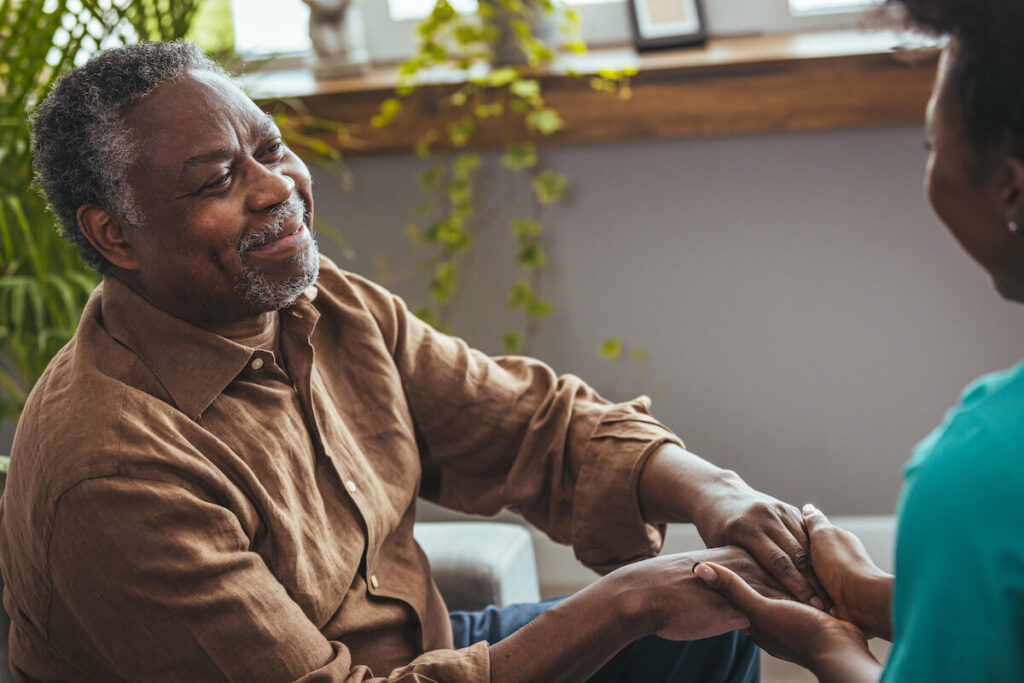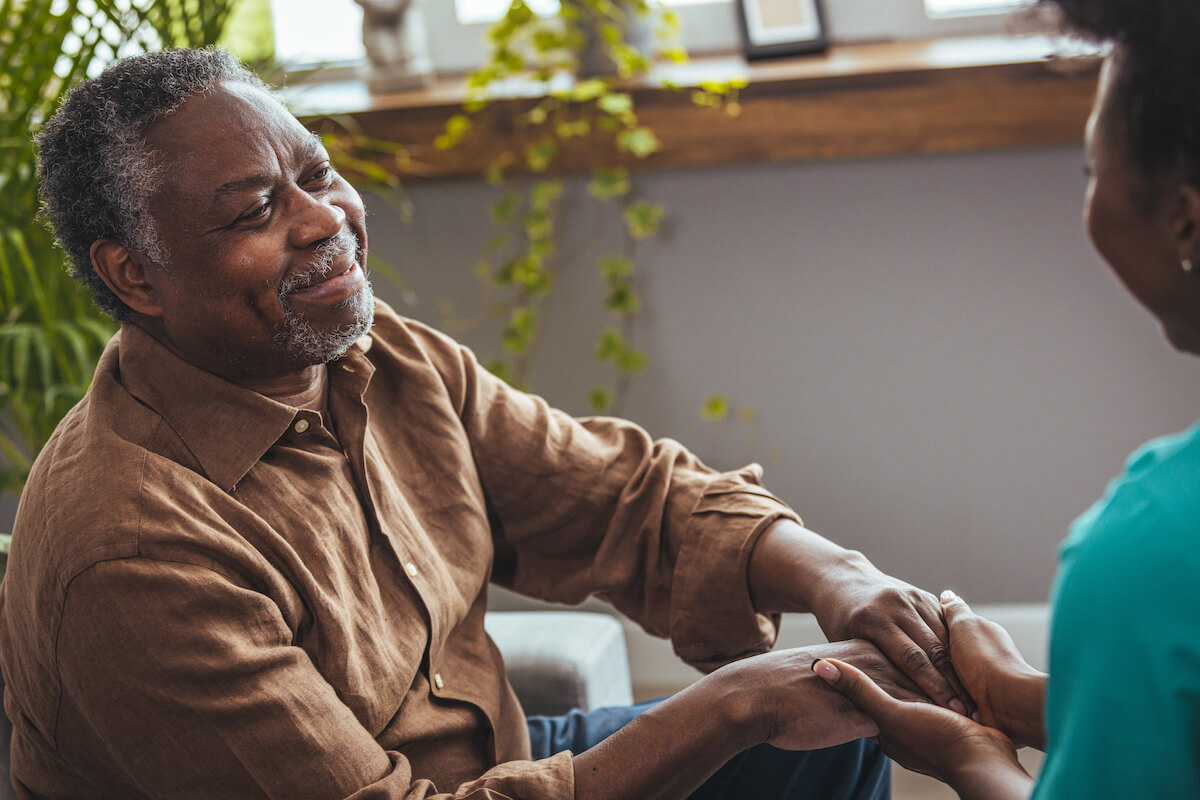 Discover Relief With Alzheimer's Care
Connections is the specialized memory care program available in Pegasus Senior Living communities across the country. The data-based pillars of Dr. Petersen's program include:
Supporting Socialization: Creating a family-feel sense of community for residents through daily activities and brain-healthy meals.
Engaging the Emotions: Using artistic pursuits encourages communication when words are sometimes hard to find.
Challenging the Brain: Keeping the mind working with puzzles, word games, and educational experiences.
Encouraging Movement: Dementia-friendly fitness programs are one of the best ways to promote neuroplasticity. These seated exercises encourage the brain to adapt and change.
It is important to understand that dementia is a complex challenge, and each person experiences it differently. There is no one-size-fits-all approach to treatment.
The expert caregivers in a Pegasus Senior Living community near you are prepared to offer personalized care to your loved one. Care is tailored to their likes and needs.
Our dementia care programs are secure areas of the community. Care services include:
Activities of daily living assistance
Personal care and hygiene assistance
Medication management
On-site rehabilitation services
Housekeeping and maintenance services
Find Alzheimer's Care Options Near You
Contact Pegasus Senior Living to discover relief for you and your loved one. We look forward to helping your family get back to enjoying better times.