At The Oaks at Inglewood in Stockton, California, residents stay active and pursue passions and hobbies of all kinds.
One great example is assisted living resident Lowell Joerg. Lowell has spent the last 30 years doing what he calls "redistributing happiness" to others across the United States by connecting the past to the present with postcards.
A unique idea turns into a hobby
Lowell's idea began in an antique store in Minnesota when he noticed a postcard from Pennsylvania with a picture of a church on it, dated in 1907. On a whim, he bought the card and sent it back to the address listed on it. Little did he know that the church would be celebrating its one-hundredth anniversary and posted the card for everyone to see.
To his surprise, the church also responded back to him graciously with kind words of thanks. Thereafter, he decided to continue with this practice, to bring happiness to as many good folks as he could. "The world needs positivity and joy and I'm trying to provide a little of it," he explained.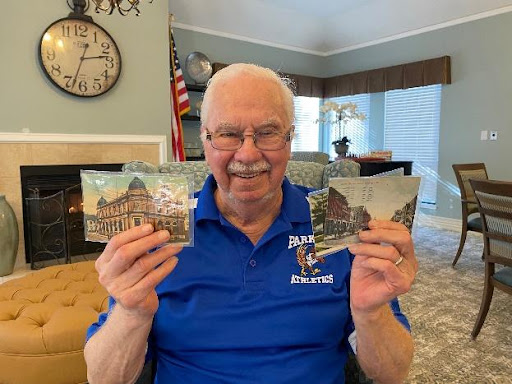 A kind gesture brings happiness
During the 30 years that Lowell has been collecting old postcards and sending them back to their "homes," he's received a response back from about one in 10 of them. He never expects responses as he does this just for fun and to keep his mind sharp but is delighted when respondents write him back; some send notes of thanks, souvenirs, ball caps, t-shirts, cups, or even reimburse his costs. These replies are priceless and in return, bring Lowell happiness. He's so appreciative of each response.
As one would imagine, this hobby comes with costs for postage, postcards, time spent, and fuel to travel to search to find "the good stuff." Lowell had to make some investments financially, but it's not about that for him. The activity brings joy to both him and the receiver and he feels that's worth every penny.
Operation Postcard
As Lowell approaches his 94th birthday, he's not able to get out to antique stores as often as he'd like and is limited to the internet for purchasing his postcards. Postcard collecting has now become the third most popular hobby in the United States with many reputable dealers on the internet. However, prices have skyrocketed for those with real photos. One-of-a-kind cards are harder to find and more expensive.
Due to the rising costs of his hobby, pandemic shutdowns, and his advancing age, Lowell has less opportunity to spread joy with his unique idea. "Operation Postcard" seeks to help Lowell maintain his practice of spreading goodwill and happiness. Lowell is seeking donations of used or unused postcards dated before the year 1935. If you would like to help him carry on his endeavors, please send postcards or stamps:
Lowell Joerg
The Oaks at Inglewood
6725 Inglewood Ave.
Stockton, CA 95207
At The Oaks at Inglewood, you're free to pursue your passions and hobbies. Our assisted living services provide the care you need so that you can spend more time spreading joy to others, just like Lowell Joerg.
Find comfort, care, and the freedom to do what you love.
Learn more about our vibrant assisted living community and how you or a loved one can retain independence, make friends, and enjoy life to the fullest. Call us today at (209) 957-6257 to set up a time for a visit.