Eating the right foods is vital for everyone, but it is crucial to ensure that seniors with Alzheimer's eat a nutritious diet. The Farrington at Tanglewood in western Houston offers dining and nutrition tips that can help you make sure your senior loved one is getting the nutrition they need.
Connections is a signature memory care program available at The Farrington at Tanglewood. Developed by Dr. Sandra Petersen, our dementia care team provides data-based support, activities, and nutrition.
Our community provides tasty Alzhimer's care in Houston, TX near Hunters Creek Village, Hedwig Village, and Bellaire. Let's look at some healthy eating habits and activities for people with dementia.*
*Consult with your doctor before changing your diet or exercise habits.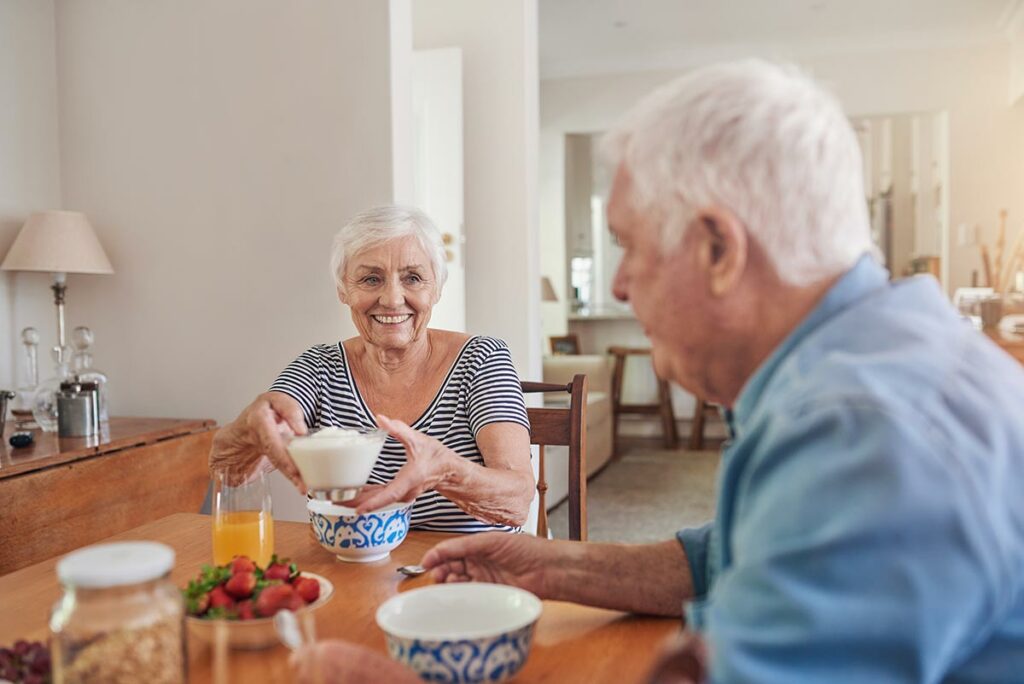 Brain-Healthy Nutrition and Alzheimer's
At The Farrington at Tanglewood, we recommend brain-healthy meals rich in Omega-3 fatty acids and antioxidants. A healthy lifestyle is the best defense against dementia, and the MIND diet can potentially lessen symptoms of memory loss.
These types of ingredients have been linked to improved cognitive function and can help reduce the risk of developing Alzheimer's disease:
Salmon
Walnuts
Blueberries
Spinach
Broccoli
Dementia care expert Dr. Petersen recommends avoiding processed foods and sugary drinks. These foods can cause inflammation linked to an increased risk of Alzheimer's and overall poor diet.
People can lose some sense of smell and taste as they age. Poor diet habits are being seen in older adults. Medications and memory loss can contribute to a further decrease in decreased nutrition. It is recommended to choose lean meats and various colors of fruits and vegetables.
Home caregivers can improve mealtime by serving food on brightly colored plates. Studies show that brightly colored plates can aid in helping people with dementia stay focused on their meals and consume more.
Activities in Houston Dementia Care
Connections uses evidence-based activities to keep residents moving, learning, and socializing.
"We're very fortunate to have Dr. Sandra Petersen, who's a physician and noted memory care expert," says Pegasus Senior Living CEO Chris Hollister. "We have the theory of neuroplasticity. If you move, connect, and learn – in that order, you can get people to rebuild neural networks and live."
Inactivity can speed up the aging process. That is why we encourage residents in our community to participate in daily activities such as:
Cardio drumming
Painting and creative expression
Interactive word puzzles
Hand massage
Chef Joe's cooking demonstrations are another feature bridging the gap between healthy eating and activities. Resident family members are encouraged to join us for our demos as Chef Joe discusses methods of preparing nutrient-rich meals that older adults will enjoy.
He demonstrates how to make simple dishes such as omelets and smoothies using mind-healthy ingredients. These cooking demonstrations provide a fun way for memory care residents to connect to food.
Find Comforting Alzheimer Care in Western Houston
The Farrington at Tanglewood is conveniently located in western Houston near Hunters Creek Village, Hedwig Village, and Bellaire. Our location makes it easy for families from all over the area to access our care services and come together for special occasions or enjoy time together.
Our team understands how difficult it can be when caring for someone with Alzheimer's. We work round-the-clock to provide a secure environment where families can reunite and find comfort.
Memory care team members focus on providing engaging activities that bring meaning. Culinary team members aid in letting residents live well with nutritious meals. We also offer personalized senior care services:
Bathing, dressing, and grooming assistance
Medication management
On-site physical, occupational, and speech therapy
Hospice coordination
Housekeeping and laundry services
Follow us on Facebook for updates and invitations to our grand re-opening celebration of our renovated memory care community in April 2023. We are proud to make memory care in Houston modern and spectacular.
Eat Right and Find Memory Care in Houston, Texas
Contact us to find out more about comprehensive memory care programs in Houston. Our dementia care team members can't wait to welcome you and your loved one into our beautiful senior living community.