Memory care senior living community Broadway Mesa Village is honored to have Beth Smith on its team. Beth, Broadway Mesa's Memory Care Director since November 2017, provides our memory care residents with engaging and fulfilling programming. She comes to work every day ready to serve and care for our residents!
What is Beth's Background?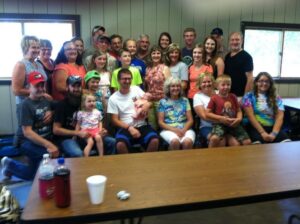 Beth was born and raised in a small rural community in northeastern Nebraska. She completed her undergraduate degree in Recreation Leadership at the University of South Dakota. Following college, Beth worked at the State Hospital in South Dakota, then moved with a friend to Arizona which she now calls home. She has primarily worked in the behavioral health field as a Certified Recreation Therapist, then moved on to supervisory roles including Department Manager, Program Coordinator and Manager, and now Director of Memory Care at Broadway Mesa Village! Beth received her post graduate degree in 2014 when she obtained her Master of Science in Leadership.
Beth certainly is a leader at heart and praises the rest of the leaders at Broadway Mesa Village. "We have the makings of a tremendous leadership team and we have so much to offer, so I will do whatever my part is to help us continue to grow," says Beth. "I love this community."
Why Did She Become Involved in Memory Care?
Beth's mother had Alzheimer's Disease, which is what inspired her passion to help dementia residents. "When I was leaving the acute hospital setting and looking for something different, it is something that fell into my lap," says Beth. "It was the best thing ever." Beth's background in behavioral health has really helped her from a leadership perspective. "There are things I will see, and med techs might not be sure how to manage it, but my background in behavioral health de-escalates situations if they are struggling a bit," says Beth. "I determine what is driving the behavior and address the unmet need, because the behavior is being driven by something. Helping model that, mentor on that, and coach on that has been a benefit for our community."
How Has She Improved Our Memory Care Program?
The level of engagement is what truly makes Broadway Mesa Village's memory care programming unique. "We meet the resident where they are at, and we determine how activities can be adapted to meet residents' individual needs," says Beth.  "We usually have a daily theme to work into our cognitive group as well," says Beth. Recently Robin Sharp – Life Enrichment Partner at our community – developed a theme based on the beach and the Caribbean. All the art residents created was beach-themed, and all the food the cooking group prepared was inspired by Caribbean dishes. Sensory therapy on beach day incorporated touching sand. The texture of the sand was used in various therapeutic activities to enhance feelings and stimulate residents' senses.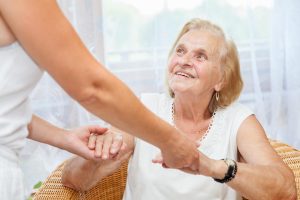 Sometimes other senses are provoked using aromatherapy or music. During the COVID-19 regulations, the award-winning memory care program SingFit is used every day considering entertainers currently cannot perform at the community. Until entertainers can return, SingFit will be held every day.
Despite the coronavirus restrictions, Beth is committed to ensuring memory care residents still receive the social engagement they so critically need. "We are doing more one-on-one programming with residents in their apartments. Group sizes are a little bit smaller," says Beth. "One of our hospice residents has music therapy which happens outside their bedroom window. We are trying to maintain normalcy within the parameters placed to keep residents healthy and safe." The dining room is still open, but residents sit one at a table. Thankfully, the dining room in Broadway Mesa's memory care unit is large enough to accommodate all the residents, and it is fantastic that we can socially distance while also avoiding debilitating social isolation as much as possible.
More About Beth
In Beth's free time, she enjoys going to movies and reading mystery books – Agatha Christie in particular. She is also an avid Harry Potter enthusiast, or fanatic some may say! Beth has been married to her husband Brad for 28 years, and they have a 24-year-old daughter, Emily, who is finishing her field work for her Master of Occupational Therapy. Beth also has a son, Nicholas, who is a senior at Northern Arizona University majoring in biochemistry. Beth loves her job at Broadway Mesa Village, but to balance work life she keeps up with her reading and enjoys disconnecting, spending as much time as she can at the Smith family cabin near Payson, Arizona.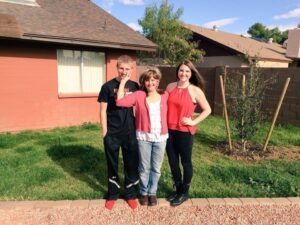 Broadway Mesa Village is lucky to have such passionate and experienced associates such as Beth on our team. She has been an integral part of making Broadway Mesa Village's memory care an award-winning program! Contact us today if you are looking into senior living options in Mesa, Arizona! We would love to give you a tour and offer N95 masks to maintain safety.