Pegasus Senior Living operates independent living, assisted living, personal care, and memory care communities across the country. Every day, team members create exceptional experiences for seniors who choose to live with us. We're building a culture for people to advance their careers while working in senior living.
Discover how jobs in senior living involve more than care services and find out how to begin your journey of career advancement at The Seasons of Reno, in Reno, NV.
We'd like to thank The Seasons of Reno Sales Director Jessica for taking the time to tell us about her experience making a long career out of senior living.
Meet A Senior Care Worker in Reno, NV
Hi Jessica! Why did you choose to work for Pegasus Senior Living?
I've worked under other senior living management teams, but Pegasus Senior Living purchased our community in 2018. I have stayed with Pegasus and worked with my same team off and on for the past 13 years.
It has been so rewarding to work with people that feel like family and that I can call family. I love working in the senior care industry, and Pegasus Senior Living has made this transition very easy and comfortable.
Why is the work you do important?
Because it makes others feel important, and we fulfill their needs and desires. Health care and senior living are so important to me because helping others is a fulfilling life journey.
What does senior living mean to you?
Senior living means taking care of seniors to the best of our ability and being a resource for seniors and their families. Taking care of seniors is a life-changing experience and a blessing. I enjoy making a difference in people's lives and helping all with integrity and compassion.
How do team members serve assisted living seniors in Reno, NV?
The Seasons of Reno provides care, hospitality, and amenities to residents. Some of the services we offer include:
Dining: We provide three chef-inspired meals and snacks daily. Part of our activity programming also includes special event dining, cook-outs, and picnics.
Our culinary team prepares local produce to create seasonal dining options. Dining services partners ensure every resident receives proper nutrition along with a great meal.
Housekeeping: To let our residents enjoy their time with us, housekeepers are a part of extending our residents' level of independence. We take care of the hassles and heavier lifting, so they don't have to.
It's our honor to work inside residents' homes, give them a clean environment, become their friends, and make their lives easier.
Transportation: Residents' lives receive enrichment with the opportunity to get out and explore Reno. In addition to scheduled rides for appointments and shopping, you'll find us going: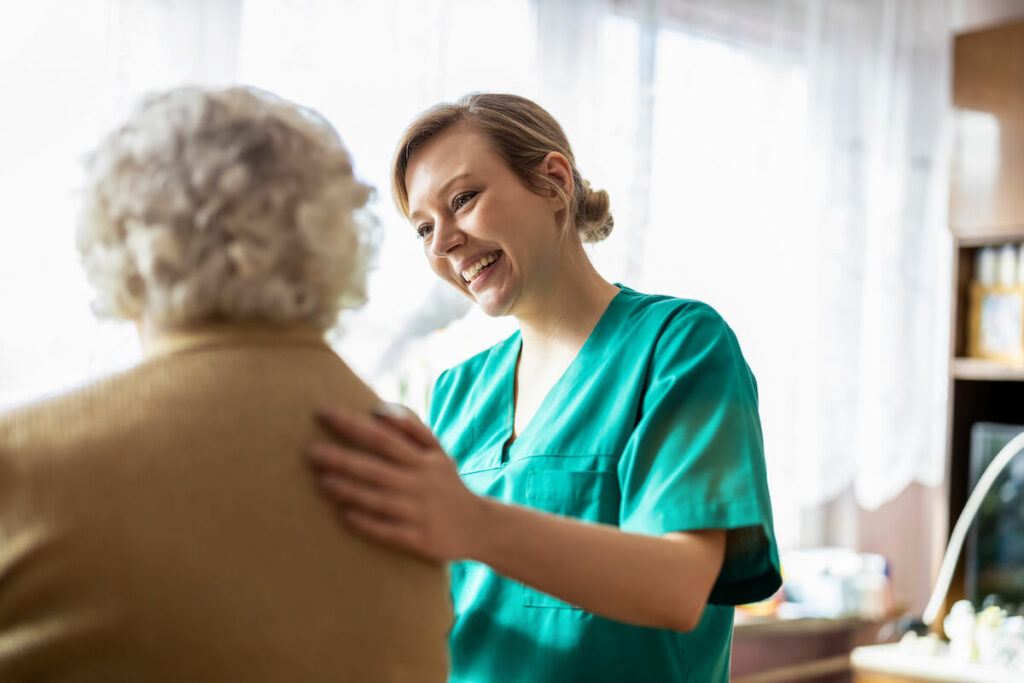 Activities: From staying physically active to social events, our team members enjoy having fun along with the residents. With the help of an extensive calendar, the Activities Director makes sure there is never a dull moment at The Seasons of Reno.
Imagine orchestrating and leading fun activities like this as a part of your career:
Assisted Living: Seniors can live independently thanks to The Seasons of Reno's care partners. By providing activities of daily living assistance (ADLs), our residents can go about their day with confidence.
ADLs and other care services include:
Bathing
Grooming
Hygienic care
Medication management
Dining assistance
Ongoing monitor of health
Personal check-ins
Physical, occupational, and speech therapy
Memory Care: Nearly 50,000 seniors in Nevada live with Alzheimer's. The Seasons of Reno offers Alzheimer's and dementia care with the Connections Program to relieve families from acting as caretakers.
The Connections Program uses data-based programming and specially trained team members to honor residents' lives with brain-enhancing activities and mind-healthy meals.
Is a career in senior living fun?
When you arrive, you might receive a request from Jack and Joe. They're residents and co-workers who are always looking for a scratch behind the ears. With friends like these always around, we think it's pretty fun.
We have many talented residents who offer their gifts to the community, and you never know when we might get a unique visitor. Also, now is the time we start getting into the holiday spirit.
The fun in senior living is the friends you'll make along the way. Our team members are uniquely qualified to make every day the best day ever.
Why should you choose a career in senior living?
"It's ever-changing and fun. It's full of life lessons, adventures, fulfillment, and a blessing to change lives." – Jessica, The Seasons of Reno Sales Director
The Seasons of Reno assisted living and memory care community is rich with good times and great friendships. If you would like to join a team that celebrates and enhances the lives of seniors, view current roles in your area. We can't wait to meet you.