The Advantages of Senior Housing in Overland Park, KS
What do kittens, luaus, and Star Wars all have in common? They're all ways the residents and team members of Glenwood Village of Overland Park have fun in senior living. Kansas City can be a great place to enjoy retirement; you just need to know where to look.
There are many assisted living options in the big city, but if you're searching for senior housing, Overland Park, KS should be on your list of places to check out.
Why choose senior housing in Overland Park, KS?
The Park, as we call it, is home to green spaces, great places, and smiling faces. Overland Park is the second-largest city in Kansas. Located next to Kansas City, we seem to take home all the awards for being the "best" at almost everything. Overland Park takes the cake from the Happiest Places to Live to Safest Cities for Driving.
Glenwood Village of Overland Park is proud to call the city home and provide a welcoming community for retirees looking to stay connected and receive the individualized care they need.
Should I spend my retirement in Overland Park?
Yes!
If you already live in the area, you know how laid back the city is and where to find the best burnt ends (our community is almost within walking distance to Jack Stack, by the way). Overland Park takes home so many awards because of all the fun things to do it offers its residents.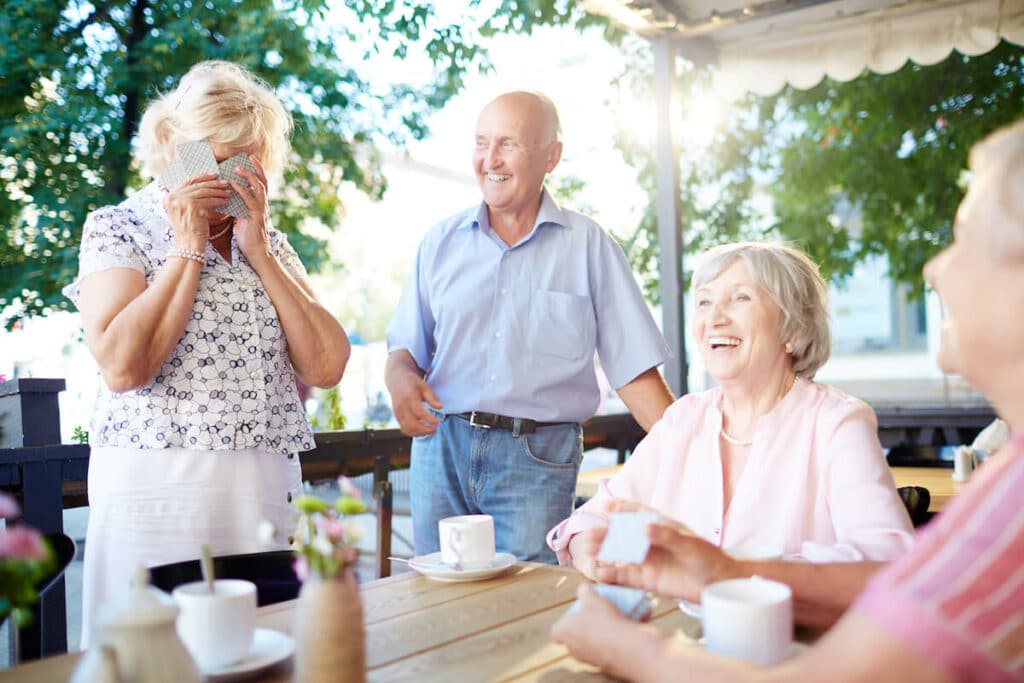 Less than a mile from Glenwood Village of Overland Park, retirees can get out and enjoy many unique places to dine, shop, and visit like:
Why should I choose Glenwood Village of Overland Park for senior living?
If you'd like to give up the hassles of life, continue to live an active lifestyle, and make new friends, Glenwood Village of Overland Park is the retirement community for you.
While you participate in as many events on our monthly activity calendar as you want, you'll also receive:
An individualized care plan
Daily living activity assistance
Medication management
Transfer assistance
Housekeeping and laundry services
And much more
You'll love living in maintenance-free apartments that are also pet-friendly. Our culinary team prepares snacks and three meals a day using fresh local ingredients.
When the weather's nice, you'll love soaking up the Kansas City sunshine in our private courtyard. When it's cooler, opt for staying cozy in the library or fireside living room.
Does Glenwood Village of Overland Park provide dementia care?
Yes.
The Connections Memory Care program available at Glenwood Village of Overland Park provides relief to loved ones living with Alzheimer's and other forms of dementia in the Kansas City area.
Connections promotes neuroplasticity techniques to slow the memory loss process. The program is rooted in evidence and the experience of Pegasus Senior Living Health and Wellness Director, Dr. Sandra Petersen.
Following a stroke over a decade ago, Dr. Petersen overcame mobility and memory loss by challenging her brain and body through purposeful movement and brain-challenging activities.
In addition to activities of daily living assistance, Connections offers seniors experiencing memory loss:
A calm, secure, and familiar environment
Engaging activities
Creative expression
Brain-healthy meals
A focus on socialization and relationship building
Discover Assisted Living and Memory Care in the Kansas City Area
Contact Glenwood Village of Overland Park to arrange a personalized tour of senior living, Kansas City style. We'll throw some Chief burgers on the grill for you.