When looking for the right kind of senior care for a loved one, it's important to understand what options are out there and the amount of information you uncover can be overwhelming. A search for "Stockton skilled nursing" could lead you to nursing home facilities, home health, or a host of other senior living options.
First, get clear about the type of care that your loved one may need, then do some research to find facilities in your area that offer what you're looking for.
What's the difference between skilled nursing and assisted living?
AARP defines skilled nursing as "care is provided by trained registered nurses in a medical setting under a doctor's supervision. It's basically the same level of nursing care you get in the hospital."
If your loved one has recently been hospitalized, is recovering from an illness, or requires rehabilitative services due to a chronic or recent condition, they will likely need this level of care. Stockton skilled nursing facilities provide this transitional care, with the goal of getting the patient well enough to return home.
Nursing homes provide nursing care for seniors who are largely unable to care for themselves.
If the senior in your life can still live independently but requires some help with activities of daily living (ADLs) like dressing, bathing, grooming, keeping up with medications, or dining needs, then assisted living could be a perfect fit.
Assisted living provides care and community
Communities like The Oaks at Inglewood offer that needed assistance to help seniors stay as independent and carefree as possible. There's also a vibrant community of friends and neighbors to interact with. Studies indicate that seniors benefit from staying active and socially engaged to combat various health-related risks.
The Centers for Disease Control and Prevention (CDC) states that social isolation is correlated with higher rates of:
Dementia
Heart disease
Stroke
Depression
Anxiety
At The Oaks at Inglewood, our activity calendar is filled with a wide array of fun, fitness, and educational activities. From bingo to bowling, walking clubs, chair yoga, lunch outings, cocktail hours, and movie nights, there's something for every interest and skill level.
" I love the pond. I love the music. I love opportunities for activities. I can't think of a better place to be than The Oaks at Inglewood." —Resident 
Touring an assisted living community
If you're ready to start looking more closely at your options, be sure to have a list of questions when you tour the community.
Pegasus Senior Living Senior VP of Health and Wellness Dr. Sandra Petersen shares some important tips on how to make the most of your visit.
Start by talking to your loved one
Thinking through the person's needs and long-term prognosis plays an important role in the decision-making process. Below are some suggestions that will help guide you when choosing a facility.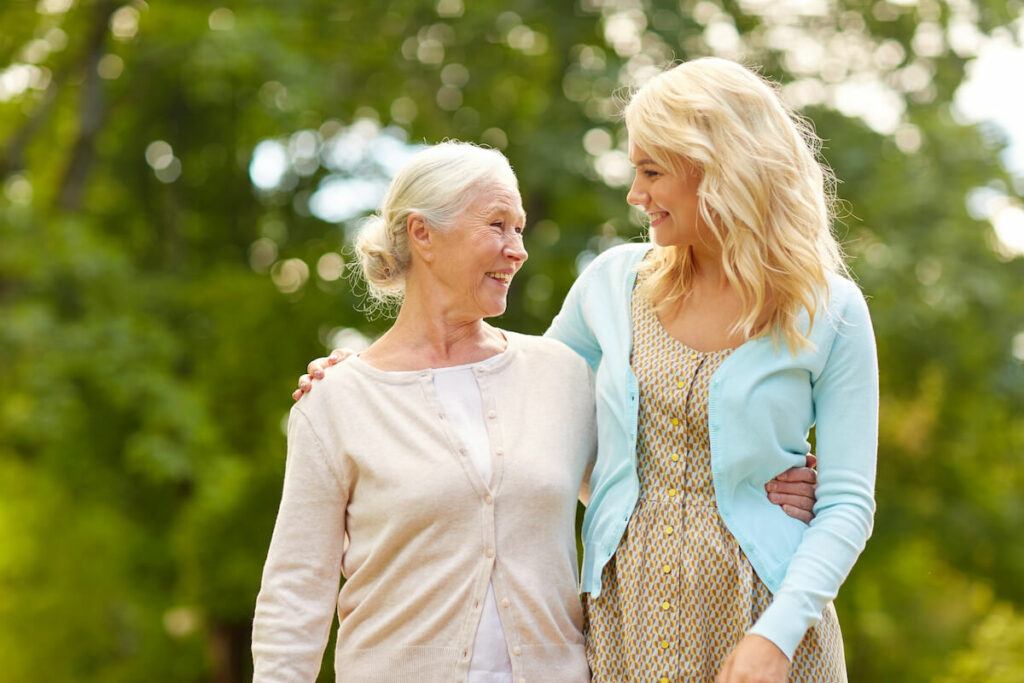 Ask yourself and your loved one, what are your expectations/preferences?
Then, when you begin interacting with personnel in different facilities, ask them the same questions. Consider how well the facility's answers match yours and choose top candidates.
Plan visits at different times of day to look at staff coverage, meal service, and the appearance of residents at different times of the day. This will help you decide which features are most important for you and your loved one and make the decision-making a bit less daunting.
Questions to consider when making your decision about care:
How soon do I need to make a decision?

Ask the facility how soon a room is available or if there is a waiting list.

How convenient is the location for my family and me to visit?
What is the visitation policy (i.e. Are you and your family able to visit at times that fit your work and family schedules or are there limitations?)
What improvements have been made to the facility?

Are some planned?
Is there a generator (or plan) if the power goes out?
Are there handrails in bathrooms and hallways?
What safety features have been added?
Do the residents have call pendants to summon assistance?

How are emergencies handled?
What activities are offered?

Are there religious services?
Does this match up with your loved one's needs?

Is the facility Medicare or Medicaid certified?
How does billing work?
Are services tiered or à la carte?

How much do services cost?

How is the facility staffed on each shift?
Who determines what services the resident needs?
Are there doctors who "round" in the community? How often do they come, if so? Or, is the resident expected to use an "outside" doctor?
Is there a house pharmacy?

See if it's on your loved one's insurance plan.
Are outside pharmacies/mail-order pharmacies allowed? If so, is there a charge?

Does the facility provide transportation to outside appointments?
Under what circumstances or conditions might my loved one be asked to move? (certain illnesses, cognitive impairment, etc.)
How often are housekeeping and laundry services provided? Is there an extra charge?
Are residents allowed to set their own schedule (i.e. get up when they want to, eat meals within an extended window of time, etc.), or is the schedule the same for everyone?

How does this match with your loved one's preferences?
The questions can give you a good start when touring prospective communities. Choosing an assisted living community for a loved one is a journey not taken lightly, as your loved one's well-being and happiness are so important.
By being informed about your options and preparing your questions in advance, you'll uncover the best choice for your loved one's care.
*quote taken from a third-party survey
Make an informed decision about your loved one's care.
Visit us today at The Oaks at Inglewood. Find their next home in Stockton. Skilled nursing is for temporary assistance. Assisted living gives your loved one the long-term care they need. Learn more about how we can help.