The holidays are a joyous time for families to come together. It's a time to share laughs, reminisce, and check-in. However, it's also time to notice how your loved ones are doing.
If dad looks like he lost some weight, or mom's behavior seems a little off, you may think you're seeing red flags. These could be signs of more significant issues, but it's best to remain calm and discuss your concerns only when you're prepared to do so.
Learn to recognize the signs of when a loved one could benefit from assisted living or memory care services.
Does my parent need assisted living?
Just because mom added sugar to the mashed potatoes instead of salt isn't exactly a red flag, but a pile of unpaid bills might be. If certain sections of the home look neglected, is it because of mobility issues or because they're tired of managing a large house? Either way, assisted living can help.
During your holiday visit, watch for:
Weight lost or gained
Wearing dirty clothes
Unkempt hair
Avoiding specific tasks due to mobility issues
A dirty home
The yard or home exterior needs work
They're socially isolated or lonely
They forget medications
Mismanaging finances
Does my parent need memory care?
Being forgetful is a part of the human condition, but when forgetfulness gets in the way of everyday activities, it classifies as dementia.
If your loved one seems withdrawn from hobbies they once loved or isn't joining in on telling stories over the dinner table, there's a chance it could be from the effects of a form of dementia.
Alzheimer's is the most common form of dementia, and the earliest warning signs include:
Loss of short term memory
Difficulty holding a conversation
Being easily distracted
Getting lost or wandering
Inability to focus
While there is no cure for progressive dementia, memory care programs can help slow memory loss, provide a calming environment and offer enriching support to your loved ones. It also relieves families of the duties of acting as caretakers.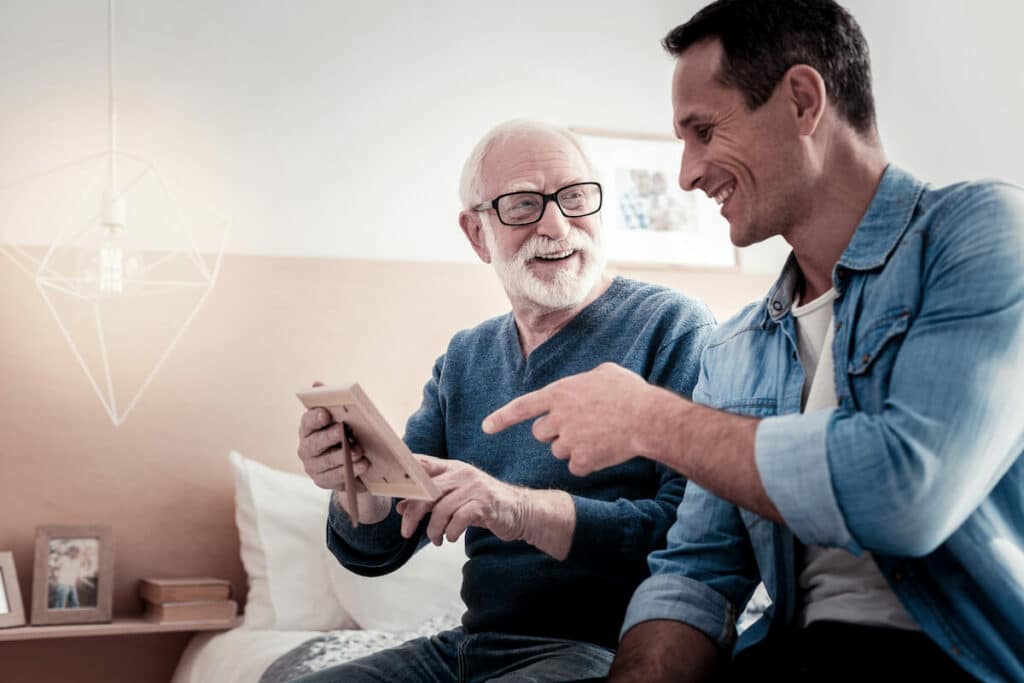 What are the benefits of assisted living?
Assisted living is a mix of hospitality and care, where your loved one can live life with confidence.
Communities like The Rivers at Puyallup offer assistance with activities of daily living, chef-inspired dining, wellness programs, and social opportunities.
To enjoy the activities and fun available in the community, our team members provide:
Personalized care plans
Bathing, dressing, and grooming assistance
Medication management
Monitoring of health and behavior status
Physical, occupational, and speech therapy
Housekeeping services
Transportation to medical appointments
To make life enjoyable and fulfilling, your loved one will receive:
Three daily meals and snacks
Wellness and fitness programming
Arts, games, and hobby activities
Community outings to local attractions
Access to special events and parties
Your loved one will be able to live an independent lifestyle at The Rivers at Puyallup, surrounded by new friends and supportive team members.
Memory care is a specialized version of assisted living. To keep up with the growing need for Alzheimer's and dementia care, it's a service The Rivers at Puyallup is proud to offer Washington families soon.
Find Memory Care in Puyallup, WA
The Rivers at Puyallup would like to honor your loved one's life with our signature Connections Memory Care program.
We understand the burden and burnout that come with trying to take care of a parent living with a form of dementia, and that's why we're humbled to offer our science-backed program to seniors and their families in the Seattle/Tacoma area.
The Connections Program
Pegasus Senior Health and Wellness Consultant Dr. Sandra Petersen experienced a stroke over a decade ago. With the help of neuroplasticity treatment, ballroom dancing, and Spanish lessons, she regained her mobility and overcame memory issues.
Not only did she recover, but her experience also triggered an idea to confront dementia care.
"If it could work post-stroke, why couldn't the same idea of neuroplasticity work in memory care? And so I began thinking about how I might be able to take those neuroplastic concepts, those of connecting through emotions, moving and providing new information to retain and gain skills." – Dr. Petersen
The Connections Program provides a calm and secure environment for people living with Alzheimer's to express themselves and feel purpose.
Assisted Living and Memory Care for Your Family in Puyallup, WA
Experience the excellence your loved ones deserve at The Rivers at Puyallup. Contact us to arrange a personalized tour and join our memory care waiting list.