Get to Know the Benefits of Assisted Living
New Orleans area seniors know that retirement is generally a time when you can expect to relax a bit more. It's a time to focus on your health, happiness, and personal interests. It can also be a time when you recognize that your current lifestyle could use some updating. Start by asking yourself some questions to define what's holding you back from having what you need.
Does your current home need changes and updates to make it more accessible?
Will you be able to navigate stairs, bathrooms, etc., as you age?
Do you need help with tasks like dressing, bathing, and keeping up with medications?
Do you need transportation to doctors' appointments?
Are you relying more on friends, family, or home health services to assist you daily?
Do you occasionally feel isolated at home?
Your answers to the questions above may indicate a lifestyle change like assisted living. New Orleans area seniors looking to make retirement easier are increasingly choosing senior living communities like Laketown Village.
What does assisted living offer?
Assisted living offers a better lifestyle with help at your fingertips, easy-to-manage maintenance-free apartments, consistent care, activities, and amenities. If you're looking into options for a loved one, assisted living helps ensure that their retirement years are easier to enjoy. Imagine living better with:
Bathing, dressing, and dining assistance as needed
The security of knowing a licensed nurse is available
Diabetic care
Trips to and from doctors' appointments
Caring team members to check on you throughout the day
Social events and outings
What is the environment like in assisted living?
New Orleans and surrounding area seniors can expect to find many amenities at Laketown Village. In addition to weekly housekeeping, personal laundry service, and three delicious meals plus snacks daily, community amenities include:
Welcoming courtyard and outdoor walking paths
Library
Full-service dining with private dining room
Beauty salon/barbershop
Spacious family room for gatherings or relaxing
If this sounds like an improvement to your current lifestyle, a visit to Laketown Village to experience senior living in person is a great next step.
It's easy to get started. First, fill out this quick and easy form, with your contact information and what services you are interested in learning more about. Our knowledgeable team members will follow up with you to go over any questions you may have. They will also help you get scheduled to visit Laketown Village in person. Upon visiting any senior living community, be sure to have some questions ready:
Care questions
Do you provide customized care plans and health monitoring?
What kind of training does staff complete?
Do you have licensed caregivers available?
Can you assist with dining, dressing, and bathing?
What therapies are available onsite (physical, occupational, speech, etc.)?
Lifestyle questions
What regular activities are available?
Do you have ample outdoor space?
What amenities does your community feature?
What floor plans and features do your apartment homes have?
Can I see a sample dining services menu?
Understanding what's offered and what daily life is like in assisted living can help you make an informed decision about your next steps.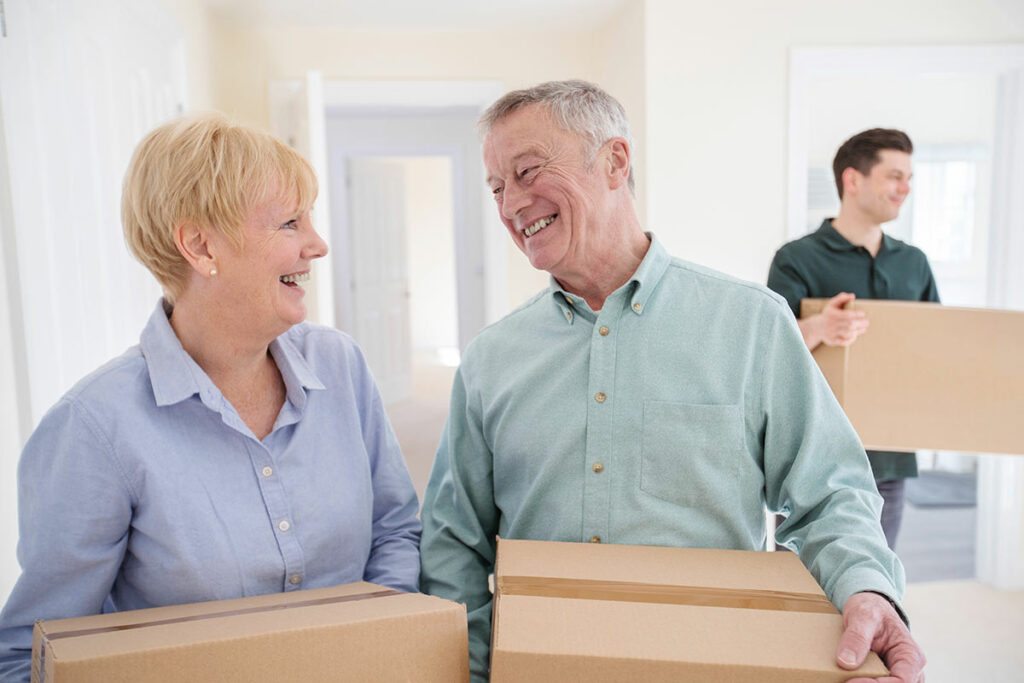 Downsizing helps maximize your independence
Downsizing to senior living may seem daunting at first, but eliminating unnecessary clutter can free you up to do more. Life without housekeeping, costly updates, maintenance, and repairs helps you maximize your independence.
Downsizing and tidying up can be a therapeutic process of recalling the past and looking forward to the future. An article appearing in Psychology Today emphasizes how decluttering can be a joyful activity.
If you've spent decades living in the same house you may be unsure about where to start. Our guide will help you prepare for the process and provide some tips to make moving even easier. At Laketown Village, we're here to help.
We make moving to senior living easy.
Could you or a loved one benefit from assisted living? New Orleans and Kenner area seniors and their families have a resource in Laketown Village. Our comfortable and accommodating community will remove burdens from your loved one's daily life and help them get back to enjoying it. Contact us today to get started.