When someone is diagnosed with Alzheimer's or dementia, it affects the entire family. The emotional, physical and financial demands can be overwhelming for family members and caregivers alike.
The Connections program for memory care at Glenwood Village of Overland Park provides support for seniors and their families. Memory care is a journey that involves multiple people. Everyone should be able to experience relief.
Our senior living community's Connections program is open to everyone affected by memory care issues. Let's talk about how our dementia care program works. We will reveal how you can best support someone who is an Alzheimer's or dementia caretaker.
Alzheimer's Support: The Connections Program at Glenwood Village of Overland Park
At Glenwood Village of Overland Park, we take a holistic approach to memory care. We focus on helping seniors find purpose despite memory loss. Alzheimer's support involves caring for those living with it and their families.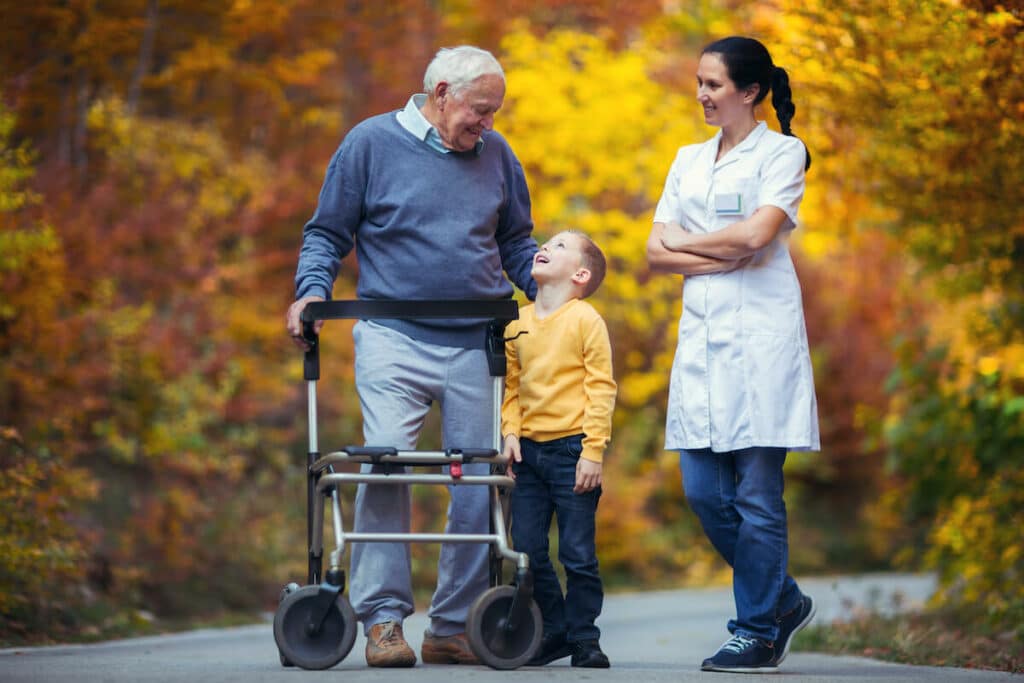 We recognize the vital role that family members play in providing emotional support for those with Alzheimer's and dementia. That's why our Connections program includes activities that involve relatives, such as:
Family social gatherings
Interactive games
Bingo and trivia nights
Intergenerational programming
Educational workshops
Support groups for caregivers
The Connections memory care program in Overland Park, KS provides an enriched lifestyle for individuals with cognitive decline. This specialized program helps those with dementia engage in meaningful activities and social interactions.
Maintaining the dignity of residents in a comfortable setting is of the utmost importance. Connections provides comfortable living spaces and individualized care plans. We meet residents' needs while allowing them to maintain their independence.
Our compassionate team works hard to ensure each resident feels supported through this journey. Guided by the principles of Dr. Sandra Petersen, we provide personalized activities that let residents learn, move, and connect.
Dr. Petersen is a dementia care expert and the Senior VP of Health and Wellness for Pegasus Senior Living. Her experience and expertise created a program that:
Engages the emotions
Challenges the brain
Encourages movement
Supports socialization
This structure creates an environment where residents can participate in activities that rebuild neural networks in the brain. Memory loss can slow through this process. Residents can find relief from agitation by staying busy and making new friends. These are connections steeped in scientific data.
Assisted living facilities in Overland Park may not have the staff to provide data-based care. Nursing homes in the Kansas City area don't typically offer comprehensive services for multiple stages of Alzheimer's disease and other dementias.
Our community offers assisted living and memory care to allow residents to transition to higher levels of care as needed. However, our memory care community is also open to families who are new to senior living.
Six Ways To Support Family Caretakers
The demands of caring for a senior loved one can take an emotional toll on family members and friends. There are many ways to show support to someone caring for a loved one with Alzheimer's or dementia.
1. Offer practical help
Help with grocery shopping or doctor visits if you can spare the time. Tell them you're available if they need anything done around the house or run errands. Offer the gift of time to give caretakers a much-needed break.
2. Give emotional support
Let them know they are not alone. Talk about what they're going through and encourage them to take time away from thinking about caregiving duties. Remind the caregiver to practice self-care. Let them vent when needed, and don't be afraid to lighten the mood.
3. Show understanding
Don't judge decisions made by family caretakers. Offer compassion and understanding when it comes to difficult decisions. The choice to move a loved one to a memory care community is not easy. Use active listening skills to make the caretaker feel heard.
4. Get informed
Educate yourself about Alzheimer's disease to better understand what your friend or family member is going through. The research will also help you become an even better source of support when they need it most.
One source suggests caregivers spend 13 hours per month researching care options and information. Help the caregiver out by doing detective work for them.
5. Provide financial assistance
Offer financial assistance directly if it is needed or wanted. This gesture could include paying medical bills, helping with shopping, or offering transportation. Family caretakers often have to put their careers on hold while caring for a loved one.
6. Stay connected
Keep in touch regularly. Let the caretaker know you are there for them, whether in person, by email, or on the phone. Isolation and loneliness are easy to fall into as a caretaker or person with dementia. Don't forget to stay in touch.
Families Welcome at Glenwood Village of Overland Park
Caring for someone with Alzheimer's or dementia is challenging, but it doesn't have to be done alone. We provide compassionate memory care services and support family members.
Don't feel overwhelmed by a loved one's diagnosis. Our Connections program is designed to relieve everyone affected by memory loss.
Connections is Available in The Kansas City Area
Find relief in your journey to find memory care. Find comfort for everyone involved. Contact us to speak with a local expert about the Connections program for memory care in Overland Park, KS.