Historic Roswell Place Recognizes Associates With 10+ Years of Tenure
Historic Roswell Place is not just a community dedicated to senior living. It is made up of treasured associates who are invested in the mission of providing great care to seniors.
Teamwork makes the dream work.
Historic Roswell Place understands that, without the associates who work diligently to show love and compassion to the residents, our mission would fail.
Happy Tin Anniversary!
Recently, we at Historic Roswell Place recognized our associates who have been with us for at least 10 years. The event was a joyous occasion that began with an impressive gourmet meal provided by Dining Director, Kim Young.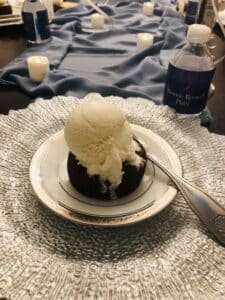 Because the 10th anniversary is traditionally the "tin" anniversary, the party room was decorated with blue and silver, and honorees were given silver-plated bracelets with the words "Difference Maker" inscribed on the inside.
When we asked them how they have come to achieve this work milestone, their consensus was that they are invested in a career, not a job. It is their passion to serve and understand seniors, and most of all, what they do there is not a job; these residents and other associates are family.
A Time to Remember
The evening continued as the honorees shared stories of good times as well as challenging times.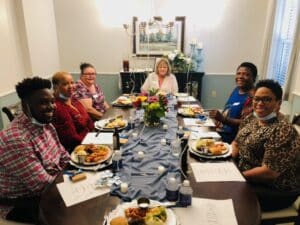 What is senior living like at Historic Roswell Place?
Historic Roswell Place is a senior living community located in Roswell, GA. We offer assisted living and memory care services.
At Historic Roswell Place, we want seniors to live the retirement lifestyle they have earned. We gently support them with activities of daily living to help them retain their independence. We also handle the chores so they can relax and enjoy the full schedule of activities and experiences that we have prepared.
And for those living with Alzheimer's or another form of dementia, we offer a more secure and structured environment with specially-trained associates who know how to meet the unique needs of memory care residents.
Thank you for all you do!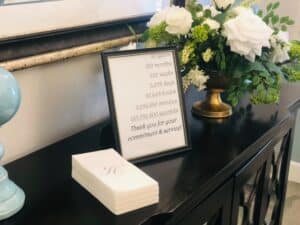 The success of our communities lies with our dedicated associates. We at Historic Roswell Place would like to say thank you to those of you who have given 10 years or more in service to our residents. We appreciate you and are thankful for your commitment!
Are you a senior in Roswell, GA, who is looking for a residential community staffed by caring and invested associates? Historic Roswell Place is the place for you. Contact us today for a tour of the community and to meet the team.