Pegasus Senior Living Takes Food Seriously
Senior living dining service is a time for residents to receive the nourishment that inspires them to participate in daily physical and social activities. Culinary teams across the country provide locally sourced meals to older adults in our communities every day.
Food service in our senior living locations includes fresh ingredients like:
California avocados
Georgia peaches
Texas pecans
Washington sweet Rainier cherries
Louisiana okra
Dining Service Directors from many of our communities recently gathered for a conference in Texas. We had a lot of fun competing, discussing food service management, and bonding as a team.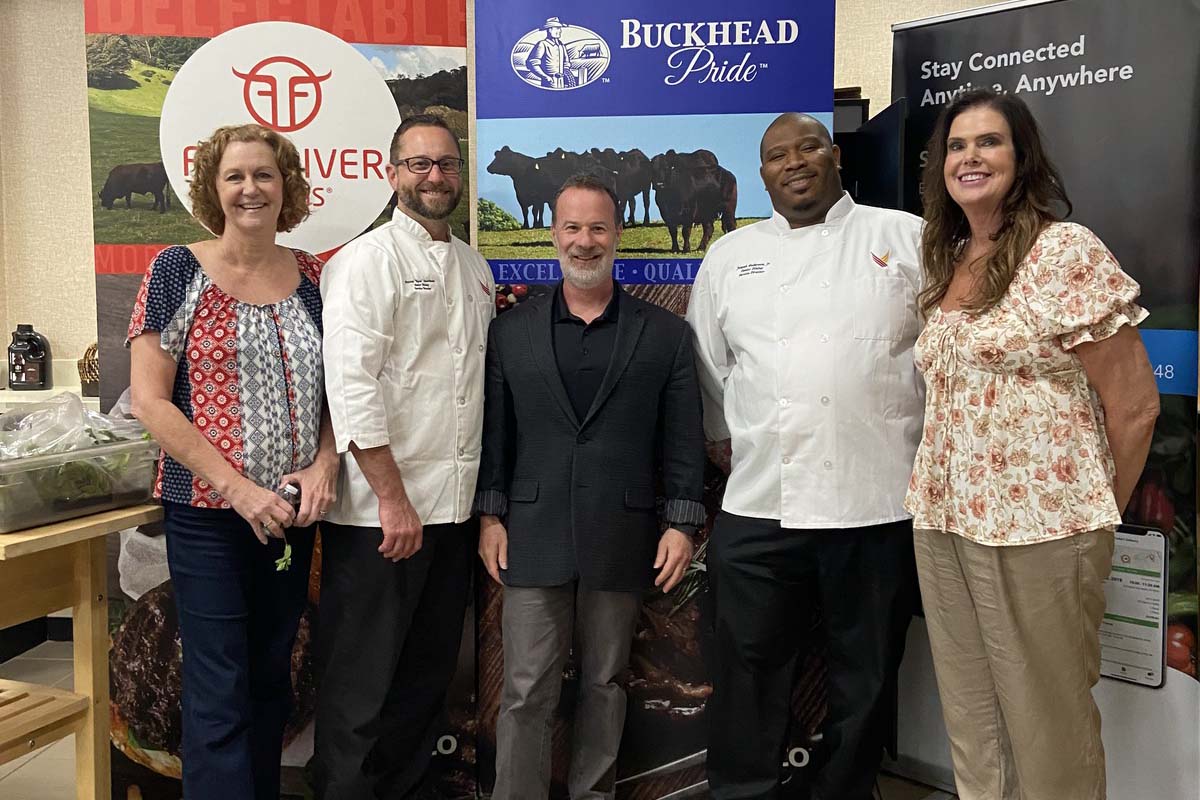 The two-day event included product demonstrations, vendor meetings, and specialized food service training for long-term care. Director of Memory Care Julie Shroyer gave an inspiring presentation about serving seniors living with Alzheimer's and dementia.
Members from the leadership team received the sweetest treat by acting as the judging panel for the mystery basket cooking competition. The taste was not the only measure of the judging.
Points were awarded for:
Following proper safety and sanitation processes
The design of the recipes and their ease of being prepared by other kitchens
Creativity, presentation, and execution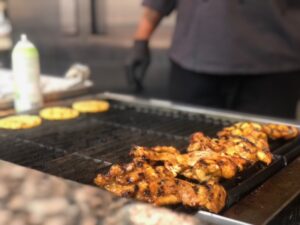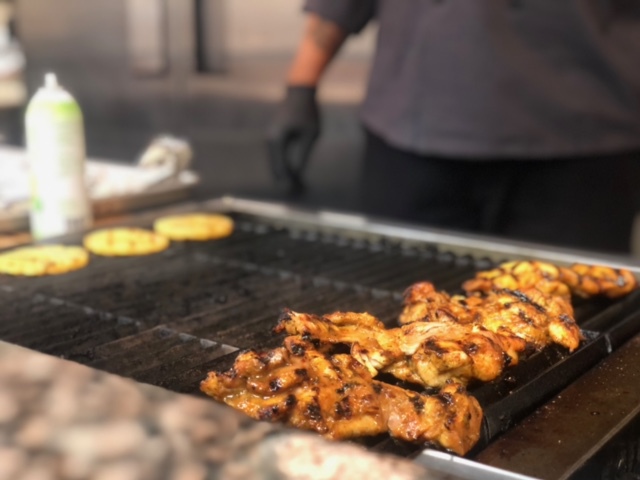 The meal that took home first place honors came from a group of chefs whose mystery box ingredient was chicken. Congratulations to our winning team:
What is good nutrition for seniors?
Body metabolism slows down as we age. The National Library of Medicine recommends that older adults eat foods "that give you lots of nutrients without a lot of extra calories." Food is the key to maintaining a healthy weight and avoiding preventable disease.
Proper nutrition can help seniors stay independent and avoid extra pills and supplements. In addition to eating right, drinking plenty of water can prevent dehydration and regulate bodily function.
Fruits and Vegetables
Eating a variety of fresh produce is excellent for senior health. The more colors and types, the better! Consuming a balanced diet of fruits and vegetables can help:
Lower blood pressure
Lower digestive problems
Reduce heart disease
Reduce the risk of stroke
Reduce the risk of type 2 diabetes
Reduce the risk of certain types of cancer
Harvested foods are not just healthy snacks. Seniors should feature these foods in every meal as a part of a balanced diet.
Whole Grains
Many of the same benefits listed above also come from whole grains. Seniors should avoid the refined carbohydrates and super processed grains found in white bread, pasta, sugary cereals, and flavored yogurt.
Refining whole grains improves shelf-life but sacrifices valuable nutrients like fiber, iron, and B vitamins. Instead, older adults will want to opt for higher-quality ingredients like:
Oatmeal
Quinoa
Beans and other legumes
Brown rice
Dairy
Dairy is an essential food for calcium and vitamin D intake. Strengthening bones and decreasing the risk of osteoporosis are two of the main benefits. One cup of milk equals 300mg of the recommended 1200mg of calcium people over 50 require. Yogurt and cheese are great ways to round out dairy intake.
People who are lactose intolerant can also get their calcium from fortified orange juice, canned fish, leafy greens, and milk alternatives like soy and rice beverages.
Protein
Lean protein allows seniors to continue a healthy food journey. While foods like fish, poultry, and eggs are the common thought of protein-rich foods, there are several non-animal products older adults can benefit from:
Cooked beans
Peanut butter
Nuts or seeds
Fish like salmon and tuna are also great sources of Omega-3 fatty acids. They are excellent respiratory and immune systems supporters. Adults over 60 can benefit from five to seven ounces of protein a day.
Food Service at Pegasus Senior Living
The dining rooms in our communities are alive with vibrant conversation and resident satisfaction. Our culinary teams create a dining experience just like receiving a home-cooked meal.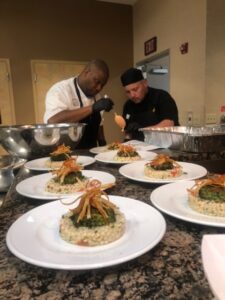 Nutrition is one more aspect of the senior living experience. Our culinary teams are vital members of creating a holistic approach to senior care. Part of personalized care and support is ensuring seniors receive food that benefits their needs.
Our passion is to provide a menu with familiar favorites and daily specials prepared with locally sourced ingredients. We also love when residents are kind enough to share their favorite recipes.
Independent living residents have the choice to continue cooking meals for themselves in their homes but are welcome to join us in the dining room. Assisted living and memory care residents receive three meals a day. Our regularly occurring special events are when culinary teams showcase their sweetest treats and grill skills.
People like Chef Joe creating food experiences make the dining program in our senior living communities so unique. Pegasus Senior Living would like to thank all of the Dining Service Directors who participated in our bonding and learning experience. We can't wait for residents to taste the new specials.
Taste What's Cooking in Our Community
Find a Pegasus Senior Living community near you and request a tour. We'd love to serve you a meal.