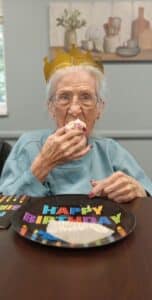 Spokane, Washington's South Hill Village hosted an unforgettable celebration in honor of Roberta, one of their loyal residents. She recently marked a phenomenal 102nd birthday.
In the heart of the community's Connections memory care area, Roberta became the star of the show, surrounded by family, friends, and fellow residents. It was a celebration filled with heartfelt moments and tons of community spirit.
In the wise words of inspirational author Catherine Pulsifer, "May your years be counted not by your age but by how you spend your days."
Roberta embodies this philosophy with unmatched passion. Her 102 years have been a tapestry of vibrant memories, and her spirit continues to light up the lives of those lucky enough to know her.
A Life Filled with Faith and Family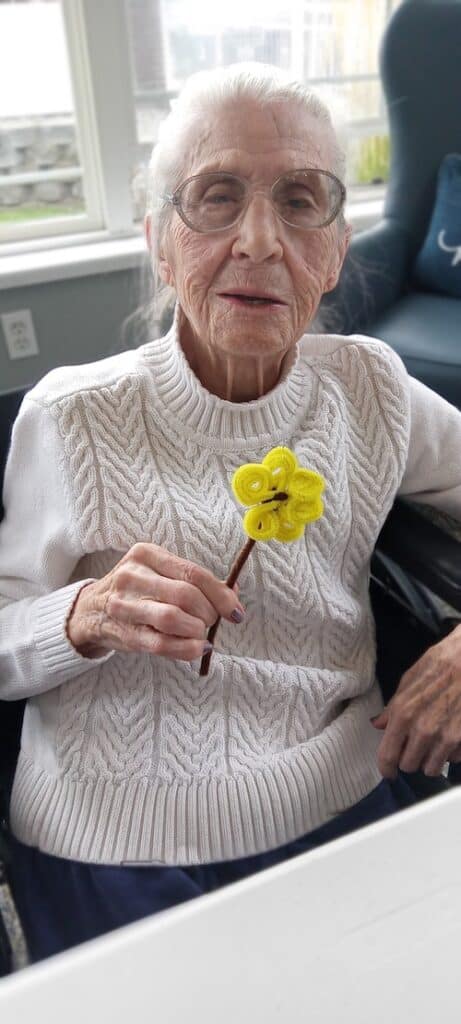 Roberta's life is a testament to a century well-lived. Born on August 13, 1921, in Bridger, Montana, she has been a resident of South Hill Village since January 2023. Roberta is the loving sister of two older brothers, Dick and Roy.
She shared 61 years of marriage with Robert E. K. and is the proud parent of three children: Robert, Sharlene, and Susan. Her legacy extends to five cherished grandchildren: Leanne, Robin, Michael, Stacie, and Annalee, and eight great-grandchildren who bring boundless joy to her life.
Roberta's passions and interests have colored her century-long journey, embracing activities such as sewing, crafting, oil and watercolor painting, crossword puzzles, reading novels, studying the Bible, spending cherished moments with her family, exploring the world, and actively participating in church and school activities.
A devoted elementary school teacher, primarily for fourth-grade students, Roberta dedicated herself to nurturing young minds and fostering a love of learning. Beyond the classroom, her unwavering faith in God and dedication to a Christ-centered life have always been her guiding principles.
Roberta's compassionate nature has consistently driven her to assist others throughout her life. The Lord has blessed her with good health, enduring energy, and unwavering determination to finish any task she takes on.
A Home in Senior Living, Spokane, Washington
South Hill Village takes immense pride in nurturing an environment where independent living, assisted living, and memory care residents thrive. Roberta's birthday festivities showcased the genuine camaraderie and close bonds that define this exceptional community.
Roberta's triumphant celebration transcends the boundaries of age, serving as a vivid reminder that age is just a number. It's a call to savor every moment and relish the wisdom from a well-lived life.
Local media in Spokane, WA, were invited to shine a light on Roberta's remarkable milestone and the festivities at South Hill Village and witness the magic of residents who've mastered celebrating life at every stage.
Celebrate Your Milestones in Senior Living
Spokane, WA is home to many options, but South Hill Village stands out among them. Learn more about how we celebrate residents every day by contacting us.