Research conducted by the National Institute on Aging suggests that social isolation is detrimental to seniors' mental and physical health. Additional studies have found that social isolation was associated with about a 50% increased risk of dementia, 29% increased risk of heart disease, higher rates of depression and suicide, and significantly higher rates of premature death.
Seniors living alone are also more likely to be injured by a fall or an accident. We know that fracturing a hip, for example, is a serious injury with high mortality rates. This is much more likely to happen if you're living alone. That's why it's critical for seniors to have social support systems and interaction with others as well as great care.
We know that human beings are social beings, and we're all negatively impacted when we can't be around others. We saw this phenomenon play out in 2020 when COVID-19 forced us to isolate to prevent the spread of the virus.
Fighting Isolation with Engagement: The Benefits of Socializing for Seniors
We are still feeling the impact of that isolation, especially in our senior population. The good news is that loneliness and social isolation are preventable. One great way to do that is to look into a senior living community that offers a robust activities calendar, wellness programs, and excellent care.
The Courtyards at Mountain View understands how vital social engagement is for your health. That's why we make it a priority to keep life engaging, fun, and healthy. Because of our independent living, assisted living, and memory care services tailored to meet the needs of residents with Alzheimer's or dementia, we have an engaging environment no matter what you're looking for.
How we have fun and stay social
Whether you enjoy walking along our beautifully landscaped grounds, gardening, or visiting nearby Cherry Creek for shopping or High Line Canal for the scenic trails, we can accommodate you. We even stay engaged with seasonal, creative pursuits and events like musical performances.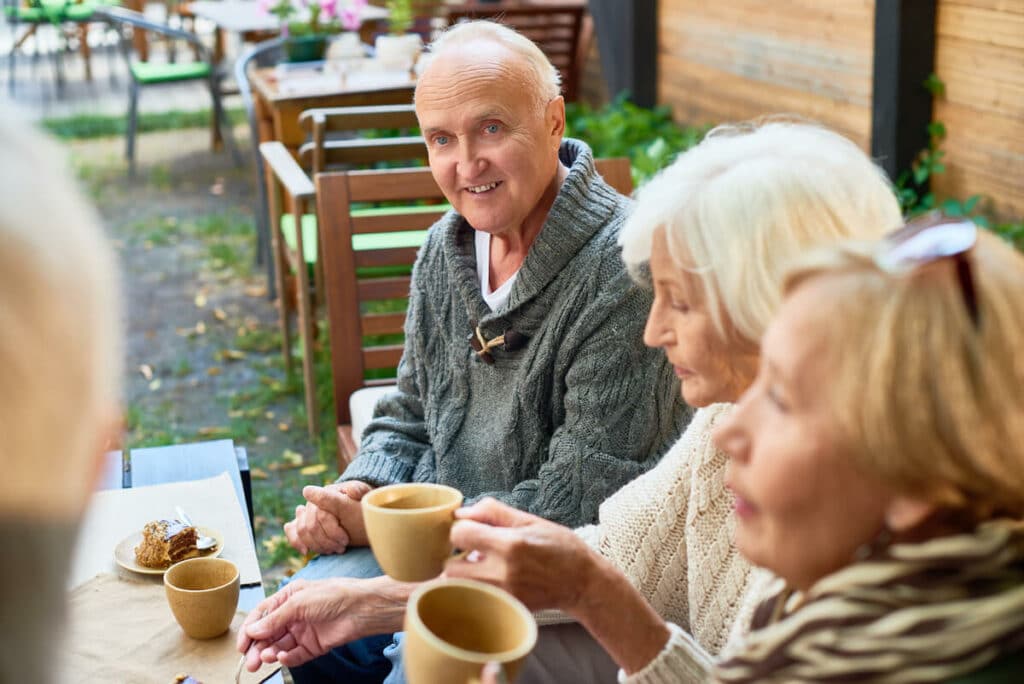 Our residents also enjoy outings to venues like:
Denver Biscuit Company, Red Lobster, Brothers BBQ, Snooze, The Delectable Egg and more
Trips to Harkins Theater, AMC Dine-In, Regal Continental, and RPX
Picking up essentials at Target, Dollar Tree, Hobby Lobby and Cherry Creek Shopping Center
Scenic drives to the Rocky Mountain Arsenal National Wildlife Refuge
Getting creative at the Denver Art Museum, Wings Over the Rockies, and the Denver Museum of Nature & Science
In addition to getting out and about, we also stay fit and well with nutritious meals and fitness pursuits like Tai Chi or Sit and Be Fit.
We put seniors' well-being first.
Because our team recognized the benefits of socializing for seniors, we provide an environment where seniors can be secure and thrive. Worrying about the dangers of isolation isn't necessary at The Courtyards at Mountain View. We'll take care of your loved one so that they can get back to doing what they enjoy.
 "My father recently moved into The Courtyards. From the first meeting with Michele and the associates, it was more comfortable then other locations we visited. They made an emotional and touchy situation feel more at ease. The staff is on top of my father's needs instead of seemingly playing catch up." – Richard P. Google review
Fight Loneliness and Isolation Today
Let our compassionate team help answer your questions about senior living. You can rest assured that your loved one will remain engaged and receive great care. Contact us today to find out more about our fulfilling programs and services.