Pegasus Senior Living Senior VP of Health and Wellness Dr. Sandra Petersen created the Connections program for memory care. She holds qualifying certificates in family practice, psychiatric-mental health, and geriatric medicine. As a founding member of the Assisted Living Federation of America's Nurse Action Committee, she is a nationally recognized expert in senior living care.
Dr. Petersen regularly contributes to SeniorsMatter and provides Alzheimer's and dementia advice. We are proud to offer a memory care program led by an accomplished senior care specialist. Let's take a deeper look at a subject she recently discussed.
Are personality changes a normal part of aging?
Being forgetful every once in a while and varying likes or dislikes can be normal behavior as people age. Alzheimer's and other forms of dementia affecting personality and behavior are not normal parts of aging.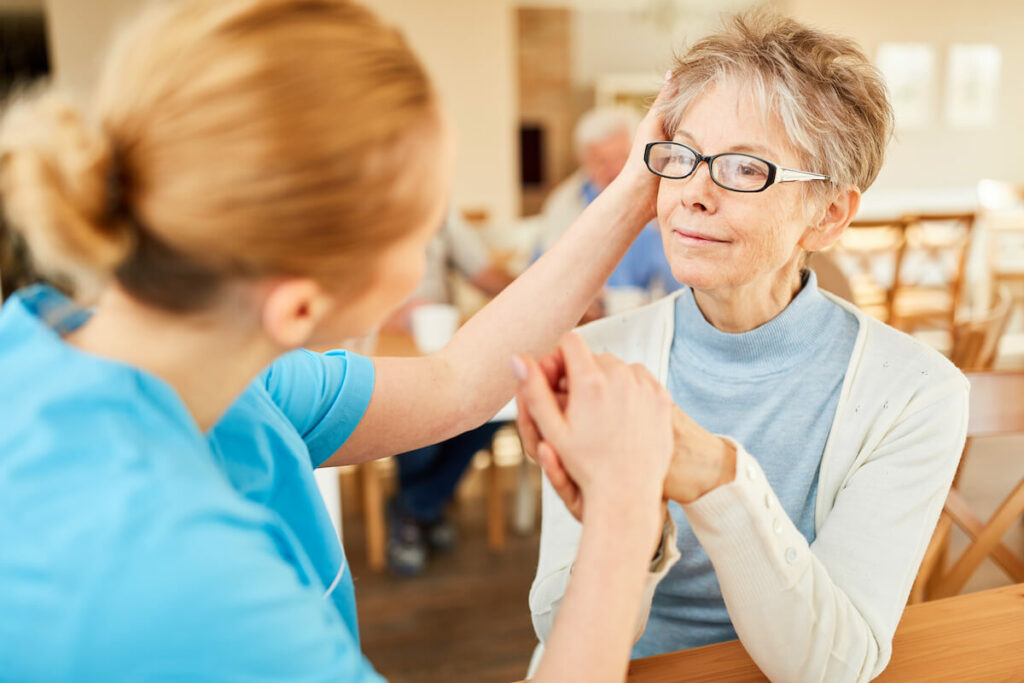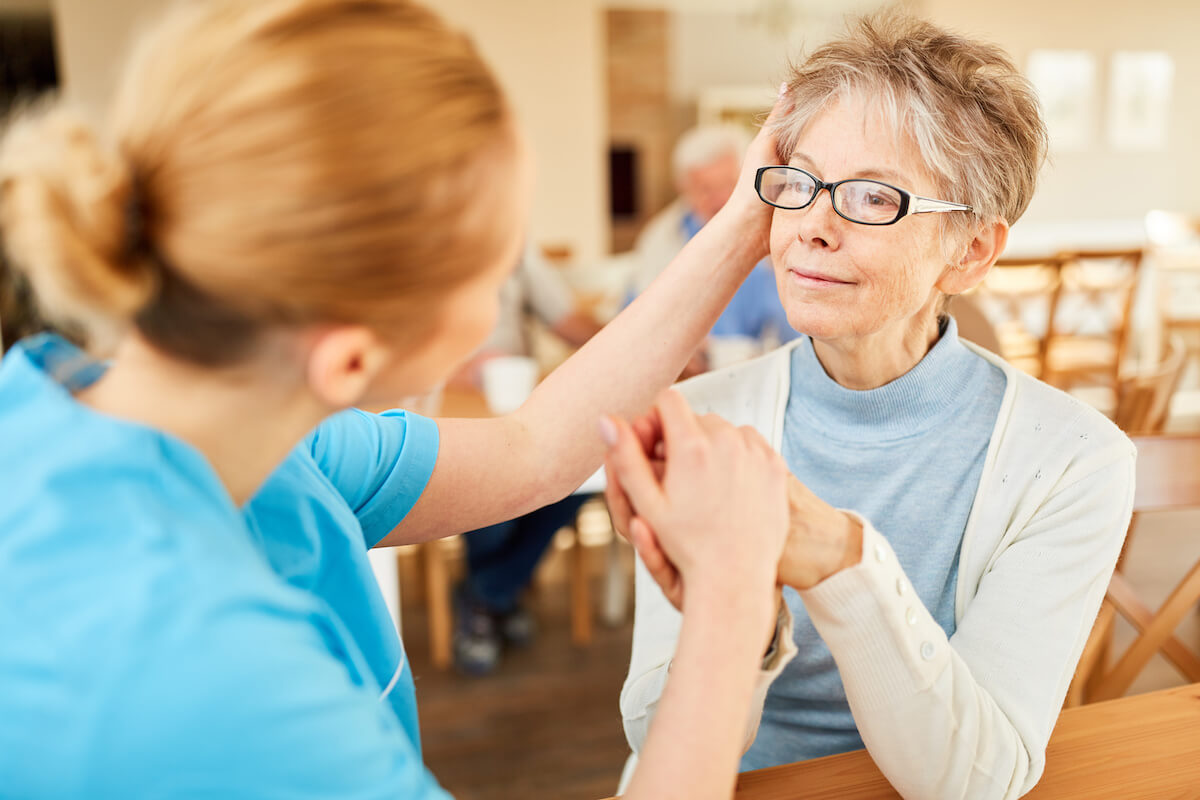 You may have cause for concern if your parent or spouse seems more withdrawn or unresponsive to the activities and events that used to bring them joy. You may think people just lose interest in things as they age, but it could be an early sign of dementia.
Over six million people in the United States have Alzheimer's, the most common form of dementia. The symptoms of dementia like memory loss and behavior changes will eventually interrupt daily life. Family members are usually the first to step in as their caretakers.
It's important to seek help from your family healthcare provider as soon as you notice what may be dementia. Detecting dementia early on can lead to better outcomes of planning for long-term care and starting therapies that can slow progression.
Are personality changes used to make a diagnosis of dementia?
At the first sign of changes in your loved one, you should keep a journal of the patterns you notice. Showing this journal to your family doctor can help inform them if they are experiencing a type of dementia.
Simple at-home dementia tests and cognitive function tests do not always give a comprehensive view of the changes happening in your loved one. Dr. Petersen prefers interacting with patients and their family members.
"I like to interview individuals and the people who interact with them," says Dr. Petersen, "to see how they've changed and what kinds of things are going on in the environment."
Longer detailed interviews and evidence of personality changes can explain why cognitive decline occurs. Dr. Petersen uses the example of diagnosing people with frontotemporal dementia. Their behavior may be more erratic than those with vascular dementia or Lewy body dementia.
The brain's frontal lobe is the hub for thinking, responding, and controlling movement. If your loved one makes choices consistently with poor judgment or rash behavior, it could indicate this type of dementia.
What are other warning signs of dementia?
As brain cells start losing connection with each other at a faster rate, symptoms of dementia become apparent. According to the National Institute on Aging, people with dementia exhibit:
Increasing memory loss about new information, names, and people
Acting on impulse over reasoning
Confusion of understanding
Confusion of time and place
Difficulty finding the words they want to say
An increased chance of wandering
Difficulty managing money
Forgetfulness of daily activities
Taking longer to complete routine daily tasks
Avoiding social interactions
Giving up hobbies or everyday activities
Hallucinations, delusions, or paranoia
Losing empathy and understanding visual cues
Losing mobility
When warning signs mount up, people with dementia can experience rapid decline if not adequately cared for or diagnosed. Isolation and trying to hide from the early stages of dementia can lead to inactivity and depression.
As confusion sets in with mounting depression, people with neurocognitive decline can become increasingly more sensitive to the world around them and feel overwhelmed. As the perception of the world changes, dramatic mood shifts and behavioral patterns can develop as a defense mechanism.
What are the risk factors for dementia and Alzheimer's disease?
The risk factors of dementia and Alzheimer's disease are still being studied, but it is known that some things can increase the risk. Some of these include:
Having a family history of the disease
Heart disease or another chronic illness
Obesity
Type 2 diabetes
Smoking
Alcohol abuse
What are the options for dementia care?
According to the Alzheimer's Association, over 11 million family members currently provide home care for a loved one with Alzheimer's. It is a noble duty that can quickly become overwhelming.
Join a support group through your local Alzheimer's Association chapter as soon as possible. Talk with others who have been or are going through similar situations. To assist in at-home dementia care, you may consider:
Home health aides
Adult day centers
Respite care
Long-term care is the easiest way to reclaim your relationship with your loved one as caretaking progresses. Memory care programs like Connections can relieve you of your caretaking duties and lead to positive changes.
Connections Memory Care
The Connections program available in Pegasus Senior Living communities gives people with dementia purpose. Specialized dementia care experts provide round-the-clock personalized support and engaging activities. Family members receive peace of mind knowing their parent or spouse lives to the best of their ability.
Dr. Petersen created Connections using data-based therapies that encourage neuroplasticity. This approach keeps loved ones busy mentally and physically. Constant movement and interaction can form new neural networks in the brain around the damaged nerve cells.
A typical day in the Connections program may include:
Seated yoga or tai chi
Listening to music and painting
Solving group word puzzles
Pet therapy visits
Live entertainment
Sharing life experiences
Video games
The dementia care experts in our communities provide caretaking duties in addition to meaningful programming, brain-healthy meals, and housekeeping services.
Find Dementia Care Near You
Contact a Pegasus Senior Living community near you to discover more about the benefits of the Connections program for memory care.