The history of leisurely activities in America is fascinating. An article in The Atlantic mentions how the evolution of hobbies mainly centered around times in the past when people were out of work or needed distractions from current events.
The second-largest growth in hobbies comes from retirement. When seniors give up working, their idle time increases. Finding a meaningful way to spend the day is not strictly about having fun. Leisurely pursuits have a lot of health benefits for seniors to live longer lives. Bellingham senior living communities like Cordata Court design hobbies to be a part of older adults' everyday lives.
Why are hobbies good for seniors?
Research appearing in VeryWell Mind notes that hobbies are a great stress reliever, and at only 20 minutes a week can cause less fatigue.
Stress relief and energy are fantastic benefits, but it doesn't stop there.
Social Circles
Social circles tend to shrink as people retire and age. The CDC mentions that 25 percent of seniors are living in social isolation.
Social isolation is linked to being as dangerous as smoking and contributes to a higher risk of:
Dementia
Heart disease and failure
Stroke
Mental health issues
Engaging in hobbies like volunteering or a card game can give seniors the outside connections that help them live a healthier lifestyle.
Physical Activity
Experts agree that people of all ages should engage in physical activities at least 150 minutes per week. Breaking movement up into 10-minute or 30-minute chunks is the best way for seniors to:
Reduce blood pressure
Manage weight
Strengthen muscles
Reduce joint pain
Improve balance
Walking, chair yoga, golf, and even cooking can count as ways for seniors to stay active. Anything that increases the heart rate and causes older adults to move more and sit less will have immense benefits.
Confidence and Self Esteem
Whether seniors find a new hobby or have spent years honing their craft, these activities require learning, trial and error, and a sense of accomplishment.
Finding a purpose in life is essential in a senior's journey. Knitting blankets for a local organization, cleaning up litter in a park, or teaching grandkids how to use woodworking tools is an excellent way to take pride in a hobby and contribute to something greater than yourself.
Seniors living with dementia can also benefit from these types of hobbies. Failure-free activities can relieve anxiety and boost self-esteem. Simple hobbies like sorting yarn can provide tactile stimulation and purpose. Listening to music or watching home movies may trigger memories and provide enjoyment.
Bellingham Assisted Living Activities
Take a cue from the seniors at Cordata Court, an independent living, assisted living, and memory care community located between the Whatcom Community College and Cordata Park.
Hobbies are built into seniors' lives in our community. Our independent and assisted living calendar includes:
Fitness classes
Scenic drives
Lunch and shopping outings
Card games, board games, and bingo
Jewelry making and art
Puzzles
Worship services
Happy hour and live entertainment
And much more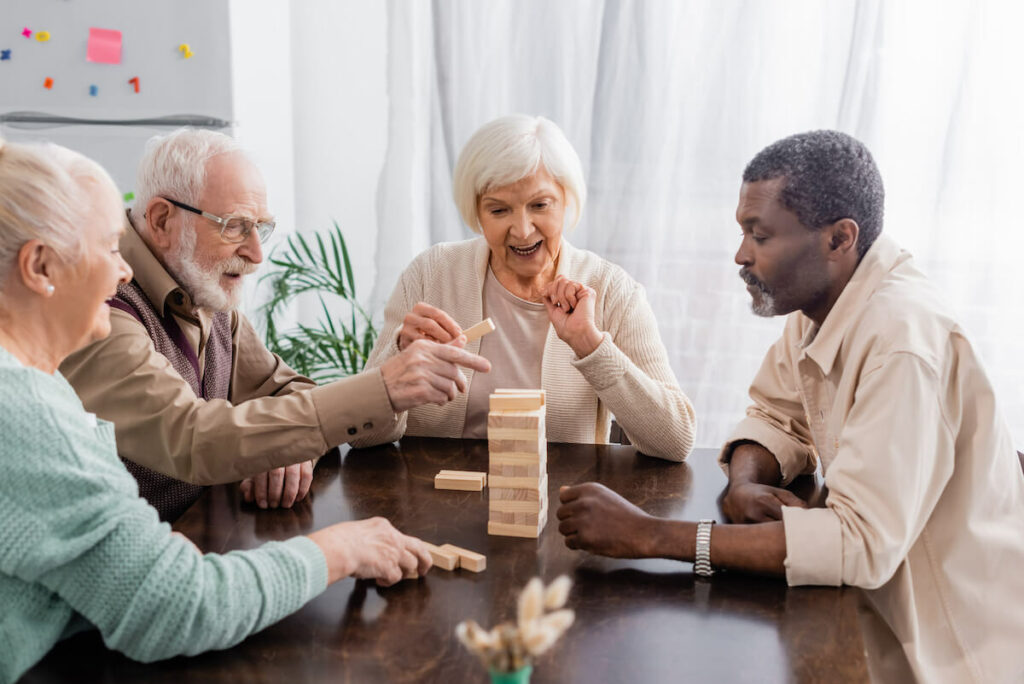 Our residents are also encouraged to share new hobbies with others. Our Activities Director loves introducing programs that make seniors' lives better.
What kind of hobbies are good for dementia care?
Washington family members acting as caretakers for their loved ones are encouraged to visit Cordata Court for dementia care services.
Active and engaging hobbies benefit people living with dementia. Moving the body and challenging the mind are best practices for relieving anxiety and depression. Despite progressive cognitive impairments, these seniors benefit from finding purpose in their day and continued learning.
Hobbies for dementia include:
Puzzles and word games
Dancing
Organizing and sorting
Repetitive motions like tossing or bowling
Recall therapy and storytelling
Our Connections memory care program includes a calendar with Alzheimer's and dementia-friendly activities. We provide two physical activities per day, art therapies, and social bonding experiences that encourage neuroplasticity in the brain.
Dr. Sandra Petersen created the Connections program following her recovery from a stroke. Neuroplasticity treatments involved body movement and learning that challenged the brain. She applied these ideas to provide relief and care to seniors living with dementia.
Find New Hobbies in Assisted Living and Dementia Care in Washington
If you or a loved one can benefit from senior care and activity, contact Cordata Court for a personalized tour. Cordata Court is always looking for new senior hobbies, and we hope you'll introduce us to them.